The electric vehicle evolution in India's passenger vehicle market has remained frozen in time and may see limited adoption over the next decade, experts say.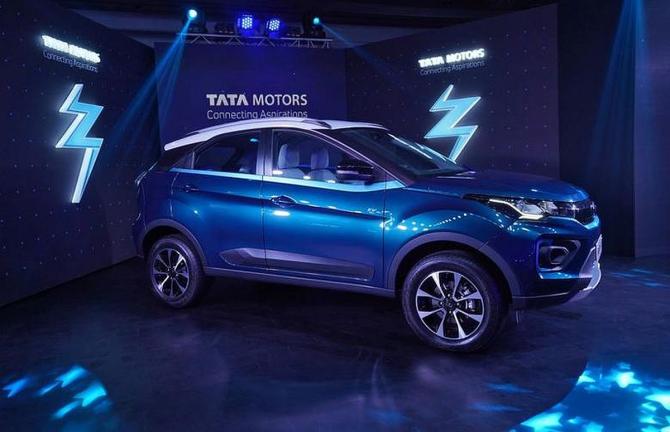 On January 8, the Twitterati flooded the timelines of Elon Musk with "Welcome to India" message as news of Tesla Motors' India incorporation broke.
The entry of the world's most admired and valuable automobile brand begs a very pertinent question — will this decade be any different for e-cars?
Meet Ameya Joshi, a Mumbai-based businessman, bought a Tata Nexon EV in May.
After eight months, Joshi says the experience has been "very satisfying and exhilarating."
The stamp of approval by buyers like Joshi comes two decades after Chetan Maini, founder Reva Electric Car (RECC), gave India its first electric car.
Reva however failed to gain traction.
The electric vehicle (EV) evolution in India's passenger vehicle market has remained frozen in time and may see limited adoption over the next decade, experts say.
Weak consumer appetite, inadequate charging infrastructure, an inconsistent policy roadmap, and a high payback period, among other factors, have stymied EV adoption in the personal car segment.
To a great extent, carmakers are still grappling with the same issues which failed Reva — high cost of acquisition, battery costs, range anxiety, infrastructure-related issues and high payback period.
Road ahead
KPMG India expects electrification in the personal vehicle segment to lag compared to other segments.
Based on an analysis of key enablers, the firm expects 10-20 per cent penetration of personal electric cars.
Experts at other consulting firms agree.
"At the sticker prices which are affordable, availability will continue to be challenging.
"We continue to see electric car as a second or third car for people who can afford it," says Rahul Mishra, partner at Kearney, a consultancy.
For what it's worth, central and state governments have rolled out various initiatives over the past six years to boost electric mobility including for instance, the central government's Faster Adoption and Manufacturing of Hybrid and Electric Vehicles (FAME II).
The state governments' incentives address the supply side of the value chain to encourage investments, but this may not be enough, says the KPMG report.
States need to focus on offering demand incentives to reduce the gap with ICE vehicles, it says.
The various incentives are yet to translate into competitively priced, aspirational EV models for personal use.
Till date, there are only three manufacturers that sell models that have a range of over 300km.
The most affordable and the highest selling EV currently is the Tata Nexon EV, with prices ranging between Rs 14 and Rs 16 lakh.
The Hyundai Kona Electric retails from Rs 24 lakh onwards and its closest rival, the MG ZS EV, starts from Rs 21 lakh.
The Nexon EV remains the only model which has managed to move the needle in terms of considering a larger set of buyers.
Market leader stays away
The more popular brands such as Maruti Suzuki has so far stayed off the EV segment and has no plans to get into it in the near future, says R.C. Bhargava, chairman, Maruti Suzuki India.
"Why do you think something that hasn't happened last year, will happen this year?
"Nothing has changed. Nobody is making batteries in India or investing in a battery making plant," says Bhargava.
The main reason why one hasn't seen electrification in the EV space take off is because of cost and infrastructure, he points out.
"A year and half ago, people claimed the cost of the lithium batteries will come down drastically. Has it happened?"
Local arms of other Japanese carmakers in India echo similar views and strongly believe hybrids instead of EVs is a more viable alternative for a market like India.
Despite a long road ahead, Shailesh Chandra, president, passenger vehicle business unit at Tata Motors, is a lot more optimistic of personal electric cars.
His optimism stems from the initial sales response.
Tata Motors has sold close to 2,000 units so far despite the coronavirus pandemic, and been clocking a monthly average of 400 cars.
Even as Japanese carmakers in India remain sceptical of EVs, Korean carmakers Hyundai and Kia Motors are likely to go full throttle with their EV plans.
Kia plans to launch seven electric cars globally by 2027.
The first of these that is being developed ground up is expected to break cover in 2021.
Its sister brand Hyundai too is encouraged by the response to the Kona SUV it launched in India in 2019.
Meanwhile, European carmakers like Renault and Volkswagen have been closely watching the EV market evolve in India.
But even as they showcased the EV offerings in their stable globally at New Delhi Auto show earlier this year, none have firmed up any plans of launching them just as yet.
How green are EVs?
Even as all the stakeholders, policymakers, manufacturers, environmentalists and civil society, broadly agree that EVs are the most viable solution for one of the world's most polluted countries, debates around the green credentials of EVs have often come to the fore.
Experts argue that the carbon footprint has to be seen in three buckets — fuel and how it's produced, carbon footprint of manufacturing the EVs, and tailpipe emission.
Given that majority of India's power plants are coal-fired, the country loses out on that count.