The company will showcase the Ioniq electric vehicle at the Auto Expo that begins next week.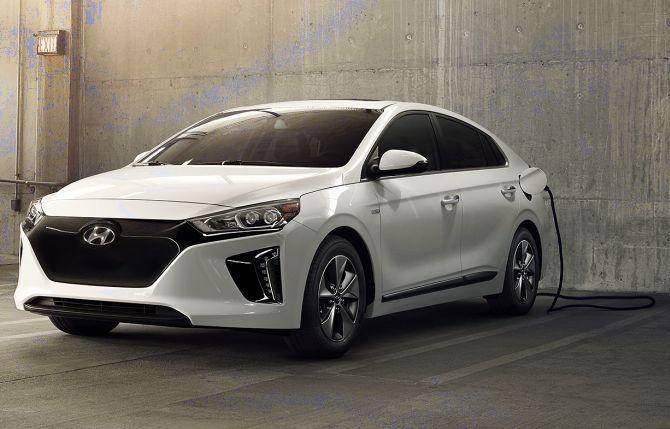 Hyundai will introduce its first electric car in the Indian market next year, becoming the first global automaker to do so.
The vehicle will be imported in a completely knocked down (CKD) form to test acceptance of electric vehicles (EVs) in the domestic market.
"We want to test the readiness of the market. When the market matures, later on, we will start local manufacturing of this EV," Y K Koo, managing director and chief executive officer at Hyundai Motor India told Business Standard.
The company will showcase the Ioniq electric vehicle at the Auto Expo that begins next week.
EV push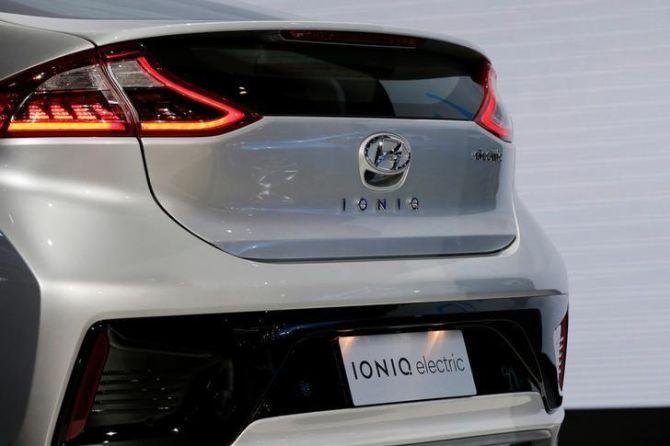 It might introduce Ionic in the domestic market or bring the Kona electric vehicle.
He said pricing of the electric vehicle will be determined based on the market conditions.
Koo said the industry is requesting the government to reduce the GST on electric vehicles from the current 12 per cent and also give incentives on battery technology.
"The government must allocate funds to develop the ecosystem for electric vehicles," he added.
India has drawn ambitious plans to move to hundred per cent electric vehicles by 2030 though industry body Siam has suggested that forty per cent of personal vehicles may be electric by 2030 while hundred per cent of public transport vehicles could be electric by then.
It has said that all passenger vehicles could become electric by 2047.
Ready to expand output by over 70,000 cars
Hyundai India produced 678,221 vehicles in 2017 calendar year, of which 527,320 units were sold in domestic market.
Koo said the company aims to produce 713,000 vehicles in 2018 through improvement in efficiencies when it will also hit a capacity utilisation of 99 per cent at its Chennai plant.
"We will still have an option to take the total production further to 763,000 vehicles during 2019 without any expansion," he said.
Hyundai, which is the second biggest exporter of cars from India, said in many Asian markets the trend is shifting towards import of CKD cars instead of completely built units (CBUs) owing to tax structures.
Accordingly, thousands of cars that currently go as CBUs will be going in the form of CKD units, allowing Hyundai to have a leeway to expand production.
Product plans
Koo said there will be two facelifts of existing cars in 2018 and one new segment product at entry level.
In 2019, Hyundai will bring one electric car, have a full model change and bring a new compact SUV.
In 2020, the company plans to have three full model changes. Koo said the company cannot compete with Maruti Suzuki in volume but it has a dream to sell a million cars in a year in the Indian market.
"We may be able to do that by 2020/2021," he said without specifying details. Maruti aims to sell two million vehicles by then.
The new entry-level car that the company will launch later this year is being compared to the Santro.
Koo, however, said the new car is wider and bigger than the Santro.
"I have got suggestions to name it the Santro. We will take a call". Santro, the first car of Hyundai in India, was launched in 1998 and discontinued in 2015.
Challenges ahead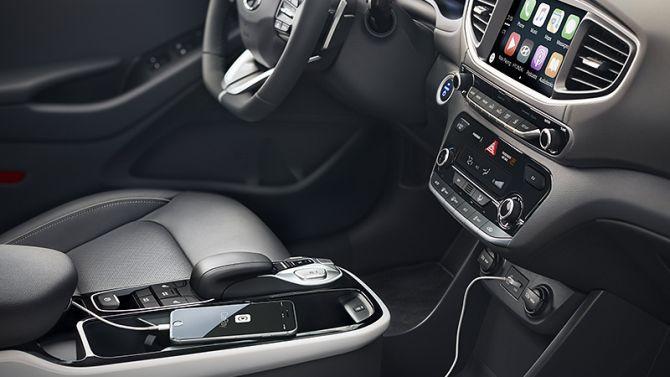 Koo said the car market has been very dynamic globally due to various disruptions.
"I am still not clear about what is going on in the market. Everybody is talking about EVs.
"We have to watch the market. Every company is investing huge amounts to develop, electric vehicles, hybrid technology, connected and autonomous vehicles.
"We have to be very careful. Nobody knows what is the right direction," he said.
In Top Gear
Hyundai to roll out its first electric car in India in 2019

Car to be imported in completely knocked down form to test market acceptance

Local manufacturing to be decided based on response

Ioniq electric car to be displayed at the Auto Expo

Hyundai says it can expand output by 70,000 cars without any expansion