Within three months of announcing its exit from Hero Honda, Japanese auto major Honda on Monday said it will dethrone its erstwhile joint venture with the Hero Group from the No.1 two-wheeler maker position in India within the next 10 years.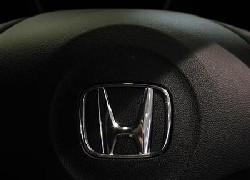 The company's wholly-owned subsidiary Honda Motorcycle & Scooter India (HMSI) will now intensify focus on Hero Honda's stronghold - mass market segment, where it has been restricted due to the joint venture, and will launch its first 100cc bike by next year.

HMSI will also be strengthening its R&D in India and will start developing specific products for the country, and will soon announce its decision to set up a third plant.

"Our target in the next decade is to be number one in India... For the first time, we will introduce a mass segment motorcycle in 100cc category and it is the first priority for us," HMSI President and CEO Shinji Aoyama told reporters here.

After Honda's exit from Hero Honda, Aoyama said HMSI will now have the liberty to play a bigger game in the mass market segment with a larger focus on rural and semi-urban areas, from where it expects more sales in future.

"We have not been entering the mass segment because of existence of Hero Honda. But now for a while, we will concentrate on introducing mass models. We will introduce the 100cc bike in next year... It is currently under development," he said.

HMSI, which will start operating its second plant in Rajasthan by July-August this year, is also mulling over a third plant and an announcement will be made soon, he added.

Aoyama, who will be leaving India after a four-year stint to join the parent Honda Motor Co, said the target to be the No.1 in India within a decade will be a "stiff" one for his successor Keita Muramatsu but it was achievable.

"This year we are expecting 15.5 lakh units sales in the domestic market. Out of these, two-third is coming from urban areas and one-third from rural and semi-urban places.

In a decade, the situation may be reversed," he said. HMSI expects to sell a total of 16.5 lakh units in 2010-11, a jump of 30 per cent over the last fiscal.

It is aiming for an increase of over 27 per cent in its sales to 21 lakh units in 2011-12. Aoyama said the Indian two-wheeler market is likely to be 1.2 crore units in this fiscal. The urban contribution to this is expected to be 70 lakh units, while the rest will come from the rural areas.

In December last year, Honda Motor Co had decided to sell its entire 26 per cent stake in India's largest two-wheeler maker Hero Honda to the other promoter - BM Munjal-led Hero Group.

Hero Honda crossed 40 lakh units sales mark in last fiscal and is looking to sell 50 lakh units in 2010-11.

Aoyama said while Honda is developing a 100cc product, HMSI could also consider using the 100cc engine technology that it supplies to Hero Honda's flagship models Splendor+ and Passion Pro.

Post Hero Honda split, Honda will start strengthening the two-wheeler R&D wing in India.

"From now onwards, more India-specific development will happen," Aoyama said.

At present HMSI's R&D in India has been focusing mainly on styling and designing and market research.

HMSI will also launch "couple of more" products in the mass segment, Aoyama said without giving any detail.

Currently, HMSI has only CB Twister with a 110cc engine in the mass segment with a price tag of Rs 43,900-Rs 49,770 (ex-showroom, Delhi).

In order to topple Hero Honda, HMSI will also be ramping up its sales network in coming years, Aoyama said.

"Combining with service network, we currently have about 1,200 outlets compared to about 4,000 of Hero Honda and 3,000 of Bajaj... Next year, we want to increase our numbers to 1,500 outlets," he added.

The company also launched a 250cc premium bike 'CBR250R', priced at Rs 1.43 lakh-Rs 1.68 lakh (ex-showroom, Delhi).

The company will locally produce the product at its facility here. Aoyama said with introduction of more commuter segment bike, the contribution of motorcycles to its overall sales will surpass the scooters within next two years.

"In this fiscal it will be 55 per cent scooters and 45 per cent motorcycles. In the next fiscal also, scooter sales will be more," he added.

The company will continue to introduce more products under the gear-less scooter segment, in which it is currently the market leader, he said.