The technology that will power the Mahindras' upcoming electric cars and even buses is being developed in close coordination with the group's Formula-E all-electric racing team.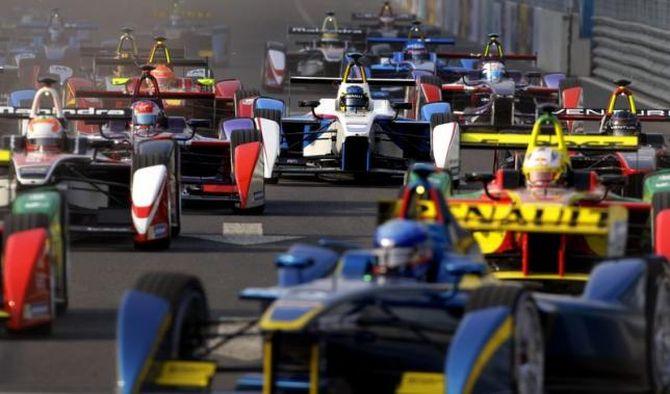 Racing on the Formula-E tracks is helping speed up the Mahindras' electric car strategy for India.
The technology that will power the Mahindras' upcoming electric cars and even buses is being developed in close coordination with the group's Formula-E all-electric racing team.
The 'Race to Road' vision that Mahindra Group Chairman Anand Mahindra had around four years ago has begun paying dividends.
In December last year, engineers from the Mahindras' Formula-E team came to Mahindra Reva's headquarters in Bengaluru to teach engineers there how to build efficient, robust, and safe high-power electric drivetrains.
The necessity for this was floated by the Mahindras' larger automotive division, which is looking to become an early mover for electric road cars in India.
"The first bit of learning which we passed back from our team was making the move from low-voltage to high-voltage systems.
"We worked with them on how to build high-voltage architecture and safety systems.
"There's still a lot of collaboration between our teams," said Dilbagh Gill, chief executive officer and Team Principal of the Mahindras' Formula-E racing team, in an interview.
Gill said there wasn't a more relevant racing series today than Formula-E, given the need for India and the world to switch from fossil fuel-powered vehicles to clean electric ones.
While Formula-E cars are built to accelerate from 0 to 100 km an hour in three seconds and have a top speed of around 225 km an hour - something that might seem hardly relevant to road cars - the technology he says can be directly transplanted.
Formula 1, which is considered to be the pinnacle of motor racing, has come under fire for largely becoming a branding exercise rather than contributing any significant technology developments to road-going cars.
While the Federation Internationale de l'Automobile (FIA) is working on ways to make F1 more relevant to road-going cars, several people say it's too late for the sport, given the foreseen demise of gas-powered cars in the next decade and a half.
The Mahindras' renewed commitment to Formula-E comes at a time when India is pushing to eliminate fossil-fuel powered vehicles by 2030.
While the achievability of the target is a question, the general consensus is that the electric mobility market will become huge in India over the next decade.
Gill suggests that by 2025, the cost of an electric car with a 320-km range could drop to just $10,000, which could translate into a Rs 10 lakh electric car in India.
Today, the e2o+ electric car claims a range of 140 km.
It's this goal that's pushing the Mahindras to invest heavily in electric mobility and become a first mover in the space, with Formula - E ensuring that the company has world-leading technology to boot.
Another major area of collaboration between the race team and road car divisions is software.
With Formula - E rules dictating that once the drivetrain designs are sealed for a year no changes can be made mid-season, gains need to be made on the software side.
In the third season of the series, Mahindra Racing was able to make a one per cent improvement in efficiency on the track just through software.
"For a system that has an efficiency of 93 plus per cent, gaining another one per cent is huge.
"I like to think of ourselves as a start-up, and being resource-constrained, we don't have all the facilities some other teams have.
"But we decided early we would bet on software and simulation to be more competitive, and this again is something we can easily bring to the road," added Gill.
If building better cars for the track results in better cars for the road, the Mahindras seem to be on the right track.
In the third season of Formula - E, the team stood third in the constructors' title, losing only to teams floated by automotive giants Renault and Audi, both of which have far larger budgets and celebrated histories in motorsport.
Moreover, the difference in points between the Renault team, which won the constructors' title, and the Mahindras wasn't huge - 268 points to 215 points.
But as the sport develops, it's critical that the Mahindras' Formula - E Team stays close to the top, with more automotive giants such as Mercedes-Benz and Porsche signing on to join from the sixth season.
Gill says he's worried, but continues to be optimistic since by that time the Mahindras will have participated for five seasons in the sport, giving them a much needed advantage over new entrants.
His sentiment seems to be shared by the overall Mahindra Group when it comes to electric mobility, with investments being made in order to be the first movers in the game, despite not reaping benefits immediately.
Photograph: Barry Huang/Reuters