Big brands like Hyundai, Mahindra and Mahindra (M&M), Toyota and Renault have lost share.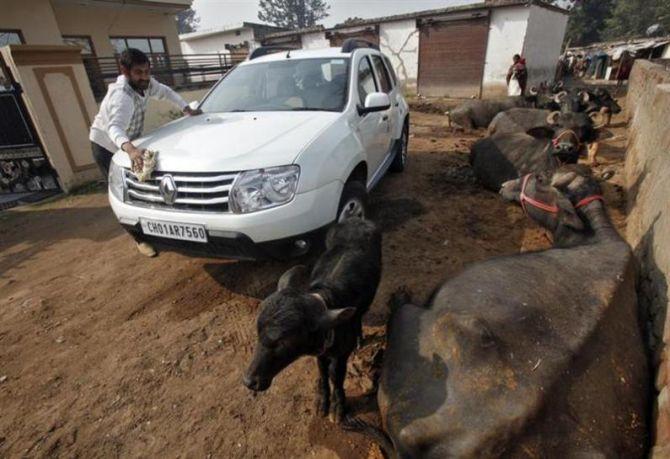 There are more losers than gainers in one of the world's fastest-growing car markets, India.
Even as the domestic market has expanded by nine per cent during January-July period of 2017, big brands like Hyundai, Mahindra and Mahindra (M&M), Toyota and Renault have lost share.
Ford, Volkswagen and Nissan have just managed to retain share.
The domestic market expanded by nine per cent to 1.82 million units during the first seven months. However, of the top 10 companies, only three were able to grow market share.
The key gainer has been Maruti Suzuki, the largest player in the domestic passenger vehicles market.
According to data sourced from Siam (Society of Indian Automobile Manufacturers), the Suzuki-owned company has expanded its share from 46.5 per cent last year to 49.3 per cent in first seven months of 2017.
"Maruti Suzuki's growth presents an interesting and rare situation where the biggest player in an industry has gained share year after year while most others struggle to grow," said an automobile analyst.
The company has seen its domestic sales surge by 15.5 per cent in the first seven months to 902,746 units.
Its growth has also helped the industry grow at nine per cent. Some of its popular models, the Baleno and Brezza, continue to command waiting period even more than a year after launch.
Others like Tata Motors and Japanese carmaker Honda have also been able to expand their share marginally, owing to double-digit growth in sales.
Korean carmaker Hyundai, the second-biggest player, has seen its share come down to 16.2 per cent from 16.9 per cent last year even though its sales have grown by about four per cent to 296,435 units.
It has lost share as the market has grown at a significantly higher pace. The company, second-biggest exporter of cars from India, has some capacity challenges and recently said it would gradually reduce export volume to focus on the Indian market.
Homegrown automobile major M&M is facing yet another challenging year as buyers in the expanding utility vehicle market continue to shift to new products from competitors.
It has lost share as well as volume. Owing to a 4.4 per cent drop in volume, its market share has slipped to 7.8 per cent from 8.9 per cent last year.
Besides M&M, the only company in the top 10 to have lost volume as well as share is the French carmaker Renault.
The carmaker's market share declined to 3.6 per cent from 4.4 per cent last year owing to a volume drop of more than 10 per cent. Its best-selling small car, Kwid, is no longer on growth track.
Japanese carmaker Toyota has managed to grow volume but has seen share come down marginally to 4.3 per cent from 4.4 per cent.
Two global carmakers, Ford and Volkswagen, clocked double-digit growth in sales and accordingly guarded their market share.
Nissan also retained its share of 1.7 per cent.
India is said to emerge as the third-biggest car market by 2020, moving up two notches from its fifth position.
New players like Kia, Peugeot and Saic are setting up bases here. It will be interesting to see the gainers and losers going forward.
However, it remains a complex market with few success stories. US carmaker General Motors in May decided to stop selling vehicles in India after struggling for years.
Photograph: Ajay Verma/Reuters