'Volkswagen made some big mistakes. I am truly sorry for that.'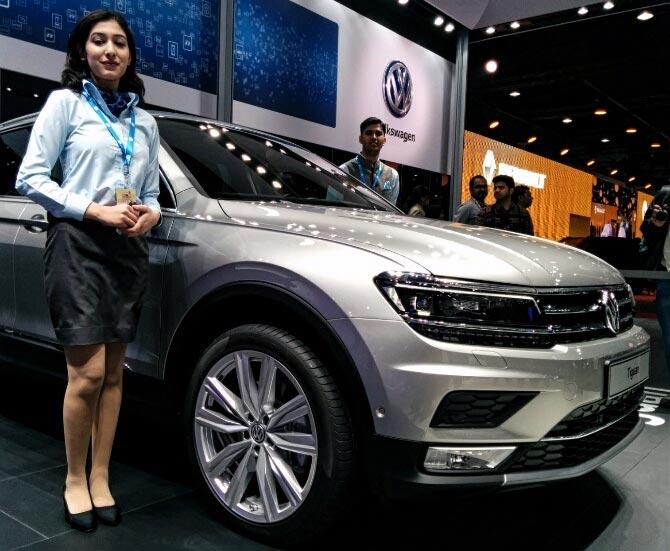 Image: Volkswagen Tiguan. Photograph: Rajesh Karkera/Rediff.com
German auto major Volkswagen on Wednesday apologised for the emission scandal in India and reiterated that its cars follow the country's norms and the recall of three lakh vehicles is a voluntary step taken it.
"Volkswagen made some big mistakes. I am truly sorry for that. And I assure you, we are committed to make things right. We want to win back the trust in our brand. I know that many of our Indian customers are wondering whether their cars might be affected too," Jurgen Stackmann, Volkswagen Passenger Cars Board Member for sales and marketing told PTI.
"We have examined the issue very carefully under the observation of the authorities. And we came to the conclusion that our cars fully comply with Indian emission standards. However, winning back trust means more for us than just obeying the law.
Volkswagen wants totally satisfied customers so we will voluntarily update all the vehicles with EA 189 engines in India, making them as clean as the affected cars in Europe.
And we will do this at no cost to the owners. That is our promise to our customers here in India" he said.
Stackmann said he is "apologising" on the behalf of the brand for the inconvenience and uncertainty that it might have caused in the country.
"Nevertheless, because we believe there is a fine difference between being legal and compliant and actually we are gaining trust of consumers that we started voluntary recall... to give them same upgrade that we do in Europe," he added.
Volkswagen plans to update the engines of over three lakh vehicles that it recalled in India after a government-ordered probe founding it using diesel engines equipped with a defeat device which help cheat emission tests.
When asked if the company aims to complete the exercise in 2016 itself, Volkswagen Passenger Cars India Director Michael Mayer had said: "We aim to but given the large numbers, we will have to see how the response of people is. But definitely we would like to do the majority of the cars in 2016."
In India the company has announced to recall 3,23,700 lakh vehicles across its three brands -- Audi, Skoda and Volkswagen. The recall covers cars sold from 2008 till end of November 2015.
VW had admitted use of defeat device in 11 million diesel engine cars sold in the US, Europe and other global markets that allowed manipulation of emissions tests by changing the performance of the vehicles to improve results.
As per latest reports, the company could face fine of up to $90 billion in the US following a lawsuit filed by the US Department of Justice.
The company unveiled its compact sedan 'Ameo.

"Volkswagen wants to play a key role in India not only in terms of sales and market share but also in terms of safety, quality and innovation," Stackmann said.
The company is expanding its product portfolio in India, he added.
"Volkswagen Ameo our first compact sedan and the latest edition of Tiguan and the new Passat will be launched," Stackmann said.