The Himalayan is the company's second motorcycle after the Continental GT to move away from its age-old cruiser design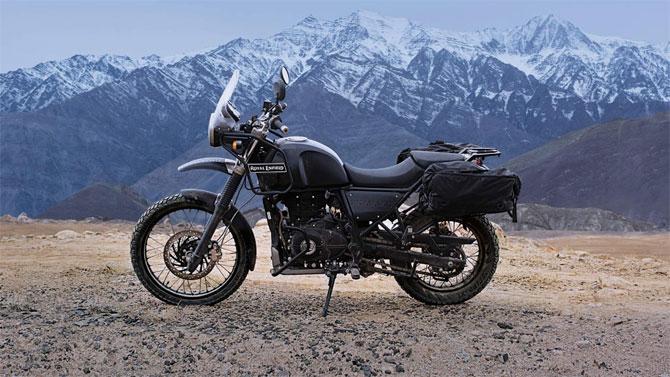 The information technology (IT) capital of the country has become the largest market for Royal Enfield's newest Himalayan motorcycle, with one in every four of the adventure-tour bikes being sold in this state.
Launched in March 2016, Enfield has sold around 4,000 units of the Himalayan so far. It costs a little more than Rs 150,000.
"Karnataka is our most important market for the Himalayan. Basically, there are adventure seeking guys here (Bengaluru), who want to get out on the weekend, leaving behind all this stress," said Shaji Koshy, senior vice-president of sales & marketing at Enfield.
The Himalayan is the company's second motorcycle after the Continental GT to move away from its age-old cruiser designs. It's targeting adventure seekers who want the capability to traverse over rugged terrain, such as roads in the Himalayas, after which the bike is named.
Enfield's move to introduce wholly new platforms is in keeping with its dream of becoming the world's largest mid-size (250cc-750cc) motorcycle manufacturer.
It currently sells close to 55,000 motorcycles a month and plans to introduce more segment creating products, choosing not to build run-of-the-mill ones.
In doing so, Enfield is going head to head with the likes of iconic brands such as Harley-Davidson and Triumph, both of which launched in India by starting with showrooms in Bengaluru.
While the Indian company will introduce larger motorcycles, both foreign players are introducing smaller capacity ones to capture fast-growing markets such as India, Southeast Asia and Latin America.
Harley-Davidson has launched its Street 750 model at around Rs 5 lakh and is mulling the launch of a smaller and cheaper 500cc variant.
Triumph is working on sub-500cc motorcycles which it could manufacture out of India. European brands KTM and BMW Motorrad are also eyeing the space, partnering with Bajaj and TVS, respectively, to manufacture more affordable vehicles in India.
While these foreign entities are looking to tap India's growing market, Royal Enfield wishes to expand abroad. It is targeting global cities such as London, Paris and others, to grow a market for its vintage-looking motorcycles. It says it's in for a marathon, opening a few dealerships in countries where it sees potential, rather than flooding the market.
"We're opening a technical centre in the UK, where we have top minds working for us. Our managing director has also shifted there, with a 100-member team, working on all the products. We're also opening a 500-member technical centre in Chennai by next November," added Koshy.
While Enfield lacks resources and technology when compared to its global competitors, the company says its bare-bones approach has found takers. Rather than loading motorcycles full of the latest tech, it is trying to position itself as a more affordable option, while still staying out of the mass market segments.
Aiming for the Everest
Launched in March 2016, Enfield has sold around 4,000 units of the Himalayan at Rs 1.5 lakh each
Enfield's move to introduce wholly new platforms is in keeping with its dream of becoming the world's largest mid-size (250cc-750cc) motorcycle manufacturer
The Himalayan is the company's second motorcycle after the Continental GT to move away from its age-old cruiser design
It currently sells close to 55,000 motorcycles a month and plans to introduce more segments
Enfield is going head to head with brands like Harley-Davidson and Triumph