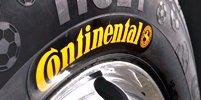 German auto component maker Continental AG said on Wednesday it would invest over 50 million euros (about Rs 330 crore) in India in the next two years primarily to get into the radial tyre segment as well as to ramp up its existing production facilities.

The company, which has recently completed acquisition of the Modi Tyres Co, will make the fresh investments at thelatter's Modipuram facility.

"We are convinced that radialisation will be the driving force in the Indian truck tyre market. . . Our further investment of more than 50 million euros in radial truck tyre production will prepare a solid base in order to meet that demand," Continental AG board member and head of Tyre Division Nikolai Setzer told reporters in New Delhi.

He said there has been a rising demand for vehicles with high quality tyres as well as premium technology in India.

Currently, the company does not make radial tyres in India and the investment at Modipuram will allow it to produce radials for both commercial vehicles and passenger cars by 2013.

Continental plans to ramp up the capacity at Modipuram to produce 200,000 commercial vehicle radial tyres and around 900,000 passenger car radial tyres by the end of 2013.

The Modipuram facility, currently produces 300,000 bias truck and bus tyres per annum, which is likely to go up to 500,000
in the current year.
"From there, TBX production is planned to continuously grow to more than one million units in 2013," Setzer said.
The company, which reported sales of 200 million euros from India as of June 30, 2011, gets majority of its revenue from aftermarket sales. It now intends to build a significant share in the OEM business.
"While a strong focus will still be the tyre replacement market, Continental intends to build a significant share in the OEM business as well in India," Setzer added.
The company is also looking to increase its head count by 600-800 over the next few years. Currently, the company employs around 1,600 people in India.
In July this year, Continental completed the acquisition of Modi Tyres Company for Rs 117 crore (Rs 1.17 billion) which included the TBX plant in Modipuram, a tube plant located in Partapur, both in Uttar Pradesh, and all related operational assets.