The announcement caught investors unawares. They were hoping for a quicker recovery.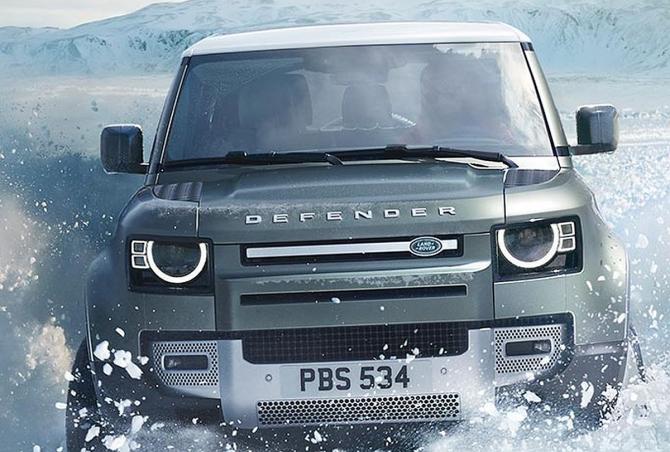 Tata Motors has halved the volume outlook for its UK subsidiary Jaguar Land Rover Automotive (JLR) and warned of lower earnings as it sees the semiconductor shortage deepening in the September quarter of the current financial year, according to a notification issued by the company to the stock exchanges on Tuesday.
The announcement caught investors unawares. They were hoping for a quicker recovery.
Tata Motors' stock tanked 13 per cent (on July 6) from the day's high of Rs 358.10 and hit the lower circuit (Rs 311.45) in intra-day trades.
Subsequently, it erased some losses and closed at Rs 316.95 apiece, down 8.41 per cent over the previous day's closing price of Rs 346.05 on the BSE.
This translates into a market cap loss of Rs 9,663 crore on Tuesday.
The lower JLR volumes are expected to impact the company's financials, including cash flows, in the ongoing September quarter.
"Given the supply constraints, the company expects to report a cash outflow of about £1 billion with a negative EBIT margin for the quarter.
"Total liquidity at the end of the first (June) quarter was over £5.6 billion including a £1.9 billion undrawn committed credit facility (RCF)," Tata Motors said.
The company had cash and equivalents of £4.8 billion as of March 31, 2021, and they have fallen to £3.7 billion (excluding RCF) at the end of June quarter (Q1).
This £1.1 billion outflow in Q1, along with the outflow estimated for the current quarter, indicates an outflow of £2.1 billion in the first half of 2021-22, or a drop of 44 per cent in cash levels from March-end levels.
Tata Motors, which had earlier guided for earnings before interest and tax (Ebit) margins of over 4 per cent and a free cash flow (FCF) breakeven, has now revised its guidance downward with a negative Ebit in the first and second quarters and a negative FCF of £1 billion.
Tata Motors, however, is not alone.
The semiconductor shortage has thrown a spanner in the production plans of various other auto makers.
China's biggest automaker is cutting vehicle output as a result of the crisis.
SAIC Motor Corp has trimmed its wholesale target by about 500,000 cars in the first half, Bloomberg News reported Monday.
Other automakers including Nissan Motor Co, Hyundai Motor Co, and Volkswagen AG have also warned that shrinking inventories due to the semiconductor dearth will continue to weigh on sales this summer.
The shortage, which began in December 2020, is threatening to slash $110 billion in sales from the global car industry, consulting firm AlixPartners forecast in May, and has forced auto manufacturers to overhaul the way they get the electronic components that have become critical to contemporary vehicle design, Bloomberg reported.
JLR's direct rivals BMW AG and Mercedes AG, too, have been grappling with the shortage of what is often referred to as the "brain" of electronic devices.
BMW has warned of lower output.
"The outlook for the second half of the year, too, remains critical."
"The initial assumption, that it will be brought under control fairly soon and be covered more or less in the first half of the year, is difficult," Reuters reported last week, quoting Milan Nedeljkovic, BMW board member in charge of production.
In April, Daimler said it would cut working hours for up to 18,500 employees and temporarily halt production at two plants in Germany due to a shortage of semiconductor chips.
JLR said based on recent inputs from suppliers, it now expected "chip supply shortages in the second quarter ended 30 September 2021 to be greater than in the first quarter, potentially resulting in wholesale volumes about 50 per cent lower than planned, although we are continuing to work to mitigate this".
Mitul Shah, head of research at Reliance Securities, said: "The profit warning and semiconductor shortage in both the quarters and indication of negative operating margins for 1HFY22 disappointed investors as the street was expecting remarkable improvements in 2QFY22."
"This would result in a sizable loss for Tata Motors on a consolidated basis in 1HFY22," said Shah, adding, "it's not a structural issue and may get resolved in next 1-2 quarters".
An improving demand situation globally would help companies in 2HFY22 and FY23, supported by a healthy order book of over 100,000 units.
Moreover, a focus on the cash flow, tight control on capex spending, increasing contribution of high-margin products and debt reduction target augur well for the company.
"Therefore, we remain positive on Tata Motors with our Buy rating.
"Recent price correction provides an opportunity for investors," Shah said.
JLR expects the pain inflicted from the shortage to continue till the end of the September quarter and anticipates things to start improving only in the second half of the financial year.
However, it is still not clear how significant the improvement will be, given that the company's statement said, "The broader underlying structural capacity issues will only be resolved as supplier investment in new capacities comes online over the next 12-18 months and so we expect some level of shortages will continue through to the end of the year and beyond."
"The present semiconductor supply issues represent a significant near-term challenge for the industry which will take time to work through but we are encouraged by the strong demand we see for when supply recovers.
"We are taking strong steps to ensure the security of our supply chain for the future, working with our suppliers and chip manufacturers directly to increase the visibility and control over the chip supply for our vehicles," Thierry Bolloré, Jaguar Land Rover chief executive officer, said in the statement.
In the meantime, JLR plans to continue to prioritise production of higher margin vehicles for the chip supply available as well as make chip and product specification changes where possible to reduce the impact.
Led a by strong demand pull from across all the regions including UK, Europe, US, China and other markets retail sales for the first quarter ending 30 June 2021 were 124,537 vehicles, up 68.1 per cent year-on-year but the wholesale volumes got impacted and was lower than what the company had planned for, due to the semiconductor shortage.
JLR said it continues to see strong demand for its products when semiconductor supply ultimately improves.
The company presently has about 110,000 global retail orders, the highest in its history, representing three months of sales cover, with five months in Europe and four months in the UK.
Photograph: Kind courtesy JLR India