Battery-swapping is not a novel concept, but for the man behind India's first electric car, the Reva, it's the business model that makes a difference.
Nikita Puri reports.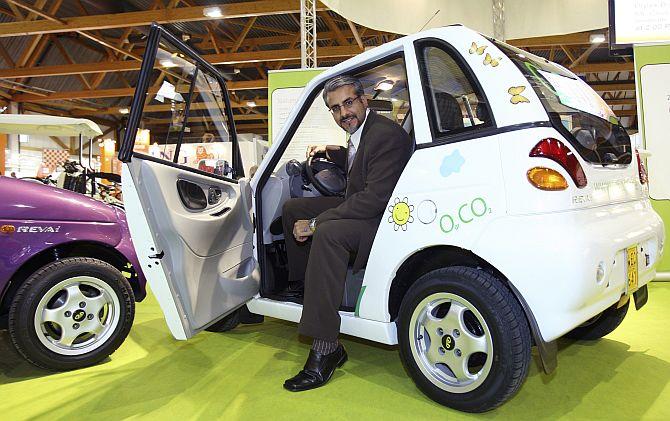 In 1990, a team of 15 students from the University of Michigan drove over 3,000 kilometres through the Australian Outback, from Darwin to Adelaide, in the World Solar Challenge.
Their car, the Sunrunner, finished third after racing through the vast outback for 57 hours and 15 minutes.
When Chetan Maini, 49, begins to talk about clean energy and demonstrates how it can power the three-wheeler and two-wheeler on his office premises, it is easy to see the zeal that propelled him in those races.
"That really was a turning point for me," recalls Maini.
"I was always into automobiles. But driving with renewable energy was a very powerful experience."
As he walks back into his factory cum office in one of Bengaluru's industrial areas, peopled by employees in their 20s and 30s, Maini towers over many of them at a little more than six feet.
The University of Michigan graduate, who later studied hybrid electric technology at Stanford University, is the co-founder and vice-chairman at SUN Mobility.
The company has become an industry leader in providing energy infrastructure and services provider in the two years it's been around.
And when Maini isn't taking his quadbike out or trekking (activities he has refused to abandon despite broken bones), he's mentoring startups in the clean energy space.
Maini is also the man behind India's first electric car, the Reva, which hit India's roads in 2001.
The Mahindra group bought a controlling stake in Maini's Reva Electric Car Company in 2010 and Maini left in 2015.
Meanwhile, the car had sold in 24 countries.
At one point there were more Revas in the United Kingdom than in Delhi, recalls Maini.
"There were Revas even in Norway, where no cars from India were really being sold."
Many feel the Reva was ahead of its time but, as Maini points out, there wouldn't be a SUN Mobility without the learnings that the Reva provided.
What makes Maini's current venture different from the Reva experience is the building of an ecosystem around it and the focus on shared mobility.
It used to take several long hours to charge the Reva.
"Just plug it in overnight every two-three days and you'll be good to go in the morning," marketing executives hawking the Reva would say.
Maini's way of overturning this game of wait and watch while the vehicle charges is to introduce batteries that can be swapped in seconds.
Their charging stations, which resemble a life-sized game board, can dispatch up to 200 batteries a day.
Battery-swapping is not a novel concept, but it's the business model that makes a difference.
Israeli company Better Place, which also marketed battery swapping, rose and crashed equally dramatically.
In Maini's Internet of Things-enabled platform, computers keep track of how many kilometres one has travelled and the customer is only charged for those.
"Think of the electric vehicle as a smart phone and our batteries as the SIM card.
"The consumer buys the vehicle, we provide the SIM card and create a digitally enabled network. And the consumer pays as he goes," says Maini.
Around the time the Reva was launched, the government removed subsidies for electric vehicles and increased taxes on them.
"We are seeing a U-turn now. We could have started earlier, but considering we have 16 of the 20 most polluted cities in the world, it's never too late." Today, things are promising for electric vehicles, feels Maini.
Initiatives such as NITI Aayog's FAME II proposal has Rs 10,000 crore worth of subsidies to accelerate the adoption of clean energy vehicles; the proposal also recommends phasing out internal combustion engine three-wheelers by 2023 and two-wheelers by 2025.
The government has also announced additional income tax deduction of Rs 1.5 lakh on the interest paid for loans taken for electric vehicles.
And with nine fleet owners (such as Ashok Leyland) and other industry partners going the sustainable energy way, SUN Mobility is already a changemaker in the 26 months of its existence.
For Maini, the journey to the future continues to be as relevant as the destination.
This was as true of the teenager who hung around Bengaluru bazaars such as Russell Market and J C Road, scrounging in electronics shops and junkyards for material with which to build remote-controlled toy cars from scratch.
Maini spent as much time building machines as he spent reading his older brother's engineering books.
By the time he was 15, he had built his first go-kart.
The practice of model-building gave him early lessons in how minute details could crucially affect the larger end-product.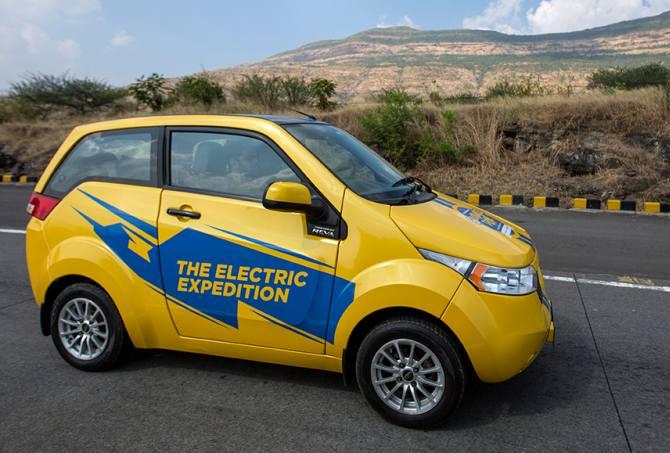 SUN Mobility's partnership with Uber Technologies to deploy electric three-wheelers across India is only the latest in a wave of clean energy initiatives in India.
The company's partnership with SmartE's fleet of 45 rickshaws in Delhi, which can be seen gliding around Metro stations, is likely to be increased in the near future.
"After making four-five rounds we'd have to spend four hours charging our rickshaws. Now we just swap batteries and can make another five rounds in that time," says Radhe Shyam, a SmartE driver in Delhi.
The daily earnings of these drivers have risen by Rs 200-300.
Maini's company has also partnered with Ashok Leyland to update its buses for the times.
About 10 electric buses powered by SUN Mobility are doing the run in Ahmedabad.
In less than two months, these buses will be ramped up to 18.
A soft-spoken man who doesn't think twice about fixing a fuse in the factory, Maini's dynamism is driven by this hands-on attitude.
"Chetan's vision of the future is what is so remarkable about him," says Yuvraj Sarda, strategy head at SUN Mobility and one of the company's first employees.
"That was a time when the government really had no plans for electric vehicles and there wasn't much happening on that front. But Chetan already had a clear vision of how to disrupt the industry."
There was a time in the 1990s when all car makers were heading to California to make electric vehicles, but the movement petered out.
The wave is now back and this time it has come with the full force of government support and enthusiastic entrepreneurs.
This isn't just a second wave of electric mobility, says Maini, "it's the wave."
Pradeep Parameswaran, president, Uber, India and South Asia, says this is a "mobility ecosystem that is sustainable, provides cleaner air and helps build smarter cities across the region".
There are still those who feel that India has a long way to go before coming close to the electric dream.
"But one has to bite the bullet because it's already happening everywhere," says veteran automobile maven Murad Ali Baig.
"No country is ready for electric vehicles, and every country is ready for it," he adds.
"About 20-30 per cent of all cars sold in Germany and Norway are electric. Go to small towns like Moradabad and Bareilly and you'll find the Bajaj three-wheelers have already been replaced by e-rickshaws."
Like the lessons he learnt from building model planes and toys, Maini is soaking in the journey of changing the face and feel of our cities, one battery recharge station at a time.
Perhaps a second chance at disruption is the lucky charm he needed.