India is a $180-billion automobile market, including vehicles and services. Of this, only $1 billion is online.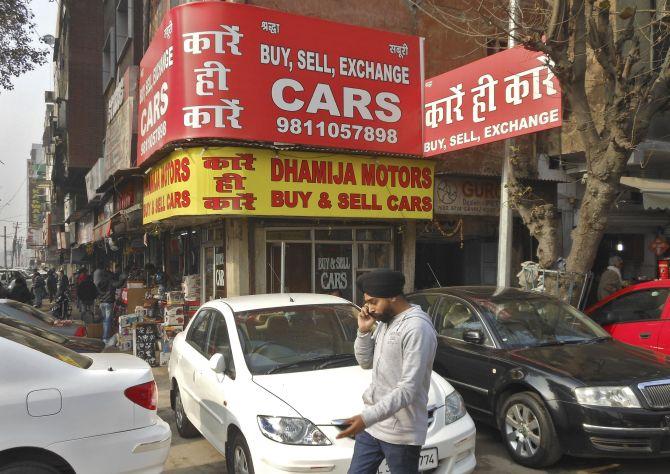 The used car market in India is almost entirely offline, despite the presence of online marketplaces of late.
In a traditionally low-trust market, online firms are banking on winning customer trust with innovative products and services.
Sandeep Agarwal, founder of Droom, says India is a $180-billion automobile market, including vehicles and services. Of this, only $1 billion is online.
Droom enjoys 65 per cent share of this segment. He estimates online penetration would grow from 0.6 per cent now to 7 per cent by 2021, resulting in business of Rs 20 billion.
The three-year-old company, which has raised close to $65 million in funding, includes a marketplace and ecosystem services.
To build trust, Droom has built five ecosystem services so far, says Agarwal.
One is Orange Book Value, an artificial intelligence-based pricing engine that can identify market value of a vehicle.
Eco, its inspection service, uses a proprietary Android app.
Third, Droom History gives the vehicle's record. This year, the company has launched Droom Credit as the country's first marketplace offering auto loans for a used automobile.
Given the high rejection and interest rates for loans, the rationale behind Droom Credit was, "Why should consumer financing for used cars be so difficult?" says Agarwal.
In October, it launched a feature called Droom Discovery for pre-buying research and comparison.
In the next two years, the company plans to deepen its reach in the top 25 cities (of 500-plus cities it is present in), build on its ancillary services (targeting from 0.3 to 2.5 services per vehicle that is sold), innovate further with products to make them industry standards, and also add two new categories per quarter.
Lastly, the company is investing heavily in a feature called Assist, which provides assistance to buyers to ensure better conversion, says Agarwal.
Shubh Bansal, co-founder and marketing head at Truebil, agrees there is a big headroom for growth, stressing that annually 35 lakh used cars are sold in India, as against 4.5 crore in the US.
A company like Truebil lies somewhere between classifieds/media businesses and roadside dealers.
Roadside dealers tend to cheat, as there is no repeat behaviour involved, while classifieds and media players provide leads, says Bansal, adding that Truebil wants to establish itself as a brand that can help post-transaction as well to bring trust.
He says as against a cab-hailing app, which involves repeat behaviour and low ticket sizes of Rs 100-200 on average, buying a car is a big-ticket, life goal of a consumer.
Also, people in India treat cars as a statement rather than a commodity, so there is a stigma attached to buying used cars, especially in tier-II and III cities.
Truebil has three revenue channels - as a marketplace where it charges a subscription fee from sellers and buyers; offline presence (selling in showrooms based on data assistance through Truebil Direct); and post-sales services.
Bansal argues that the notion of "certified cars" has been overplayed by web platforms, which has led to a negative connotation.
"We don't tell you so, we curate cars. Every single car by default has all the data, inspection reports etc. Secondly, we have introduced True Score a year ago which helps you in comparing vehicles in terms of price, condition and locality."
For example, he explains, rust is a factor in coastal places, so cars from such regions might have a reduced score on the locality yardstick.
For Truebil, which is present in Mumbai, Bengaluru and Delhi, the aim is to gain a toehold in these markets before expanding to more cities and towns, says Bansal.
Anil Kumar, CEO of RedSeer Consulting, points out that in smaller cities the differential in terms of value people see on the web portals as against brokers or agents offline is very low.
Brokers have a better understanding of the local place, as a result the service tends to be highly hyperlocal, barring in some big cities.
Also, in e-commerce, one may be buying a product (in this case, a car) that might be sold off from a different city altogether, but in case of the traditional used car market buyers purchase the product from the same city or town.
While brokers have a fairly strong control on the market, in large cities buyers make the discovery online but close the deal through brokers, as in case of real estate, says Kumar.
"In case of cars, the cycle in which you want to sell is much quicker and more definitive. You often want to buy a new car soon afterwards, unlike for a rental apartment that can wait for months. Customers therefore end up selling to brokers."
According to RedSeer research, the online auto classifieds market had grown to about $40 million in size in 2016.
More than half of the existing used car dealers already advertise online, as it is seen as one of the most effective advertising channels.
About 75-80 per cent customers claim to do online search before buying cars as they rate it among the most trusted source of information.
"The online auto classifieds industry has the potential to grow its revenue at a CAGR of 50 per cent to $208 mn by 2020.
"However, to achieve this vast potential, players will need to reduce dependency on used car dealers and drive rapid adoption of paid services from individuals and new dealers as well," a research paper by RedSeer says.
Road ahead
Truebil identifies itself as somewhere between classifieds and roadside dealers, aiming to establish itself as a brand that can help post-transaction to bring trust
In the next two years, Droom plans to deepen reach in top 25 cities, build on its ancillary services, innovate to make products industry standards, and add two new categories per quarter
In smaller cities the differential in terms of value people see on the web as against brokers or agents offline is low. Thus, the service remains hyperlocal
Photograph: Aditya Kalra/Reuters