However, it has an auditory feature that throws up a soft but audible whirring sound like a spaceship while driving as well as a different tone on the outside to let bystanders know a car is on its way, says Pavan Lall.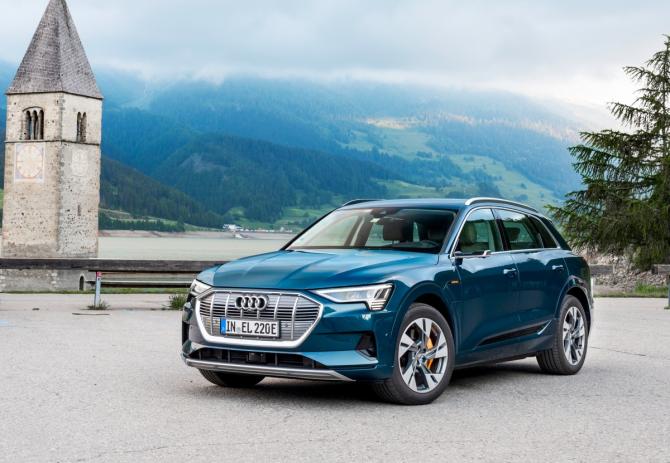 When vehicles that were concept cars or showstoppers at motor shows become market-ready and roll out at dealerships in your town, you know that the brands have reached a tipping point and it's a matter of time before the models become commonplace.
That's the case with electric cars the world over.
They are increasingly becoming more prevalent with new model launches, as brands such as Lamborghini, Lotus and more launch cars that they say will be their very last "fossil fuel" version.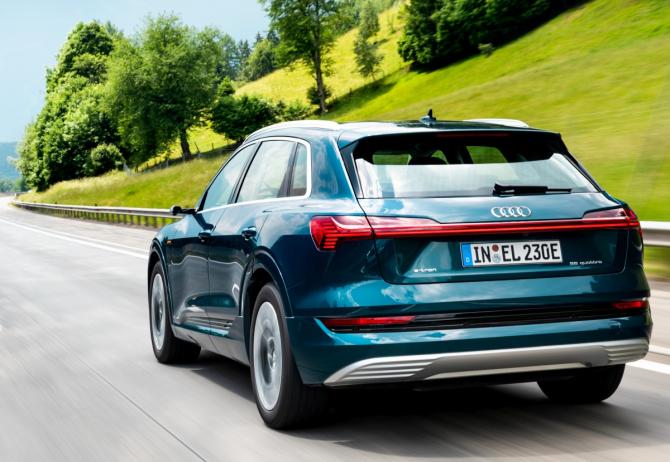 To be sure, this Audi's latest launch is not the first electric SUV in the market.
There have been others that range from the mass market Hyundai Kona to the Mercedes-Benz EQC in recent years.
But what makes the e-tron SUV (Q5 equivalent) special is that from inside and out it looks and feels the same as a regular Audi SUV. Except that there's no gear, no sound and no engine.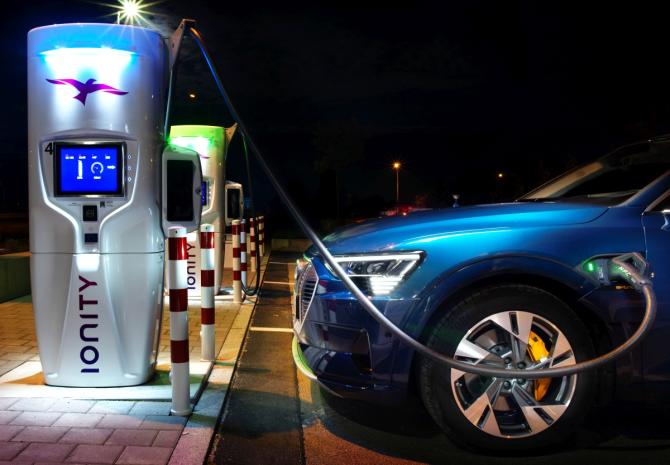 However, it has an auditory feature that throws up a soft but audible whirring sound like a spaceship while driving as well as a different tone on the outside to let bystanders know a car is on its way. And, of course, there are tonnes of features that will make any premium car lover sit up and take notice.
Think permanent all-wheel drive, adaptive air suspension and panoramic sunroof as standard features, as well as a 16-speaker Bang & Olufsen 3D Surround Sound System and an air quality package with air ioniser.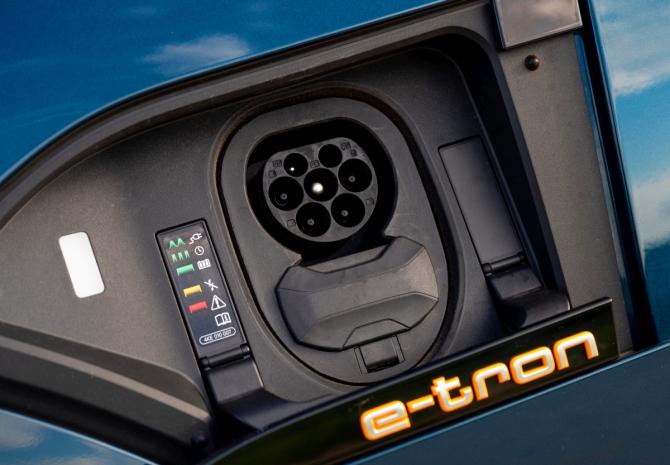 Audi opened up sales for the e-tron with bookings available on its website for a down payment, something that is growing slowly but surely as a D2C sales channel for most industry players now in the auto world as demonstrated by an announcement made by Mercedes-Benz a few weeks ago confirming that it would allow customers to buy cars directly.
The seats and ambience inside the e-tron are expectedly comfortable, with typically clean minimalist Audi touches and a silent cabin that feels almost too well insulated from the world outside.
That's largely on account of the fact that there is little internal engine noise to remind you this is a car you're travelling in.
The spaceship- or aircraft-like atmosphere aside, this SUV is entirely different from the Q5 in that it's silent and the power supply, like in most electric cars, is unlimited and on tap.
That is to say, just punch the accelerator and get as much non-linear acceleration as you want.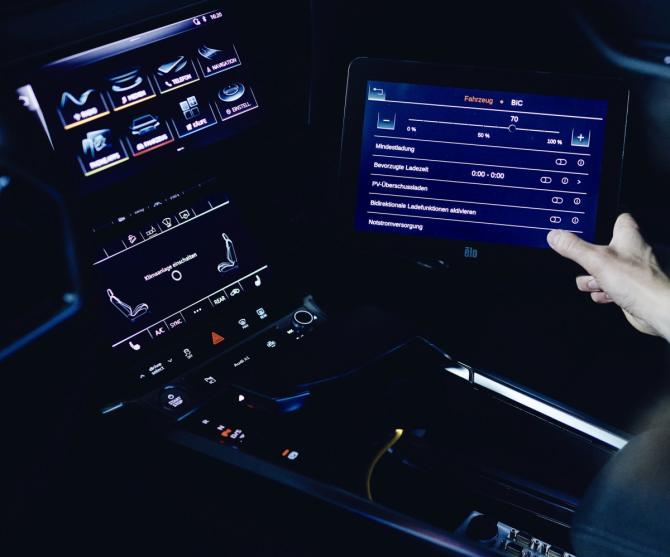 Of course, given that the e-tron 55 is a fully imported model its sticker price is a bit of a shocker and on the high side compared to its fossil fuel variant.
It's priced at over one crore rupees -- in effect, at least 45 per cent more than its petrol sibling.
That and the fact that the infrastructure for EVs is not yet developed leaves the onus for supporting ecosystems such as battery charging points on the buyer.
So, expect the volumes and sales for these cars to be on the lower side.
Of course, what it does is to let the consumers know that they have what Audi's arch-rival and competitor BMW describes eloquently as "The Power of Choice" strategy.
This effectively enables car-makers to sell hybrid, electric and petrol or fossil-fuel cars side by side across channels and in different markets to different consumers.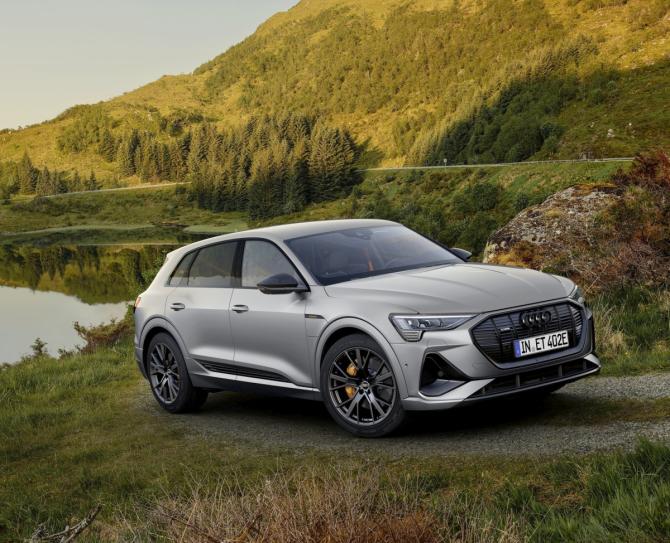 Back to the SUV I drove, with its green licence plate that signifies it's powered by a battery -- in this case, one weighing hundreds of kilos.
Take it to the hills and it handles the ride with ease given its ability to raise suspension and get into off-road mode.
Likewise in the city, it sprints to 100 kmph in under six seconds thanks to the immediate power delivery unlike that of internal combustion engines that need time to build up revs per minute and more.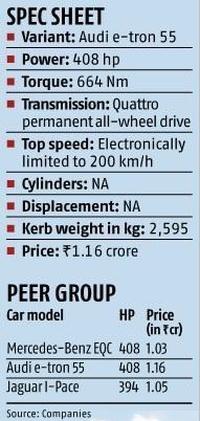 The city range is expected to be approximately around 400 km, sufficient to get around most places and back and forth for at least a few days.
But one would have to be especially cautious when travelling outside one's neighbouring precincts.
It takes approximately eight to ten hours for a standard charge and a super charge through a DC charger slashes the time down to around three or four hours.
Super comfy, powerful and spacious, the silent e-tron 55 is not for everyone and certainly not for those looking for a budget luxury car.
But this is a vehicle that is top of the charts on the electric category of SUVs, for now.
Of course, given the power of choice, expect competitors to be jostling for market share very soon.
Feature Presentation: Rajesh Alva/Rediff.com