While the gold policy covers every aspect, from sourcing gold to trading and investing in it, experts assert that the policy is incomplete if mining of gold in India isn't promoted.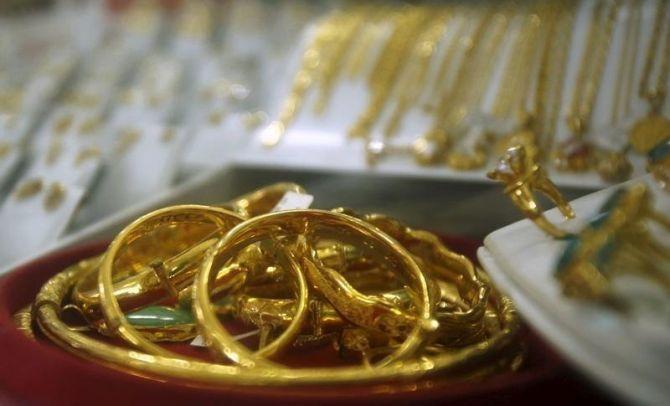 The issue of gold mining has made it to the policy makers' table for the first time.
The reason, according to sources, is that Department of Economic Affairs is considering a proposal to promote domestic gold mining as part of the comprehensive gold policy that is being finalised.
It could not be ascertained whether mining will be taken up in the first phase or subsequently as views of mining and forest ministries have to be factored in.
However, industry experts have said quoting government reports that at least 100 tonnes of gold can be mined a year in India, from a mere two tonnes currently, if mining is prioritised and permissions are issued as a part of the government's ease of doing business mission.
"It is essential that the proposed gold policy as declared in the Union Budget caters to the entire supply chain from mines to market.
"While much has been said about regulation on bullion and jewellery, it is essential that serious thought is given to the issue of exploring the country's gold mines, which will not only save foreign exchange but also generate a lot of employment in mining and refining field," says Surendra Mehta, National Secretary, Indian Bullion and jewellers Association.
The finance minister had said in his Budget speech that a comprehensive gold policy was being prepared.
While the policy covers every aspect, from sourcing gold to trading and investing in it, experts assert that the policy is incomplete if mining of gold in India isn't promoted.
Nick Spencer, managing director, Galaxy Gold Mines says, "A hundred tonnes of gold is already defined as a mineable reserve in India."
He quotes from a report submitted to the the Core Group on Gold and Precious Metals constituted by the Union Ministry of Mines, which had estimated the total unrefined gold resource base in the country as on April 1, 2011 at 658 tonnes of metallic gold.
The report also stated that this tonnage is spread over 13 different states. Of this tonnage 167 tonnes (139 in Karnataka and 27.5 in Andhra Pradesh alone) is categorised as reserves in the sense that it is economically mineable.
The remaining about 491 tonnes is classified as resource, of which 265 tonnes is the actual drilled resources and the remaining 226 tonnes is the projected potential resource.
Spencer was earlier the founder-MD of Kolar Gold Plc, an Indian mining consortium listed in London.
He has now moved to India and has set up Galaxy Gold Mines to help develop and build modern gold mines, using a three-tier strategy.
To ensure expeditious gold production and augment dore supply in India, Galaxy has entered into a joint venture with a new gold mine in Tanzania.
This property will start producing one or two tonnes of gold a year by 2018-end.
The JV plans to sell all the gold dore produced in the African mines to refiners and jewellers in India, to reduce the shortfall in supply here.
Secondly, Galaxy will also source and recycle gold dore from India and Africa for Indian refiners and jewellers.
Spencer adds, "After 12 years of exploring and developing gold projects in India, we are now working with several Indian mining groups and gold refiners to assist us with funding and government approvals needed for gold mining.
"We are working on six such gold projects at present."
However several bottlenecks are stopping gold mining in India despite the proven high potential.
One miner had to take as many as 120 steps and had to wait eight years before getting a mining license.
Less than one per cent of exploration permits have progressed to the mining license phase due to pitfalls in the approval process.
Photograph: Kham/Reuters