Budget forces last minute change in finance minister's plans.
Archis Mohan and Arup Roy Choudhury report.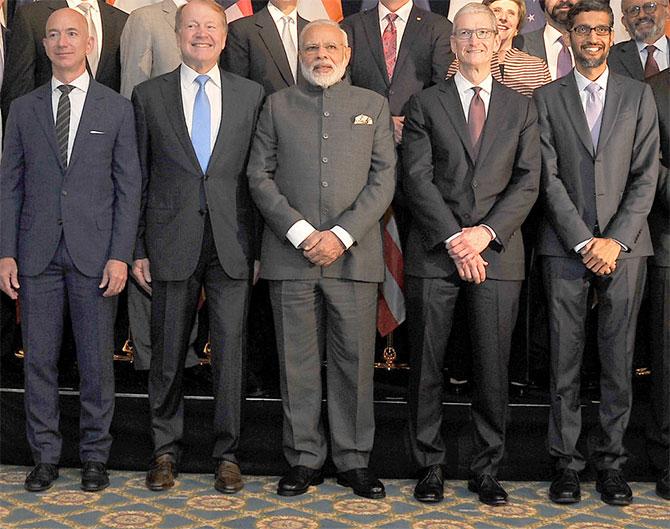 IMAGE: Prime Minister Narendra D Modi has been meeting CEOs since his appointment in May 2014.
Here he is, flanked by Jeff Bezos of Amazon, John Chambers of Cisco, Tim Cook of Apple and Sunder Pichai of Google in Washington, DC, June 25, 2017. Photograph: Press Information Bureau
Prime Minister Narendra D Modi is scheduled to meet over 100 of the world's top business leaders during his visit to Davos to attend the World Economic Forum's annual meeting.
The PM is slated to be in Davos on Monday, January 22, and Tuesday, January 23, and will be the keynote speaker at the WEF's inaugural plenary session.
The highlight of Modi's visit -- apart from his speech at the plenary session -- will be a dinner he is hosting for top global CEOs.
60 CEOs have confirmed their attendance, including 20 from India, Department of Industrial Policy and Promotion Secretary Ramesh Abhishek said.
The other 40 confirmed invitees, Abhishek added, represent 18 different countries.
These 60 companies, across 26 different sectors, cumulatively have a turnover of $3.3 trillion, thhe DIPP secretary pointed out.
12 of these companies provide jobs to 4 million people around the world, including 1 million jobs in India.
12 of these companies, Abhishek added, have been operating in India for over a century.
Airbus CEO Tom Enders, Hitachi Chairman Hiroaki Nakanishi, WEF Founder Klaus Schwab, IBM's Ginni Rometty, The Carlyle Group's David Rubenstein and the BAE Systems chief, among others, have confirmed that they will attend the dinner with Modi on January 22, Abhishek said.
Modi is also scheduled to meet the WEF's 120-member International Business Council.
The two interactions, with 60 and 120 business leaders, Abhishek said, will give Modi an opportunity to showcase the changes he has brought about in India in the last three years and articulate his vision.
The PM will have a separate interaction with Indian CEOs attending the WEF.
The Indian delegation will showcase the jump in India's rankings in ease of doing business and various other reforms at the main venue in front of 1,500 delegates.
Indian cuisine will be showcased, as also its soft power with two yoga teachers being flown to Davos.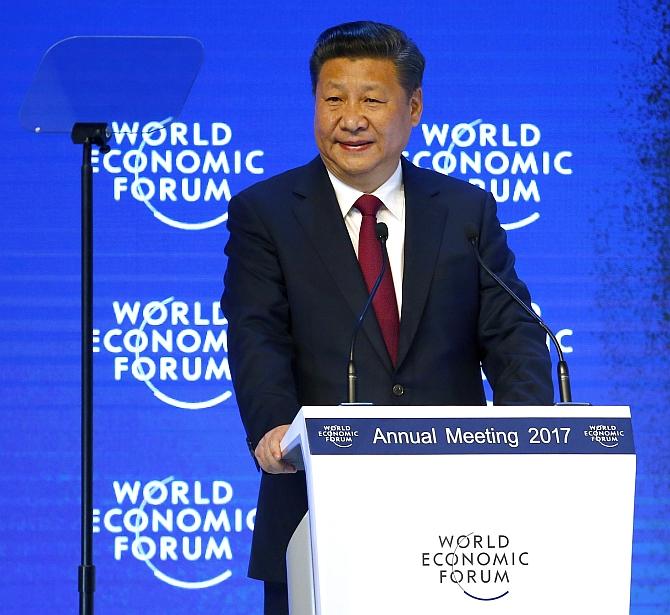 IMAGE: Modi will address the World Economic Forum in Davos a year after Chinese President Xi Jinping became the first Chinese leader to address the WEF.
The last Indian prime minister to address the WEF in Davos was H D Deve Gowda a couple of months before he resigned. Photograph: Ruben Sprich/Reuters
Apart from Modi, five Union ministers will attend several sessions.
Finance Minister Arun Jaitley was scheduled to be one of the key speakers at the India-specific sessions at Davos, but he will now not travel to the Swiss town.
A finance ministry source said the change in plan was because the FM was needed in New Delhi to devote time to the Budget.
Jaitley was earlier scheduled to be in Davos on January 24 to take part in the key 'country strategy dialogue on India'.
Sources confirmed the change in the FM's itinerary barely 24 hours after the ministry of external affairs held a press conference on Friday to announce that Jaitley would travel to Davos.
Commerce and Industry Minister Suresh Prabhu and Petroleum and Natural Gas Minister Dharmendra Pradhan will now address the 'country strategy dialogue on India' session.
Prabhu will attend nine sessions across three days while Pradhan will attend five sessions.
Railway Minister Piyush Goyal will attend 10 sessions, Minister of State in the PMO Dr Jitendra Singh three sessions and Minister of State for External Affairs M J Akbar will be part of two sessions.
The large number of sessions being addressed by ministers, Abhishek said, reflected the importance the WEF has accorded India this year.
The Indian delegation will organise discussions on financial inclusion, promoting digital payments, clean energy, modernisation of the Indian Railways and skill development, which will be attended by the ministers.
Officials ruled out any meeting between Modi and US President Donald J Trump, who is scheduled to address the closing session at Davos this year. Modi will have returned to India by the time Trump arrives in Davos.
DIPP Secretary Abhishek and Secretary (Economic Relations) Vijay Gokhale -- India's foreign secretary-designate -- said Modi's message to global CEOs will be India's increasing GDP, reforms implemented in the last three years and the opportunities India offers global business.
New Delhi, Gokhale said, had a lot to say to the international community, particularly the fact that certain economies are increasingly contributing more and more to the world economy -- one is China and the other being India.