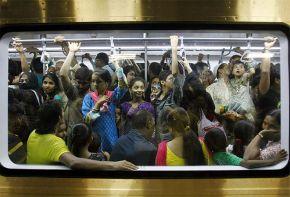 The Bombay High Court today asked the Centre to direct the fare fixation committee to expeditiously fix the tariff of the 11.4-km Mumbai Metro rail corridor which connects Versova in the west to Ghatkopar in the east.
All the partners in the consortium are members of the fare fixation committee which has been asked to decide the fares of the Metro which became operational this month.
Justice R D Dhanuka also rejected the petition filed by Mumbai Metropolitan Regional Development Authority (MMRDA) challenging the fares of the Metro.
At present, Mumbai Metro One Private Ltd (MMOPL) is offering a promotional fare of Rs 10 for all the destinations till July 9.
MMRDA, a state agency, and Anil Ambani-led Reliance Infrastructure, both of which are part of MMOPL, have a disagreement over the fares.
While the state government wants minimum fare of Rs 9 and maximum fare of Rs 13 for the rail corridor, its operator MMOPL has announced higher fares ranging between Rs 10 and Rs 40.
According to MMRDA, fares had been decided collectively by all the stake-holders earlier and RInfra cannot change them unilaterally without following a due procedure.
The court held that the arbitration tribunal would decide on the validity and legality of a resolution passed by MMOPL, which is running the Metro, fixing the fares.
However, the arbitrators are yet to be appointed for this purpose. The court had asked the parties to suggest names of arbitrators.
However, they have not arrived at any consensus on the names of arbitrators to form a tribunal.
The judge was of the view that the agreement between the parties of the consortium which had built the Metro was in conflict with the Metro Act.