Companies, so far, were constrained by the provisions of Articles 370 and 35A, which restricted the purchase of land and hiring manpower.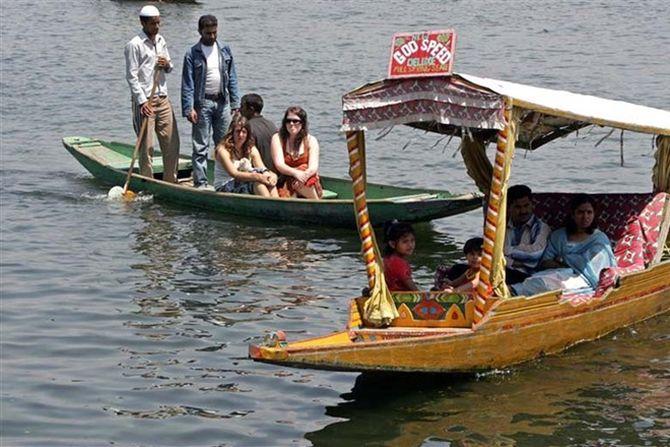 After the Centre's move to scrap the provisions of Article 370 that granted special status to Jammu & Kashmir (J&K), private sector investment is likely to get a leg-up.
The ball has been set rolling with the first-ever investors' summit to be held in October by the local government in partnership with the Confederation of Indian Industry (CII), and India Inc.
Puneet Dalmia, managing director, Dalmia Bharat Group, believed that investments in J&K would now be a top agenda in many corporate boardrooms.
"In the next five years, the youth in the region will benefit from tremendous job opportunities as a result of these investments."
He also said that J&K was an inseparable part of the country and deserved the same growth and development as the rest of India.
"This is a historic moment of great pride for all Indians."
Berger Paints managing director and chief executive officer Abhijit Roy said that while the company doesn't have any plan to scale up operations right now, the region should attract investors with restrictions on the land purchase being eliminated.
Berger's plant in Jammu also caters for markets in Haryana, UP, Rajasthan and Uttarakhand.
Companies, so far, were constrained by the provisions of Articles 370 and 35A, which restricted the purchase of land and hiring manpower.
J&K's rich agri, forest, herbal and mineral resources make it a likely choice for FMCG companies.
Food industry sources said companies into fruit juices, jams, sauces and condiments such as saffron would be keen to set up plants in the state, since the region produces apples, apricots and saffron.
"Apart from large manufacturers, even the MSME sector could consider setting up units there," a source said.
Dabur, PepsiCo and Coca-Cola have manufacturing plants in the Jammu region.
When contacted, all three companies said they had no comments to offer on plans to step up investment but senior executives said the picture would become clear in a month.
Vikas Jhabakh, managing director at Italian bike maker Benelli India, said: "The company will consider looking for a dealer partner in the Ladakh and the J&K regions given the tourism potential these offer."
"(However) It's too early to make a plan," Jhabakh said.
Rajeev Kapur, MD, Steelbird Helmets said: "We plan to come up with the manufacturing facility in accordance with the upcoming investor summit in October."
J B Singh, president and CEO, at Interglobe Hotels that owns the Ibis brand, however, was more cautious.
"The tourism potential of J&K is well proven. However, we will wait for things to settle down before going ahead and making a decision regarding an investment," he said.
J&K is not a preferred destination for investment and there is reason enough.
The government's own ease of doing business rankings has placed J&K at a dismal 22nd rank in its latest report brought out in 2018, an improvement over 29 in the year before, though.
The state's lack of development is manifest in the high level of unemployment.
J&K has the fourth-highest incidence of unemployment in the country at 17.4 per cent as of July 2019, according to the Centre for Monitoring Indian Economy (CMIE).
But the expectation is that the change in the state's status will usher in investment and development.
In a statement, Uday Kotak, president-designate, CII, said: "Jammu & Kashmir is an area of strong potential for development as it enjoys a range of natural resources and immense talent."
He added: "The region's per capita NSDP at Rs 63,995 stands at about 55 per cent of the national average, and agriculture accounts for 80 per cent of the output.
"Strong efforts from the government and industry, including local businesses, are the need of the hour to raise its growth rate and create new opportunities for employment and livelihoods."
Photograph: Fayaz Kabli/Reuters