While Prime Minister Modi grapples with serious matters of State so very successfully, may I urge that he focus just a bit of attention on the economy, says Manoj Mohanka.
Illustration: Uttam Ghosh/Rediff.com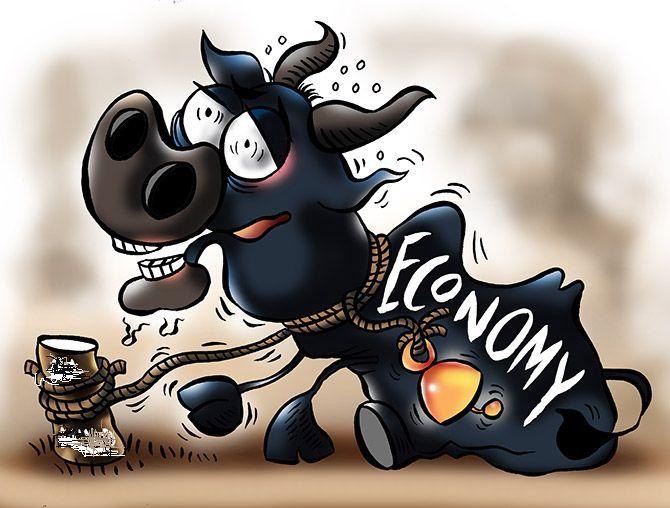 The economy is going through a bad patch not only in India but globally.
We can be in denial, or accept the grim reality and try and take remedial action.
The United Progressive Alliance 1 also faced a global bloodbath but managed to keep India largely insulated.
We claim a 7 percent GDP growth but it certainly doesn't feel like it on the ground.
Dare I say that it feels like what was pejoratively described as the "Hindu" rate of growth!
The SME space is in a cash crunch, the auto sales of the majors and unemployment statistics at large seem to belie the claims of a robust economy.
How much of it is the continuing or residual impact of DeMo and GST, is anyone's guess.
It doesn't help that profit margins are constricted, bank credit is extremely tight and lending rates rather usurious.
Banks don't settle issues/disputes across the table anymore for fear of their integrity being brought to question (even post-retirement).
So everything's become process-driven with no empathy for the plight of the businessman, particularly the small- and medium-size entrepreneur.
A failed business now means a failed family, too, with personal guarantees invoked becoming the order of the day.
The tax rates have gone northward and while that's something one can live with, the compliances have become onerous.
The mantra has sadly shifted from innocent until proven guilty to the reverse.
I am not saying that the business community (of which I am part) is pristine and lily-white -- there are some unscrupulous elements and many of us did game the system dubiously in connivance with other stakeholders -- but for all to be tarnished with the same brush will not lead to a conducive business environment.
One is constantly looking over one's shoulder as the babu/inspector has become all-powerful.
Corruption at the highest levels has gone down but payouts at low levels have become extortionist.
Big business will survive -- they have the staying power -- but it's the small timer who will be hit adversely by circumstances, including the rupee weakening.
It's been losing five percent to the USD annually on an average and those whose businesses are small and import-driven are unable to pass this hike onto customers.
The exporters will do well but we are a huge net importing economy.
Prime Minister Narendra Modi was voted in by all sections of society -- that alone can account for his resounding victory -- and while he grapples with serious matters of State, both domestic and global, so very successfully, may I urge that he focus just a bit of attention on this domestic issue?
In the long term while we are all dead, as Keynes said -- let's do well economically and financially, and may the journey to our end be pleasant!
Manoj Mohanka is a Kolkata-based businessman with an interest in national and global issues.