Apple captured just 2.4% of the mid-range smartphone market in India, a far cry from the 24.2% Oppo's F3 commanded, reports Alnoor Peermohamed.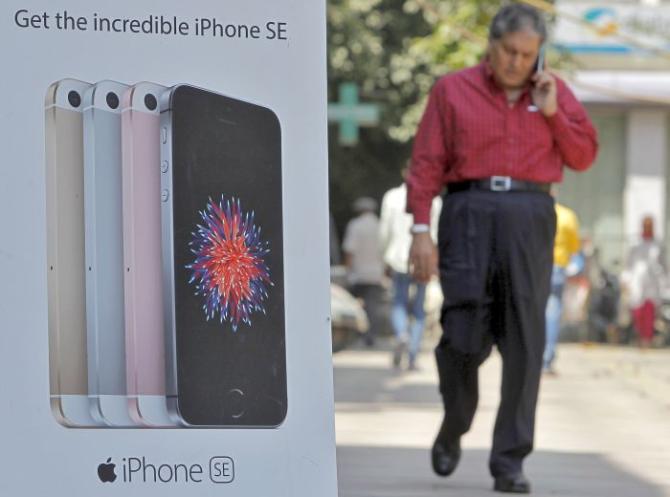 IMAGE: Experts say the failure of the iPhone SE is largely due to its small screen size. Photograph: Anindito Mukherjee/Reuters
Apple is yet to make a dent in India's massive mid-range smartphone market even as it bets on the country to drive growth and counter a fall in sales of its flagship iPhone in the United States and China.
The company's first locally assembled device, the iPhone SE, has not performed as expected.
Apple sells around 30,000 units of the iPhone SE in India on a monthly basis, utilising less than half the capacity of its contract manufacturer, Wistron.
The unit is located in Bengaluru.
"The iPhone SE, since it began being manufactured locally, is contributing around 25 per cent of Apple's sales in India," said Neil Shah, research director at Counterpoint Research.
"Still, the iPhone 6 is selling better and in the past two months sales of older-generation iPhones have contributed 70 per cent to sales in India," Shah added.
In the quarter ended June, the iPhone SE captured just 2.4 per cent of the mid-range (Rs 15,000 to Rs 30,000) smartphone market in India, a far cry from the 24.2 per cent share Oppo's F3 commanded, according to Counterpoint.
Chinese players Oppo, Gionee and Vivo control half of the segment, which accounts for a fourth of India's smartphone market revenues.
Sales of the iPhone SE have picked up, Shah said, since local manufacturing began, but Apple is still a fringe player.
A newspaper report on Tuesday, September 12, suggested Apple's lower performance could derail Wistron's plans in India.
Experts say the failure of the iPhone SE is largely due to its small screen size, with Indian consumers preferring screens larger than five inches.
It is also for this reason that Apple is able to sell more than twice the number of units of its four-year-old iPhone 6 than the SE, the entry-level iPhone.
In the high-end segment where smartphones cost more than Rs 30,000, sales between Apple and Korean giant Samsung are split equally.
This segment, while making up for five per cent of sales, account for 10 per cent of industry revenues.
In the premium segment, where Apple was able to pull ahead of Samsung last year because of the latter's exploding devices, no respite is expected this time around.
Samsung's new Galaxy Note 8 has been well received by the global media and bagged 250,000 pre-orders in the days running up to its launch in India.
"In the premium category, sales between Apple and Samsung are expected to be split equally. Last year when Samsung lost the Note 7, Apple was able to increase its share to 78 per cent. This year, Samsung's marketing team has conserved cash; there is going to be a blitzkrieg during the festive season," Shah said.
With the launch of Apple's new iPhones, garnering a big chunk of premium smartphone sales in India is probably the least of the company's worries.
But in the mid-range segment, where all the action (and money) is, Apple is yet to crack the market with devices such as the iPhone SE.
Tim Cook had been extremely positive about growth in the Indian market. 'I see a lot of similarities to where China was several years ago,' he had said in August.
But for the country to become a big consumer of iPhones, the pipeline of cheaper devices needs to fall in place.