In an interim order on Monday, the Supreme Court directed that Direct-to-Home (DTH) operators may charge no more than 42 per cent of the rates paid by cable operators for TV channels.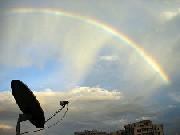 The order stays an earlier quashing by the Telecom Disputes Settlement and Appellate Tribunal (TDSAT) of a 35 per cent rate cap (of what cable operators pay) fixed for DTH operators by the Telecom Regulatory Authority of India (Trai) last July.

DTH operators had appealed to TDSAT, which said Trai had no authority to fix such a cap and the level set was also arbitrary, in that DTH operators had to pay much more than cable ones did. Trai, said TDSAT, had not explained how it arrived at the said figure.

The operators were still not satisfied and went to the SC; Trai also appealed. The SC bench of judges R V Raveendran and A K Patnaik have stayed the TDSAT directive, set an interim level of 42 per cent and clarified their order would not apply retrospectively.

And, that existing agreements between DTH operators and broadcasters would continue. Leading broadcasters such as Zee Turner, Sun TV, ESPN Software India and MSM Discovery had moved TDSAT against the Trai rate cap.

They said it wasn't commercially viable.

It was argued before the SC that the rates should not be fixed but be periodically revised. The number of consumers was increasing rapidly for both DTH and cable operators.

More, the figures provided by cable operators about their subscribers were not reliable, as they tended to under-report the real numbers.

In the case of DTH operators, it was not possible to so conceal the figures. The rates should have been fixed after hearing all operators, it was argued.