The truncated state, despite claims of having started at a disadvantageous position, now comes third in ease of doing business and has a host of other achievements under its belt.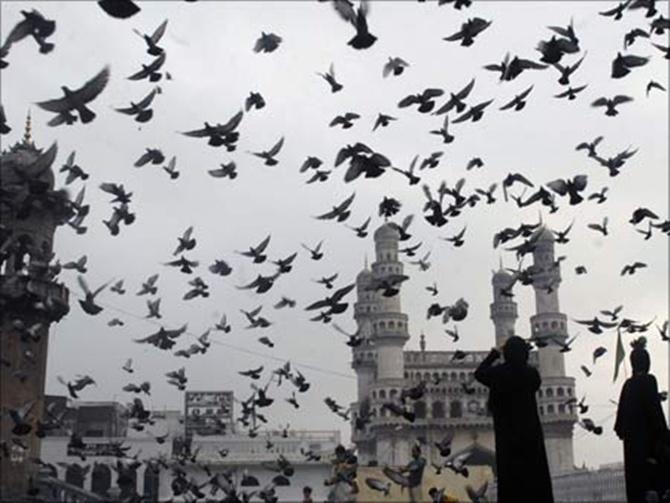 On June 20, Railways Minister Suresh Prabhu flagged off an intercity superfast express train between Vijayawada and Hyderabad, a week before the Andhra Pradesh government's June 27 deadline for the 25,000-odd staff and officers to relocate from the existing state headquarters to the new capital of Amaravati.
The train would help these people cover the 351 km to Vijayawada in six hours.
Hyderabad, designated joint capital of Andhra and Telangana for 10 years, is to become the capital of Telangana , Amaravati, about 12 km from Vijayawada, would be the government headquarters of Andhra.
N Chandrababu Naidu, the Andhra Pradesh chief minister had shifted base to Vijayawada almost a year ago, to directly oversee the construction of the new capital.
Now, the staff and heads of departments will be available there on weekdays, albeit in makeshift offices.
The government has not completed building of the temporary secretariat complex to house the offices and the residential quarters for its staff and officers.
This complex on 45 acres near Vijayawada, would have one million sq ft of office space for immediate use.
The new frame is good news for those who have things to pursue with the government but have no clue whether to travel to Hyderabad or to Vijayawada to meet these officials, as they themselves keep shuttling between the two cities, not knowing where they'd will be next day.
All these sounds chaotic but the administration can be credited for quite a few things.
Within a year, the Naidu government had deployed technologies to address the last-mile issues of public delivery systems, for smooth flow of government services and monetary benefits to beneficiaries.
After raising social security pension to Rs 1,500 a month last year, the state is now spending Rs 480 crore (Rs 4.8 billion) every month on this one scheme, delivering the amount at the doorsteps of close to five million people.
There were no delivery, related complaints because the government has moved most of its welfare schemes to the information and technology and banking platforms, backed by the biometric and aadhaar data of citizens.
In Naidu's words, AP is the Gujarat of the east coast in the making.
He even set a goal that his state would surpass Gujarat in sea cargo volumes in one or two years, before catching up on other economic parameters, as his government sought to expand the port network to drive economic activity.

The government's annual Budget is Rs 1.35 lakh crore, while that of the Gujarat government is Rs 1.52 lakh crore for 2016-17.
Four of the five operational airports in AP posted passenger traffic growth of 60 per cent last year and a similar momentum was seen in the first two months of this financial year.

The 7,000-acre Sri City private industrial park, abutting Tamil Nadu is already home to 80 companies with a cumulative investment of Rs 25,000 crore (Rs 250 billion).

It is fast emerging as a smartphone manufacturing centre, after Foxconn set up a large assembly facility. Thousands of young men and women from villages in this region have got jobs in Sri City.
This, some have claimed, despite the state getting a raw deal during the bifurcation. "Division was done unfairly on all important counts, putting AP in a disadvantageous position.
More so in distribution of public debt, assets and resources. We were also denied a level playing field as the special category status and other promises were not forthcoming after the bifurcation," and Parakala Prabhakar, media advisor to the government, listing a host of achievements in the last couple of years.
Within a year, AP was ranked third in the country in terms of ease of doing business, achieved a power-surplus tag while ensuring 24/7 supply to all , created a land bank of about 85,000 acres for industrial use, achieved 11 per cent growth against the national average of 7.6 per cent.

And of it all, it emerged as the third biggest destination of foreign direct investment (FDI) in India, after Gujarat and Maharashtra.
Industry has been generous in its response. "AP is starting from ground zero unlike Telangana, which has a capital city and a large economy built around it. Things will be drastically different in the next two-three," Y Harish Chandra Prasad, former president of CII-AP and promoter of the Maalxmi group, told Business Standard.
Both Prabhakar and Prasad expect a sea change on all fronts, including the capital city project, with many large and diverse projects across the state in the pipeline.

Some of these include the Vizag-Chennai Industrial Corridor, an international airport near Visakhapatnam, four no-frills airports, seaports at Bhavanapadu and Machilipatnam, several power projects, two national investment and manufacturing zones, gas grid and LNG terminal projects.
There are some disappointments, too. G Sambasiva Rao, founder and managing director of Sravan Shipping Services of Visakhapatnam, said the government was not doing enough, particularly in removing the practical hurdles being faced by the entrepreneurs.

"Companies did not come forward to take land until the state government changed its lease-only policy recently. That was one of the reasons why not even one ground-breaking for a new project has happened in Visakhapatnam. Also, a company has to shell out Rs 1.6 crore towards plan approvals to develop a 50,000-sqft built up space in AP, against Rs 13 lakh in Telangana."
ANDHRA'S PLANS FOR THE FUTURE
FACTFILE
Andhra Pradesh is the 8th largest state in the country in terms of geographical area with 162,760 sq km; 10th largest in population at 49.5 million (2011 Census); has second longest coastline in India with 974 km, next to Gujarat (1,600 km)
GSDP in 2015-16 (advance estimates): Rs 6,03,376 crore
Per capita income: Rs 1,07,376
Literacy rate: Rural 62.37%, urban 73.18%
Annual dropout rate at secondary level: 12.65% (all India 17.86%)
ASSETS
Irrigation potential created up to December 2015: 10.3 million acres (6.5 million acres under major irrigation projects)
Power: Installed capacity of 10,587 Mw (current consumption 5,000 Mw)
National highways: 4,913.83 km
Rural roads: 82,149 km
Registered vehicles: 8.5 million
No. of buses with AP State Road Transport Corporation: 11,962; average vehicle productivity a day of its fleet is 362 km
MAJOR PROJECTS
Amaravati to be spread over 50,000 acres; to attract Rs 1 lakh cr investments
Rs 1,360-crore lift irrigation project at Pattiseema completed in one year to divert floodwaters from Godavari to Krishna delta; plans to divert 80-100 tmc of water saved on upstream Krishna reservoirs to Rayalaseema and Nellore districts in the current year
Asia Development Bank-funded Vizag-Chennai Industrial Corridor Project to take off in 2016-17