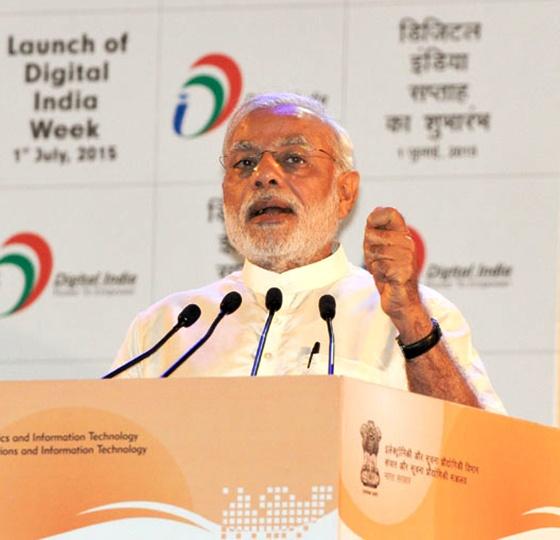 Ambani brothers on Wednesday showered lavish praises on Prime Minister Narendra Modi saying, India has now got a decisive and visionary leader.
Speaking at the launch of Digital India Week in New Delhi, Anil Ambani said the Indian story, which had been driven by 3-Ds - democracy, demographics and demand, added a fourth 'D' - Decisiveness.
"A little over a year ago, we added a 4th 'D', which is perhaps even more important: Decisiveness. With Narendrabhai assuming charge as Prime Minister, we inaugurated a new era in our nation's history: of visionary and decisive leadership," he said.
Digital India, the Reliance Group head said, would add another unique dimension to that story.
Modi, Anil added, is India's greatest and among the world's most popular leaders in the digital space with over 80 lakh followers on Twitter and over 3 times that number – or 2.5 crore followers -- on Facebook.
"In other words, Digital India carries the signature of a leader whose name is synonymous with the transformational power of connectivity and communication," he said.
Anil-led Reliance Group on Wednesday committed to invest about Rs 10,000 crore (Rs 100 billion) over the next few years to expand its presence across digital, cloud computing and telecom space.
His older sibling, Mukesh Ambani, whose Reliance Jio is set to launch telephony and broadband services by December, said in Modi, India is fortunate to have a Prime Minister "who not only paints a comprehensive and compelling vision but has the personal leadership and drive to convert his vision to reality."
"It is my conviction, Prime Minister, under your leadership, the Digital India initiative will create a partnership among all sections of society... a partnership that will leverage the power of 1.2 billion Indians. A partnership built on the ability and industry of all our citizens," he added.
Reliance Industries will make an investment of over Rs 250,000 crore (Rs 2.5 trillion) in the digital space, including rollout of wireless broadband infrastructure and manufacturing of mobile handsets. Other industry leaders too showered praises on the Prime Minister.
India's largest private telecom services operator Bharti Airtel's Sunil Bharti Mittal said Modi understands the power of technology.
"Who better to lead this initiative than our own very popular and beloved Prime Minister, who is a digital native, perhaps a handful of leaders around the globe who understand and is comfortable with the technology. Who is an avid user of Facebook and Twitter and a person who has set a trend of selfies," Mittal added.
He said Digital India is a "fantastic initiative" that has the power to transform India in the shortest time.

Further commenting on Modi, Mittal said: "He understands the power of technology, he understands how it can transform the nation, he understands how it can connect the length and breadth of the country in the shortest possible time frame.
"Sir, we are truly blessed that you have picked up digital initiative as one of your key pillars."
Aditya Birla group Chairman Kumar Mangalam Birla, who has pledged to invest $7 billion over the next five years in network roll out, broadband and wi-fi deployment, commended Modi's futuristic thinking.
"Digital India is a truly exciting possibility. Prime Minister Narendra Modi has articulated the whole vision, which reflects his clairvoyance and his futuristic thinking," he added.
Billionaire mining baron Anil Agarwal said the industry will actively participate in the drive as it has the potential to drive India ahead as a knowledge and economic power.
"Whenever the government has trusted the Industry, it has performed whether it is telecom, pharma, power etc. I can assure you (Prime Minister) in the coming days if you will trust us we will succeed," he said while speaking at the programme.
Agarwal-led Sterlite Technologies has pledged to set up LCD panel manufacturing plant in the country with an investment of Rs 40,000 crore (Rs 400 billion).
Tata Group Chairman Cyrus Mistry said: "I would like to congratulate the Prime Minister on digitally empowering the country."