A paucity of last-minute alternatives has sent fares for popular routes soaring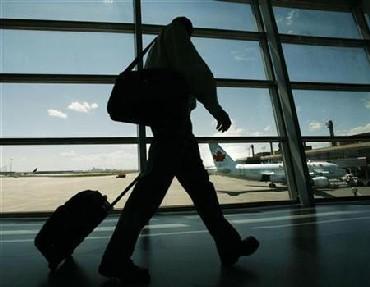 Here's some bad news for those planning to travel during the holiday season: With SpiceJet flights grounded on Wednesday and the airline's future uncertain, airfares are hitting new highs.
A check on MakeMyTrip showed a one-way ticket on the Delhi-Kolkata route was being sold for Rs 38,000-42,000 on Wednesday.
Also, only 14 seats were available and that, too, on full-service carriers.
The situation is no better in other sectors.
A Delhi-Mumbai ticket for Wednesday was available at Rs 22,000-32,000, while a Delhi-Bengaluru flight ticket cost Rs 18,000-28,000.
Data from MakeMyTrip show spot fares for the top three routes -- Delhi-Mumbai, Delhi-Bengaluru and Mumbai-Bengaluru -- have risen significantly compared to December last year.
While fares on the Delhi-Mumbai route have risen 45 per cent, Delhi-Bengaluru and Mumbai-Bengaluru tickets are priced 57 per cent and 42.5 per cent higher, respectively.
"We have observed multiple cases of passengers (small groups) cancelling their forward bookings on SpiceJet and re-booking on other airlines, anticipating a further increase in prices.
Currently, these bookings are being absorbed by other airlines at a higher cost than the original booking, as these are closer to departure," said Indiver Rastogi, chief operating officer and head (corporate travel), Thomas Cook India.
For those seeking to fly from Delhi to Mumbai on Thursday, the fare is Rs 10,019-30,000.
For Friday, the rates vary from Rs 8,800 to Rs 11,000.
On the Delhi-Bengaluru route, fares stand at Rs 13,000-17,000 for Thursday and Rs 10,000-14,000 for Friday.
The Delhi-Mumbai and Delhi-Bengaluru routes aren't the only ones to record huge fare increases.
Those travelling from Delhi to Kolkata during December 18-21 have to pay Rs 11,600-17,000.
Those cancelling their SpiceJet tickets to Goa and looking for alternatives will do well to consider other options: Fares on the Delhi-Goa route for Friday range from Rs 16,800 to Rs 43,000 (with one stop).
With such a budget, one could undertake a four-five day trip to Southeast Asia, hotel expenses included.