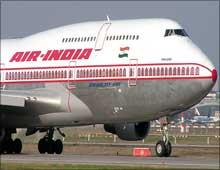 A section of Air India pilots on Saturday went on a strike to protest the reduction in their productivity-linked incentives (PLIs) but operations of the national carrier were unaffected as only some flights were cancelled.
Besides a Kabul-bound international flight from New Delhi, two domestic flights to Mumbai and Lucknow from the national capital were cancelled. In Chennai, operations were normal while in Kolkata a flight to Aizwal was cancelled as the pilot reported sick. The remaining 13 AI flights from Kolkata, however, took off as per schedule.
Air India spokesperson Jitendra Bhargava said, "The agitation had no impact on the operations of the airline other than in Delhi, where pilots have reported sick. Only three flights have been cancelled whereas more than 40 have taken off since morning."
A section of the Executive pilots are protesting the up to 50 per cent reduction in their PILs. Representative of the agitating Executive pilots, Captain R K Bhalla, said, "All our pilots are not going to work and we have the support of the 700 line pilots and they may also join us soon."
"The impact of our strike will start showing up in a short while," he added.
Meanwhile, the pilots associated with the Indian Commercial Pilots' Association are holding meetings in New Delhi and other stations to decide whether to join the agitation. "We are in-principle with them (executive pilots) but whether we will join or not, will be decided after the meetings," an ICPA source said.
"We may also proceed on strike," he added.
For the passengers of the cancelled flights, Air India is making alternative arrangements in their own on other airlines' flights. Passengers going to Mumbai have been accommodated in the next flight while those going to Kabul have been lodged in a hotel. Some of the passengers of the Lucknow flight, who could not be accommodated in other flights, protested at the airlines' counter.
"We were asked to board the flight but after sitting there for a long time, we were informed that the flight would not go," a passenger said. Official sources said the Executive pilots were taken on board over the PLI reduction and their move was surprising.
There are nearly 300 Executive pilots in the national carrier and since they are part of the airlines management, they cannot form a union and also cannot go on strike, official sources said.