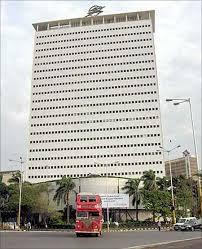 Air India will lease space to restaurants and food joints at its noted Nariman Point building in this city's southern tip, as a part of its asset monetisation plan.

The loss-making and debt-laden government carrier has earlier leased space in the 22-storey building to banks and offices but this will be first time that commercial eateries will be allowed in the premises.

On Tuesday, it offered space in the building to bidders on a three-year term.

The airline did not specify the total area being put up for lease but its tender notice said: "Minimum 1,000 sq ft area on the ground floor... would be offered for the opening of eatery joints.

Area of over and above 1,000 sq ft would also be considered, subject to space availability".

Last year, State Bank of India leased four floors in the building; the ground floor has been given out to Bharatiya Mahila Bank. Rents in Nariman Point are Rs 250-2,775 a sq ft for offices.

"AI can fetch about Rs 450 per sq ft if it leases premises to fine dining restaurants,'' said Raja Seetharaman, managing director of Aperon Realty.

Under its asset monetisation plan, AI plans to earn Rs 5,000 crore (Rs 50 billion) by March 2016 but its plans have been hit due to tepid market conditions.

In 2013-14, the airline estimated it would earn Rs 1,200 crore (Rs 12 billion) through sale and lease of its land and properties but earned only about Rs 40 crore (Rs 400 million).


A senior AI official told Business Standard this was due to adverse market conditions and legal issues over title deeds and ownership clauses.
"There are some projects in the pipeline but given the current environment for FY15, too, revenues from the asset monetisation programme have been revised downwards, to around Rs 200 crore (Rs 2 billion)," he said.
This setback will adversely impact the plan to clear its debt of Rs 30,000 crore (Rs 300 billion).
Around Rs 25,000 crore (Rs 250 billion) is long-term debt; the rest is working capital debt.
The financial restructuring plan aims to reduce the debt burden over nine years.
"The real estate situation is very bad. We do not want to do distress sales,'' said a senior official.
FISHING FOR EQUITY
3-year Term period for which Air India has offered space in the Nariman Point building to bidders
Rs 250-2,775 a sq ft Rents at Nariman Point for offices
Rs 5,000 crore (Rs 50 billion): Amount AI plans to earn by March 2016
Rs 30,000 crore (Rs 300 billion): Total debt of the airline of which Rs 25,000 crore (Rs 250 billion) is long-term and the rest is working capital debt