The Government has given more time to 307 SEZ developers to execute their projects, Parliament was informed on Monday.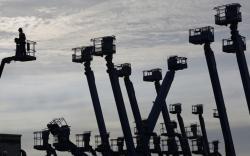 The developers have sought extension due to various reasons, including adverse business climate due to global recession, delay in approvals from statutory state government bodies, delay in environmental clearances and unstable fiscal incentive regime, Minister of State for Commerce and Industry D Purandeswari said in a written reply to the Lok Sabha.

"307 developers have been granted extension of validity period of the letters of approval granted to them for extension of their projects," she said.

From Andra Pradesh, 56 developers of special economic zones (SEZs) have got more time to execute their projects, followed by Maharashtra (53), Tamil Nadu (37), Haryana (35), Karnatka (26), Gujarat (22), Kerala (16) and Uttar Pradesh (13).

Exports from these tax-free enclaves grew by 36 per cent to Rs 2.39 lakh crore (Rs 2.39 trillion) during the April-September quarter of this fiscal,, compared to the same period last year.

So far, 385 SEZs have been notified and 160 SEZs are in operation, out of which 17 are multi-product SEZs, remaining are IT/ITeS, engineering, electronic hardware, textiles, biotechnology, gem &
jewellery and other sector specific.
In an another reply, she said the government has taken up the matter of European Union granting India the data secure status.
"The EU had commissioned a report in 2012 to analyse the adequacy of protection of personal data provided in India. However, this report had not recommended India to be granted the data secure status," she added.
The issue assumes significance as India and the 27-nation bloc are negotiating a comprehensive free trade pact in which the matter always figures prominently.
In another reply, the minister said that the commerce ministry has written to the finance ministry to expeditiously notify the post-export EPCG scheme, which was announced in June.
The scheme is aimed at giving a choice to exporters to import capital goods on duty payments and claim the duty back even after fulfilling 85 per cent to the export obligation. It is meant to reduce transactions cost and make Indian exports more competitive.
The step would help the country's exports, which is declining since May.