About 5.6 million mobile users having Uninor connections are up for grabs in Kolkata and West Bengal. Uninor, which has been operating in both Kolkata and West Bengal telecom circles since December 2009, will lose the validity of its licences in Kolkata, West Bengal and Mumbai telecom circles on January 18, 2013.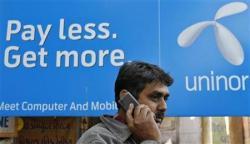 The company has already stopped taking new subscribers in the two circles, according to local retailers. Uninor has 1.8 million customers in Kolkata of the 15.31 million GSM users in the circle, while 3.7 million subscribers of the total 33.82 million mobile phone users in the West Bengal telecom circle use Uninor connections.

These subscribers will now have to either port their numbers or will have to use their talk time before the stipulated period, before the service is closed. However, market leaders Bharti Airtel and Vodafone are not doing anything specific at the moment to woo these customers.

According to an industry insider, Uninor customers are on the lower end with a low Arpu (average revenue per user) and a large chunk of these would automatically come to the market leaders.

When asked, both Bharti Airtel and Vodafone declined comments on the issue.

"Uninor has valid licences to offer mobile telephony services in Kolkata and West Bengal till January 18, 2013. Our customers can, therefore, continue to benefit from Uninor's 'sabse sasta' services until any other decision is taken on our future
operations in these circles," said a Uninor spokesperson.
In February, the Supreme Court had cancelled 122 telecom licences, including Uninor's pan-India licences, issued in 2008 by the then telecom minister A Raja.
In the recently-held closed auction of 1,800 MHz spectrum, the company secured licences for six telecom circles - Andhra Pradesh, Uttar Pradesh East, Uttar Pradesh West, Bihar, Gujarat and Maharashtra.
But, it had stayed away from bidding for Kolkata, West Bengal and Mumbai telecom circles, clearly indicating these are not under its radar in the immediate future.
In July-August, Uninor, backed by Norway's Telenor, trimmed operations to nine circles from 13 circles. At that time, it had stopped services in Tamil Nadu, Kerala, Karnataka and Odisha.
A month before discontinuing operations in these circles, Uninor had asked its customers through SMS to either port or to use full talk-time, said an Odisha resident who used to be a Uninor subscriber.
In October alone, Uninor lost 211,000 subscribers in Kolkata and 321,000 customers in West Bengal circles, according to data available with Cellular Operators Association of India.
Telenor had entered the Indian market in 2009 through a joint venture (JV) with real estate giant Unitech Group but now has bought back its stake in the JV.
The Norway-based telecom service provider, which would operate in India under the name of Telewings Communication Services, recently sold a 26 per cent stake to Lakshdeep Investments & Finance.