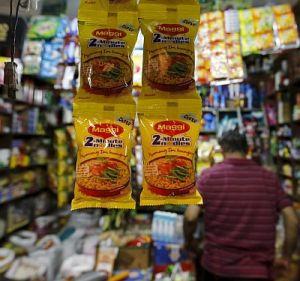 One month after the ban of Maggi, instant noodles sales in India have crashed by over 90 per cent to just about Rs 30 crore (Rs 300 million) from Rs 350 crore (Rs 3.5 billion) a month earlier, according to industry estimates.
With the key category facing an uncertain future, food processing industry players are worried that this could have an impact on their overall investment plans, while companies are now facing 'increased harassment from safety inspectors', according to a senior official of industry body Assocham.
"In the last one month the instant noodles category has suffered a massive drop in sales to about Rs 30 crore a month. Before the Maggi ban this category was around Rs 4,200 crore (Rs 42 billion) annually, which is about Rs 350 crore per month. There is a fear psychosis among consumers," the official said.
Last month central food safety regulator FSSAI had banned Nestle's Maggi saying it was "unsafe and hazardous" for consumption after finding excessive levels of lead and violation of labelling regulations on taste enhancer monosodium glutamate (MSG). Nestle India had recalled Maggi from the markets.
With FSSAI cracking the whip, HUL withdrew its Knorr Chinese noodles and Indo Nissin Top Ramen noodles which were pending for approval with the food safety regulator.
In the aftermath of Maggi controversy, there has been "increased focus" on packaged food companies, the official said, adding "there is a lot of harassment going at lower level. The industry is very scared of being subjected to more harassment".
Seeking government intervention, the Assocham official said: "There is no standard protocol for testing in different states and manufacturers are not given enough time to take remedial measures."
At least on the issue of MSG, the government should clarify that it was misbranding and not a safety issue. On the impact of the controversy on the food processing industry, the official said: "If there is a feeling that all food companies are rogue and consumers stay away from packaged food, who is going to invest?"
Currently, investments proposed in food-related projects is about Rs 90,000 crore (Rs 900 billion) which can have a multiplier effect, the official said, adding even employment could also be affected to an extent if the uncertainty over noodles category remained.
Around 1,500 workers of Nestle India involved in manufacturing of Maggi have been impacted by the stoppage of production.