Advait Rao Palepu reports how a recent Supreme Court order will impact motor vehicles insurance policies.
Illustration: Dominic Xavier/Rediff.com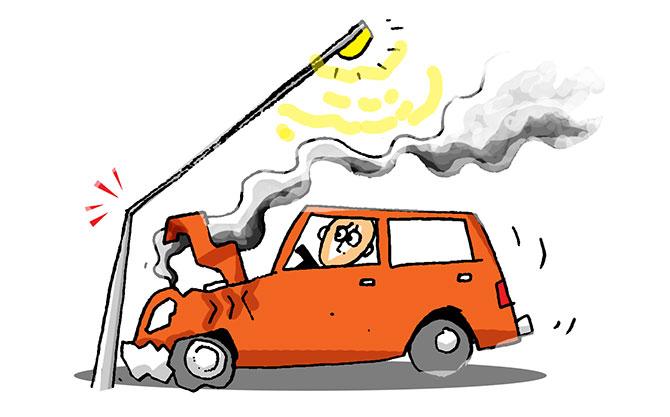 A Supreme Court order makes it mandatory for car owners to have an extended third-party insurance of two years from September 1; owners of two-wheelers have to buy a five-year term policy.
The Mother Vehicles Act and the Insurance Regulatory and Development Authority of India have made motor third-party insurance mandatory.
This cover provides security in case a bystander is injured or dies in a road mishap or if a vehicle owned by other party is damaged.
The policy provides the policyholder with a sum assured in case they injure a third party; also, the sum assured is a guarantee of compensation for victims.
At present, car owners can only purchase a one-year motor third-party policy, which has to be renewed.
Two-wheeler owners may choose to extend their policy by up to three years.
Most new vehicle buyers today buy a comprehensive policy that compensates for third-party liability and own-damage, say insurance executives.
"We are still awaiting the full text of the Supreme Court order, but I believe it will address the issue of under-insurance in the motor segment, as the gap between the number of vehicle on the roads and insurance policies is almost 50 per cent," says Rakesh Jain, chief executive officer, Reliance General Insurance.
By mandating and extending the minimum term of motor third-party covers for all vehicle owners, the direct effect on insurers will be a larger customer base and growth in overall premium revenue for the segment.
"Now that the duration is going to increase from three to five (one to two years in the case of cars), there will be saving on account of administrative expenses and insurers will have investment income for a larger time period," says Puneet Sahni, assistant vice-president for product development at SBI General Insurance.
"This gain needs to be passed on to the ultimate customer," Sahni adds. "I am expecting the regulator to come up with indicative premiums for five years, because if everyone starts passing on as per own experience and data, it could create another problem."
Experts say only 45 per cent of motorcycles and scooters are insured and so are 70 per cent of cars.
It is estimated that vehicular collisions cause the death of 150,000 people every year in the country.
The problem at the moment is that insurers have to rethink the structure of their products.
"We can't say whether prices will fall or increase, as third-party liability depends on claims compensation awarded by motor accident tribunals," says Jain.
The authorities calculate the compensation on income levels of victims and future realisable incomes in cases of accidental death.
In motor third-party insurance, prices are regulated entirely by Irdai.
Irdai revises prices every year; this April 1, it issued lower rates for both vehicle categories as compared to last year.
"Income and cost keeps increasing," says Jain. "Structurally, for any long-term policy, there will be need to forecast the possible future compensation and arrive at premiums accordingly."