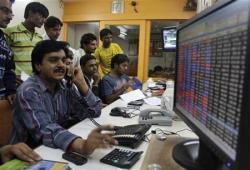 Shares of construction major Larsen & Toubro (L&T) and the country's largest lender, State Bank of India (SBI), are in high demand among equity fund managers, who substantially raised their exposure to a three-year high in these two companies in May.
Year-to-date returns from SBI are 47 per cent and in L&T at 55 per cent. During May, the returns from these counters were 25 per cent and 20 per cent, respectively.
Both Prashant Jain, chief investment officer of the country's largest fund house, HDFC Mutual Fund, and S Naren, CIO of ICICI Prudential AMC, say SBI and L&T are among the top preferences. So do Apoorva Shah, executive vice-president at DSP BlackRock MF and Sunil Singhania, CIO at Reliance MF.
HDFC Equity, the largest equity fund, also managed by Prashant Jain, with a corpus of Rs 10,445 crore, has 9.4 per cent of its assets in SBI.
A month earlier, this was 8.92 per cent. L&T comprises 4.13 per cent of the scheme's assets, against 4.02 per cent earlier. SBI has been one of the top picks of Jain for long, with a little less than 10 per cent exposure.
Similarly, the HDFC Top 200 fund has raised its exposure to L&T by 35 basis points (bps) to 4.87 per cent.
"The banking sector is a play on economic recovery," says Naren. "The new government is likely to introduce a trend of reforms for public sector banks, which could resolve many issues. We are positive on select PSBs."
The exposure of ICICI Pru Dynamic Fund, managed by him, to the state-owned lender jumped from a mere 3.81 per cent to 8.91 per cent in a month.
In the top holdings, SBI moved from fifth to second position.This is interesting, as Naren wasn't a big fan of PSBs till the general election outcome. In L&T, he raised exposure by 30 bps to 3.31 per cent.
Apoorva Shah's exposure to both these stocks are above nine per cent.
He says: "PSBs are ready to improve their valuations, severely impacted by bad debt. Given the improvement in the economy, the risk of bad debt is reducing and there are expectations that government policy will also consider the capital inadequacy of PSBs."
The exposure of Reliance Growth Fund, managed by Sunil Singhania, to L&T has increased to 3.32 per cent against 3.1 per cent. However, SBI does not figure in his top holdings.