While there is pressure on the Reserve Bank of India to cut policy rates to spur stagnating industrial growth rates, Pronab Sen, principal advisor to the Planning Commission, says the central bank should exercise caution till it is sure inflationary expectations are under control.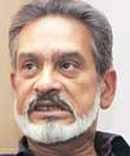 With inflation coming down to 6.55 per cent in January, do you think it is the right time for RBI to go for a policy rate cut in its monetary review later this month, since growth momentum in the economy has been coming down?

RBI has some good news in terms of inflation. At least manufacturing inflation has come down, which is good. It has come down to 6.49 per cent. (It is) Still not in the comfort zone; it is not five per cent. There is still a long way to go, but it is trending down.

On the other hand, food inflation has been in the negative zone, essentially on the base effect. We have been through a rigorous two years of high inflation and have not been able to address the fiscal
side. The entire correction has been on the monetary side. We have just started to get inflation under control.
But, should RBI cut policy rates?


Inflation has started easing. If RBI starts relaxing prematurely, and inflation goes up again, it will be much more difficult to correct, as inflationary expectations will move up. It takes a lot of time to drive the expectations down, but these can revive into an inflationary mode very easily. You have to wait until you are pretty much sure that you completely wiped out all inflationary expectations. We are not there yet; we are not even close.
Why is it taking so long to control inflation?


In the Indian context, transmission from the monetary side is weaker, as it operates only through investments and not through consumption. When it operates through consumption, the transmission mechanism is much stronger. Through investments, it is weaker as on the one side it reduces demand, and on the other side, it reduces the creation of supply, which is a much longer and slow process.
Image: Pronab Sen