'Will people who buy iPhones stop buying iPhones to help swadeshi models?'
'There should be some advantage for the consumer to make them buy a Made in India product.'
'Patriotism and nationalism are good words, but in business, it won't work.'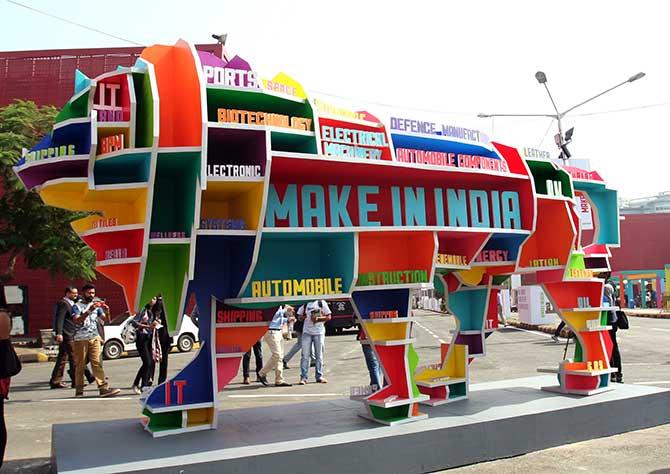 R Balakrishnan, an independent financial consultant for over three decades, started his career as a banker.
After he became the co-founder of Crisil, he also helped set up Malaysia's first credit rating agency.
He was head of equity research at DSP Financial Consultants and CEO and CIO of a couple of mutual funds.
Other than a financial consultant, columnist and public speaker, he is an entrepreneur and has co-founded the Lawrencedale Agroprocessing India Pvt Ltd, an organic agro farm, with his friend Palat Vijayaraghavan. He is also the CFO of the firm.
R Balakrishnan spoke to Rediff.com's Shobha Warrier.
According to the data released by the Central Statistics Organisation, the Indian economy grew at 7.3% in the first quarter of 2016 and 7.1% in the second quarter.
But some economists feel the exuberance associated with 7.1% growth is not visible in the market.
If you look at consumer spending, it is going on at record levels.
If you look at the automobile sector, which is a very good indicator of how the economy behaves, it is also registering record high growth.
The services sector is growing at 10 per cent today.
The stock market is at record levels; in fact, stocks are booming.
Every IPO is getting record subscription.
Definitely, the base is getting ready for a bigger boom.
If this is not growth, what is?
The problem is our expectations have become so high that we are not satisfied with 7.1% growth.
Growth is happening, but, at the same time, the disparity also is widening.
That is why many people are discontent.
We have seen globally that growth need not be associated with additional jobs because of productivity gains and improvement in technology.
It is a cause for worry for a country like India, as everything was labour oriented here.
We had 10 people doing a job which two are doing today.
The advantage we have is that 90 per cent of our economy is inward driven. Because of that, our base is low.
But when the world contracts, we don't contract.
Above all, the government spending on infrastructure has just started.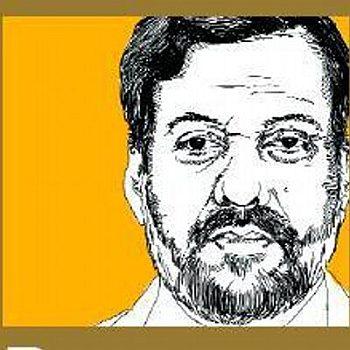 IMAGE: R Balakrishnan. Image: Kind courtesy R Balakrishnan/Twitter
Do you attribute government spending to the 7.1% growth we witness today?
There is a difference between the growth we saw in 1991 and what see now.
The confidence at the corporate level is not as high because of the global meltdown.
Every capitalist wants to conserve capital as he is not sure about the future.
Industrial growth is struggling and services is driving growth.
The push this time is coming from the government side on infrastructure which will provide more jobs and business.
Make in India is a good slogan, but when infrastructure is not there to drive the slogan, it is tough to encourage manufacturing to make a shift to India.
Does that mean the import of cheap Chinese goods will continue for a very long time?
With the kind of prices at which they can export, it will continue.
In the 5 to 10 years of opening up with China, our imports went up to $60 billion, but our exports have come down. The only exports are things like iron ore.
Undoubtedly, China dominates the world by becoming the factory to the world.
The criticism is that the government is allowing the import of Chinese goods and letting the MSME sector die.
It is easy to be critical and say that the MSMEs died because of the import of cheap Chinese goods.
I would like people to look at the situation from the consumer's perspective.
The consumer has benefitted more from this while an inefficient MSME could not compete with the world.
What is inefficient will not survive in today's world.
It is not right to ask the consumers to sacrifice their choices for the MSMEs to survive.
It is a natural order that only efficiency survives.
You are not going to buy a Made in India product to show that you are patriotic.
As a consumer, you will buy a good product that is cost effective.
So, to compete with China, you have to think of setting up a factory that can make 10 crore (100 million) mobile phones a month rather than 10,000 mobile phones a month.
The thinking has to change this way.
So, the slogan of 'Boycott Chinese goods and buy swadeshi goods' will not work?
Why should it work?
Will people who buy iPhones stop buying iPhones to help swadeshi models?
There should be some advantage for the consumer to make them buy a Made in India product.
Patriotism and nationalism are good words, but in business, it won't work.
Free trade is what made all the changes in Indian economy from 1991.
If you want to go back to protectionism and bullock carts, it is fine.
The criticism against the Modi government is that it caters to the Ambanis and the Adanis.
When I interviewed the BJP's Kisan Mazdoor Sangh leader, K C Mishra, he said the Modi government is pro-capitalism.
What do you say?
The Ambanis and Adanis survived all governments.
It is a worldwide phenomenon that capitalists survive all governments.
The trade union leaders should realise that if you relax labour laws, more jobs will be created here which will only benefit them.
Today, you cannot have the guarantee that your job will be lifelong.
You cannot say you should not be dismissed.
That is why Communism and Socialism failed all over.
I will say capitalism is the only way you can grow at 7% or more.
I am very happy if a government is described as pro-capitalist.
If we do not get people to work in our farms in Ooty, it is because they have a choice.
What is anti-labour is the old labour laws that prevent people from creating more jobs.
You need to create more pro-capital policies than pro-labour.
The government has deleted more than 1,200 Acts, but not enough publicity has been given to it.
I am not a big fan of the prime minister or his party. I am critical of their politics, but I feel that, on the economic front, they are doing a lot of good things, the effect of which will be seen later.
They have just completed two years. Give them more time.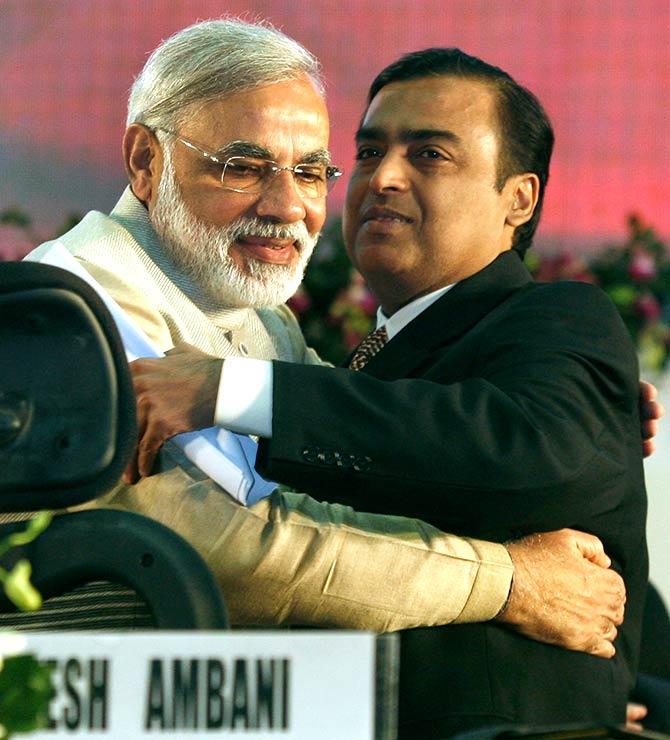 IMAGE: Prime Minister Narendra Modi and Reliance Industries Chairman Mukesh Ambani at the Vibrant Gujarat Global Investors Summit in 2011. Photograph: Amit Dave/Reuters
Is the Modi government not following the economic policies of earlier governments?
The Congress started everything, but did not have the courage to carry it forward.
They started rolling back many policies last time before the elections.
I see more determination in this government to do things at the policy level.
You mean the Modi government is doing better than the earlier governments on the economic front?
I would think so. This government is creating a much better platform for economic growth by changing the laws, the legal framework, facilitating things, etc.
They have embraced technology in a big way.
A change is happening.
This prime minister has the courage to push things forward without caring too much about public opinion.
You also can see that more noise against their policies is coming from the Communists and liberals.
Today, the man on the street is more concerned about his job than about policies.
Everybody has become ambitious and that is the way forward.
We don't hear much about the economic reforms they have initiated. The noises are only about beef, cow slaughter, etc.
That is the tragedy of this government.
It is as if there is a pent up anger in the RSS (Rashtriya Swayamsevak Sangh) and the VHP (Vishwa Hindu Parishad) camp that they let loose.
Their actions are taking the attention away from economics. The media is very happy to pick up these noises.
It is not sensational at the 9 o'clock news to say that 13 km of road was laid today!
There are a lot of things happening on the economic front.
I am not worried about the economy. I will not say we will grow at 10%.
The biggest worry is that the disparity will continue to grow.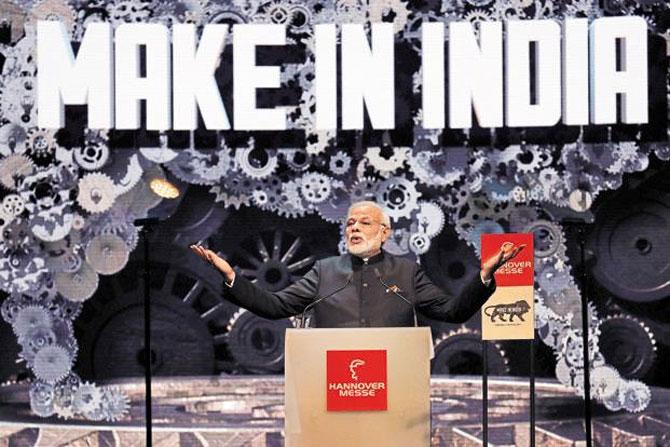 IMAGE: Prime Minister Modi promotes Make In India. Photograph: Reuters
Is removing hindrances for economic growth the Modi sarkar's biggest achievement?
Yes, removing the hindrances is the biggest achievement of this government.
Look at the PSUs. I thought nobody would touch them, but things are changing.
(Then Resereve Bank of India governor) Raghuram Rajan started the cleaning up of the banks.
The next big step should be to reduce the number of public sector banks.
At present, so much of resources have been wasted.
Maybe we will see the results in 10 years.
Today, there is a fear of lending and that has to go away.
Was it a good decision on Raghuram Rajan's part to ask banks to reveal their non performing assets, which resulted in panic in the banking sector?
It was an excellent decision.
If you have cancer, you should be able to say, it is cancer. You can't say I have a slight fever which will go away with aspirin.
If somebody is sick, you have to recognise it and give the proper treatment.
The prime minister is also building bridges with countries and businessmen and that has resulted in more FDI coming in.
The criticism against foreign direct investment is that for every rupee coming in, more money is going out?
I don't think so. Where is it going out?
After so many years, our current account deficit is just about a billion dollars or so.
The low oil prices might have helped, but I think the government has a good platform now. They are building on it slowly and steadily.
Another criticism against the Modi government is that the unemployment rate has not come down though the country is growing at 7.1%.
Unemployment is said to be 1.7% in the rural areas and 3.4% in the urban areas.
It is a part of growing up. I don't think any country can escape this, more so in India.
When you have the freedom to evolve, there will be two sets of people.
One set will grab the opportunities and another set will say the government owes me a living and I won't do anything.
These are the people who will be left behind.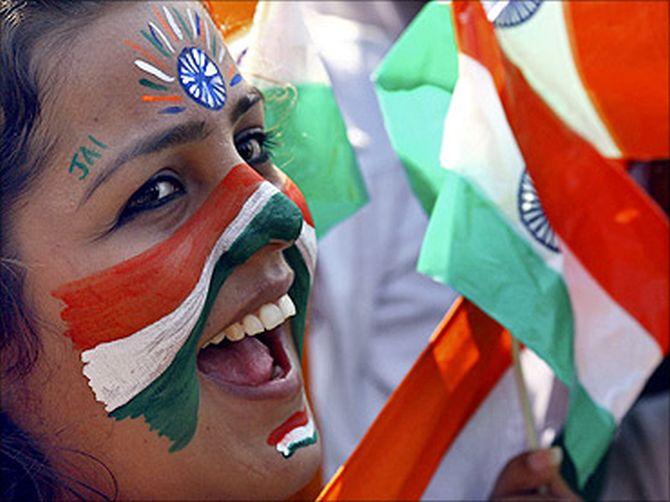 IMAGE: Can India become an economic superpower? Photograph: Reuters