Two prominent economists -- Dr Rakesh Mohan, former RBI deputy governor, and Dr Pronab Sen, former chairman of the Indian Statistical Commission -- discuss with Rediff.com's Prasanna D Zore about the issues facing the Indian rural and manufacturing sectors and what the government must possibly do to improve demand and perk up the Indian economy.
---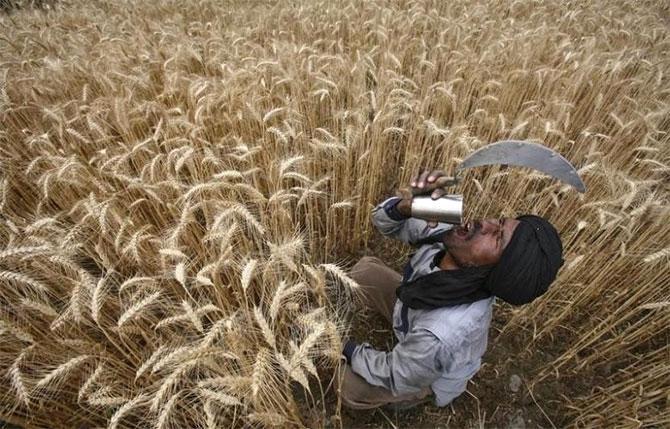 'We cannot have 8% growth rate unless...'
Dr Rakesh Mohan, senior fellow at the Jackson Institute for Global Affairs, Yale University, and distinguished fellow at Brookings India, says India must focus on improving its savings and investment rates and on exchange rate management to encourage investments in the labour-intensive, export-oriented manufacturing sector.
Do you think the banks are suffering from a sort of lending paralysis? There is no shortage of liquidity in the system, yet, banks are not lending. What explains this divergence?
I don't have enough information on this. The only thing I would say is until a year ago, everyone was accusing the public sector banks of lending without adequate scrutiny resulting in large NPAs. Now people seem to be saying the opposite. So, I want information on what they are doing and why they are doing what they are doing.
I would just imagine that they are maintaining prudent norms in terms of assessment of their borrowers.
What measures should the government adopt according to you to improve the employment rate and mend the Indian economy?
There are no quick fixes to this issue.
Among the most curious things that have happened in India, over a long period of time, is that we don't seem to be investing in the manufacturing sector -- like all of the Asian countries once did -- that generates employment. As a consequence, our total manufacturing employment is only 14 million in the organised sector. In China, it's 100 million plus.
A lot of labour intensive manufacturing employment today is moving out of China and going to Vietnam, Bangladesh, Cambodia, Philippines, etc, but is not coming to India.
I don't see any interest in the Indian private sector (about) investing in manufacturing activities.
All countries that have grown fast in Asia in the last 30-40 years, like Korea, Taiwan, and earlier, Singapore, and Japan, all of these countries grew by investments from domestic and foreign investors into employment-intensive manufacturing industries, which were also export oriented.
Among the issue we need to tackle are labour reforms, and those things, once they are undertaken will take some time to fructify.
So, I don't see any quick fixes. To my mind, that's the key issue confronting us.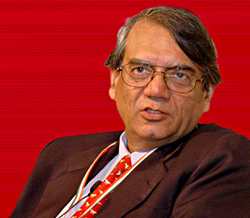 What could be those three structural reforms that the government should bring about, not in the short term, but long term measures that would help India become $5 trillion economy?
We need to focus on how you increase investment rates.
Increasing investment rates is one of the key issues facing us coupled with very significant drop in savings rates since the last 6-8 years.
It's not clear to me why the savings rates have fallen so significantly, but a key issue for the academics and government is to try and understand why the savings rate has fallen and then to take measures to increase the savings rate so that more resources are available in the economy to invest.
We cannot have an 8 per cent plus growth rate unless net investment rate goes up significantly from the current level to 35-36 per cent of GDP, which was the case in the late 2000s.
Snaps to my mind that the first key issue we must tackle is to find out why the savings rate has come down.
Second, I think that the exchange rate by any kind of measure is heavily overvalued, which also makes both our exporters and importers uncompetitive, with respect to imports.
And that is one of the key reasons why we don't have labour-intensive manufacturing activities, which has not been doing adequately in the last few years.
And so, there needs to be much greater understanding of exchange rate management towards that end.
Along with this we need very significant labour and land reforms making it much easier for industries to invest in labour-intensive industries.
---
'It's a double whammy for banks, so they are not lending'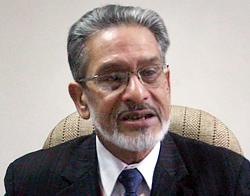 Dr Pronab Sen, former chief statistician of India, explains why the rural economy is in distress.
What ails the Indian economy? What could be the short, medium and long term measures that could help us revive demand, improve upon employment rate, and make India a $5 trillion economy?
Frankly, I think the whole issue now is consumer demand.
You have a situation today, where 70 per cent of India is in rural areas, and their income has simply not gone up.
Prices (of agricultural produce) have come so low that even while production has gone up by 3 per cent, their real incomes are not (growing). Their real wages are practically either plateaued or shrinking.
In a situation like that, you are not getting new consumers into the market.

Now, as the existing consumers, they spend their money, they start coming up against their satiation limit. They don't want to buy more.
If you bought a car this year, you are not going to buy another car next year. You are going to buy another car 5-6 years later. So demand starts waning and that's what's happening now.
And the solution to that is to get rural incomes moving up.
What can be done to revive the rural consumer demand?
PM Kisan Yojana, in this context, is one step in that direction.
Consumer demand, as I said earlier, has to come from rural India initially and that, kind of, will build a positive consumer cycle revival.
Can a normal monsoon, that we have had now, bring about this rural consumer revival in the next three-four quarters?
Because of a good harvest (supply more than demand), prices fall even further.
So (as a result of god monsoon), once again production will grow, prices will fall more and rural India's real incomes won't grow.
What then is the solution to revive rural demand, the rural economy? What can help bring about an upmove in real wages of rural India?
The government has very little role to play in the non-agricultural part of the rural economy.
The non-agricultural part is driven essentially by consumers, and agriculture itself is to that.
40 per cent of this 70 per cent population is in agriculture. And the government does have the levers to address agricultural pricing distress.
That's where I think the government should be focusing on. Because we have to get the (rural) incomes up.
One of the reasons why agricultural prices have fallen is because the bulk of agricultural trade is in cash. And the government has put limits, and to my mind, arbitrary limits on the use of cash.
For instance, if you have withdraw more than Rs 50,000 from your bank, it automatically gets reported to the income tax department.
You are not allowed to have cash holdings above Rs 200,000. Well, now, you (the government) said that if you withdraw Rs 1 crore in an year, you will be taxed.
Lots of efforts are being made by the government in reducing the use of cash. The problem, of course, is (an) alternative (to use of cash for trading in agricultural produce) doesn't really exist in rural India. The net result then is rural distress.
Do you think that banks are suffering from a sort of lending paralysis? Like there's no shortage of liquid in the system liquidity in the system, but banks are simply not lending.
It is not lending paralysis. You see, the issue is that if you are getting into a downturn, if you are seeing that companies are not being able to utilise their capacities then the uncertainty facing the banks, the risk factors facing the banks, go up.
Now, what is the economic response to higher risk? The economic response is to raise interest rates.
Well, now there is pressure on the banks, particularly the PSU banks, to lower interest rates. So, the banks have been caught in a situation where the risk profile of their potential borrowers is going up, but the interest rates have to come down.
So it's a double whammy for banks and so they are not lending.
Lead photograph: Ajay Verma/Reuters