'The government must keep bad news out of the newspapers.'
'If you have news about a fight everyday, it is not a climate where investment takes place.'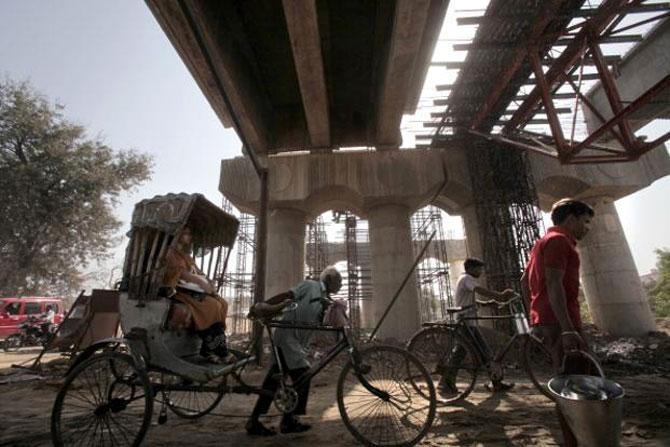 IMAGE: India's GDP growth is likely to rise to 7.8 per cent in fiscal 2016-17 from 7.6 per cent this year, largely driven by higher discretionary demand based on the Pay Commission wage hike, low inflation, high corporate profitability, ongoing implementation of public capex and an accommodative monetary policy stance. Photograph: Getty Images
Saumitra Chaudhuri, a former member of the prime minister's Economic Advisory Council and a former Planning Commission Member, visited Chennai recently to deliver the 8th SAGE-MSE Endowment lecture on 'India and the Ongoing Global Economic Turmoil: Commonalities and Differences, Risks and Prospects.'
Chaudhuri, bottom, left, discusses the state of the Indian economy with Shobha Warrier/Rediff.com
You spoke about impending global economic turmoil. Are we going to see another 2008?
I don't think we are going to see another 2008. It had some very definite underlining reasons to precipitate the crisis. We don't see any such underlining reason right now.
However, because of a combination of factors like the slowing down of the US economy, the European Union crisis, the developing world that had good news earlier does not seem to have any now, and then, of course, the oil price slump. I think the oil price crashing is the googly!
In 2014, there was a drop in the annual growth of demand (for crude), but in the summer of 2015, the price was $60 and now it is $30. In 2015, the demand grew by 1.8 million barrels which was 0.6 more than average.
The situation is weird. While there is higher demand, prices have declined further. That's why I call it a googly of some kind.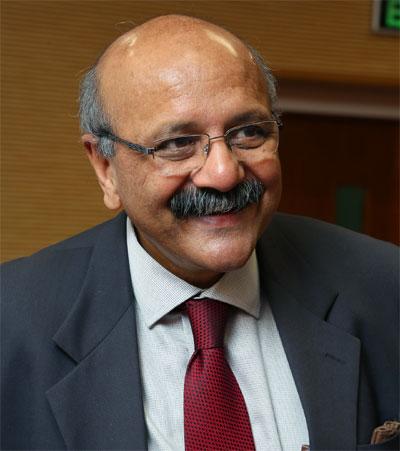 After Narendra Modi came to power, when the Indian economy grew much above expectations, people attributed it to crashing oil prices and nothing to do with the Modi government's policies. Do you agree?
I don't agree. I will look at it as two separate issues. One, when the oil prices go down, India is a big beneficiary as far as external payment, the current accounts deficit and subsidy are concerned. We should have actually benefited, but I am of the opinion that somehow, we didn't harvest the benefit.
If you look at last year's and the year before last's growth figures, they are somewhat comparable. We see a similar trajectory. There was a positive effect after the change in the government and a feeling that things would improve.
The feeling was quite evident in 2014 though it is not that pronounced now. The benefit that India could have reaped due to low oil price does not seem to have materialised.
What could be the reason for this?
It is basically because investments are not coming. Companies are not keen to invest, as they are already heavily leveraged by profitability problems from what they have already invested. Why should they take more risk in such a situation?
Of course, you have specific problems like the capacity utilisation of private IPP (Independent Power Producers) has come down significantly in the power sector. The corporates are investment shy now.
On the consumption side, it is also under pressure because job creation has slowed down. The retail sale data also shows that sales have not picked up at all.
What should the government do to revive investor confidence?
It should step up roads and highways activities. You must remember that public sector investment is very sluggish. Money does not get spent.
The government must keep bad news out of the newspapers. If you have news about a fight everyday, it is not a climate where investment takes place.
Reports say FDI has increased after Modi's marketing blitzkrieg...
There may be some merit in that. A good amount of Japanese investment has come to India. It might have happened because of his (Modi's) intervention. FDI coming is a good story.
The Economic Survey projects 8% growth next year, but it is said that without 10% growth, India will not achieve the kind of growth needed now. Do you think so?
There is a problem with the numbers. We have a number from a new data series and we also have numbers from the old data series.
Now, the kind of energy, growth and positivity we associate with 7% to 7.5% growth in the past is certainly not there today. Maybe you are talking about two different animals! Maybe they applied different methods.
China says India is manipulating data.
I don't think anybody is manipulating data. I think the difference in method has caused some comparability problem. In 2004-2005, we had 6 per cent growth and if you remember, everything was moving at a galloping phase then. That really is not happening.
Is it because the aspirations of people have increased?
I really do not know. It is like looking at two different data. Now everybody wants the government to use the same method and provide us the data for the previous years so that we can compare. Then, we can have a better understanding of what the problem is. Otherwise, many people will start asking questions.
Look at company sales. Look at profitability. Look at the buoyancy in the market. I am not the only one who is asking questions. India Inc is also asking, 'Where is this 7.5% growth you are talking about?'
Many public sector banks are in the red with such bad loans that the Supreme Court had to ask the government to come out with a list of huge debtors. Where will this lead to?
There were some bad loans given, and there were some situations created in which bad loans were given.
I think a beginning has to be made to enforce security. I don't want to take names, but if the shares in that person's name are pledged to you, you should ensure that the government gets its money.
It will be a lesson for those who are wilful defaulters. You just cannot postpone taking action.
What kind of impact will the public sector banks, with the volume of bad loans, have on the economy?
The faster you address this issue, the faster you will come out of the bad situation. The longer you postpone, longer the problem will remain and mind you, it is not good for the economy.
On one side, the Economic Survey projects 8 per cent growth, but what we see is not good news at all -- in fact only bad news like the stock market falling, the rupee falling...
That is why I said, the atmosphere has to be more positive. I think the government can do a lot by making the atmosphere positive.
Like?
Mainly not do negative things!
The second is the Treasury benches have the responsibility to take the flak. It cannot behave like the Opposition.
I will draw a parallel. In the closing years of the UPA (United Progressive Alliance government), everyday, we used to hear about one corruption charge or the other. Quid pro quo will not let you function.
Even if unjustified, the government should not react to all the Opposition charges. The onus is on the government to discharge its duties. The Opposition would criticise.
Now we see tension being built up by the government! It is strange. That is the last thing the country's economy needs.
Unless there is political and social calm, the economy will not grow.
People say the GST Bill is the Brahmastra and by passing the bill, most problems the Indian economy faces today will be solved.
I don't think so. First of all, what you have is a Constitutional amendment and not a law. This is not the GST Bill, it is not even written. It has to be written.
Another thing is it will address different sections differently, and this has to be sorted out. It will not happen overnight.
It is certainly not a Brahmastra, but yes, it is certainly an incremental improvement. It certainly won't cure what is fundamentally wrong with us which are of two kinds.
What is fundamentally wrong with us?
One, on the investment side, there is a shyness about it as corporates are already heavily borrowed. Secondly, on the demand side, lower job creation. The agricultural sector is also in some difficulty.
These two are linked. If investment picks up, job creation will also increase and that in turn will boost consumption.
When you say investment, are you talking about only investment from the private sector?
Of course, I am talking about the private sector. Public sector investment was around 7% to 7.5% of the GDP for many years and it will remain as it is.
It is private investment that drives an economy. Unfortunately, the confidence of the private sector is quite low.
The Economic Survey predicts low growth for the agricultural sector.
Between 2009-2010 and 2011-2012, the farm sector created more than 10 million jobs. I don't think that is happening today. People are switching from the farm sector to the non-farm sector and that's good as non-farm jobs will give more pay and more disposable income.
When job creation is weak, we are going to have lots of problem. When people do not find the jobs they expect, there is going to be a social dimension to it.
And the solution does not lie in increasing the political temperature, but calming it!
Can India capitalise on China's slowdown?
India can capitalise on certain markets, which China was servicing so far, but we have not been able to do it in a big way.
China itself is the second largest market after the US. We should try to sell our goods to China and I have been advising many exporters to do so. It is a difficult market to crack, but quite a few people have succeeded.
Most of the manufacturers can increase the capacity by 40 per cent by simply raising capacity utilisation.
From the way you have painted the future, is it going to be tough for India in the next couple of years?
It will not be smooth sailing. It is easy to do well when everybody else is doing well. High tide lifts all the boats, but what we have is rough waters now. So it all depends on how you handle your fate.
The fact is you cannot do well internationally if you don't do well domestically.
Sumitra Chaudhuri's photograph: Sreeram Selvaraj