'The prime minister bought spectacles from Germany to see the eclipse, but he cannot see that an eclipse has fallen on the country.'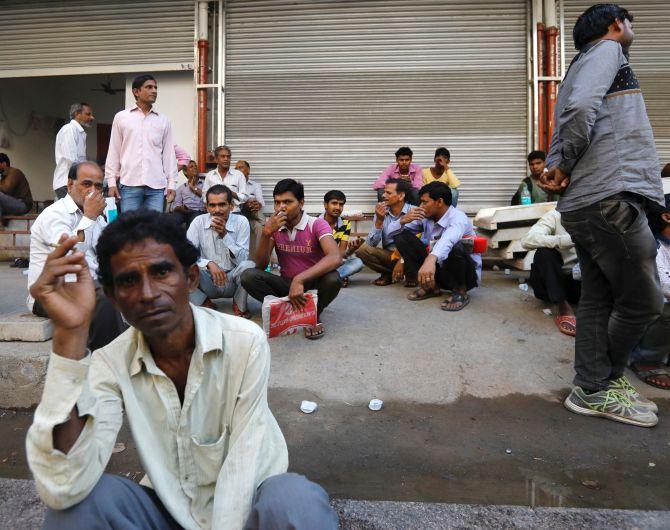 The Indian Youth Congress has launched a nationwide campaign to press the government for a national register for the unemployed.
They say unemployment is at its highest since Independence and that is what the government should be concentrating on instead of the Citizenship (Amendment) Act and the National Population Register.
"We have to bring the topic back to jobs," Youth Congress President B V Srinivas tells Rediff.com's A Ganesh Nadar.
You have put up a toll free number (8151994411) to which youth have to give a missed call. This will tell you that the person is unemployed. But how will you know their qualifications and what job they are looking for?
This is for collecting data. Once we have sufficient numbers, we will be segregating them state-wise. Then our state units will be calling them or asking them through SMS about their qualifications and job needs.
You want a National Register for the Unemployed. There is already an employment exchange in every district. You could tabulate the whole lot.
We are doing that too. By state-wise and district-wise RTI we are gathering that information too. One by one, we are doing that too. This is not overnight work, we will be doing this over a year.
Through the employment exchanges the government already knows the unemployment figures. How does your telling them help?
The government knows, but they are not doing anything, that is why we are telling them.
You have said that 36 youth commit suicide every day owing to unemployment. Do you have any statistics to support that?
We have arrived at this figure from official data. Last year 10,000 farmers and 13,000 youth committed suicide.
Why do you say 'Made in India' is the cause of a recession?
We say that because till today no jobs have been created by 'Made in India'. That is only a slogan like 'Sitting India', 'Standing India' and 'Selling India'. There is no data on development.
We have filed 250 RTI applications asking questions, we have not received any reply.
The prime minister has travelled to so many countries, how much investment has come because of these visits? There is no survey to show us how much investment came in and how many jobs were created.
There is only talk, no data!
Instead of sending unemployment figures to the central government, how about giving them jobs in the Congress-ruled states?
We are working on that too. But the central government has to help too. In rural India there is distress because instead of increasing funds for MGNREGA they have reduced it. In many places they have stopped it.
Likewise in urban India there are no jobs.
Basically, your National Register for the Unemployed is a reaction to the National Population Register, you are not really interested in providing jobs for the youth.
Tell me, how many jobs will the CAA and NPR create? Just like Ghajini (from the Suriya-Aamir Khan films) who forgets everything, this is a Ghajini government.
The prime minister says NPR will not be implemented nationwide, the home minister says it will be implemented. I don't know who is saying the truth.
We have to bring the topic back to jobs. Instead of sitting down with school students and talking about exams, why not sit down with the unemployed and talk about jobs?
The finance minister doesn't eat onions, we are fine with that. But she should not eat up the GDP, which is reducing.
The prime minister bought spectacles from Germany to see the eclipse, but clouds came in the way. But he cannot see that an eclipse has fallen on the country. To see that, he needs to wear special spectacles. We are buying Rs 4 lakh spectacles from London and will send it to him.
They have been elected to govern and they should do that. There are three crores (30 million) unemployed in rural India and five crores (50 million) youth unemployed in urban India.
When there was a global recession (in 2008) Dr Manmohan Singh did not allow it to reach India.
Do not sit on ego, we are here to help. The finance minister should sit down with Dr Manmohan Singh and seek his advice. We are here to do what is good for the nation.
We should not allow ego to come in the way of helping the youth of the country.