'The years after the financial crisis of 2008 were tough for brokers as volumes dwindled and retail investors stayed away.'
Ashley Coutinho reports.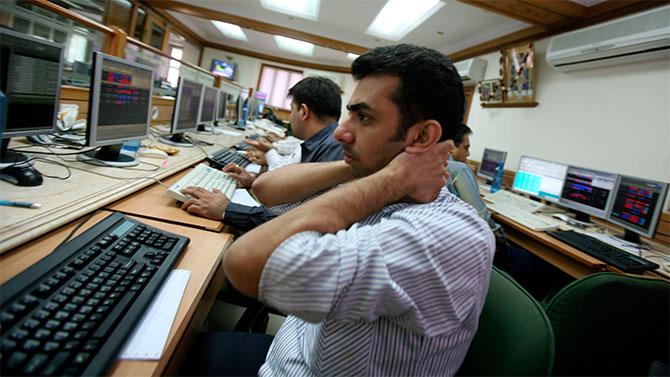 The number of brokers operating in the cash segment has almost halved in the past three years as high compliance costs, declining margins and the closure of regional stock exchanges have forced nearly 3,400 brokers to shut shop.
The count has reduced to a third since 2013.
The broker count stood at 2,773 as of September 2018, down from 9,606 in the corresponding period five years ago, the data collated from the Securities and Exchange Board of India shows.
"Business is moving to larger brands, compliance costs have risen significantly in the past few years, and margins have declined. All this has forced many brokers to shut shop," said Rahul Rege, business head -- retail, Emkay Global Financial Services.
Between 2014 and 2017, as many as 13 regional stock exchanges ceased operations under the exit policy of Sebi.
Brokers affiliated with these exchanges have gone out of business.
The proliferation of discount brokerages, on the other hand, has been instrumental in driving down costs, impacting margins.
"The years after the financial crisis of 2008 right up to 2014 were quite tough for brokers as volumes dwindled and retail investors stayed away. Much of the lower rung of brokers went out of business during this period," said a broking official.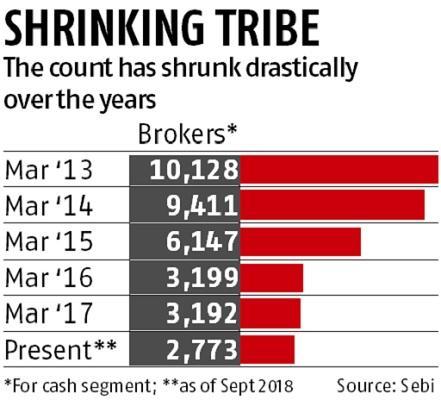 Discount brokers typically charge a flat fee of Rs 20 per trade.
In the full-service segment, brokerage varies between 10 paise and 30 paise for delivery-based trades and below 4 paise for intra-day trades in the cash segment.
Charges in the options segment are Rs 20 to Rs 50 per lot.
"The number of active clients at the retail end has come down. Customers have migrated to discount brokers, and brokers that have not been able to evolve have either shut shop or turned prop traders," said Rege.
"Ten years ago, it was safely assumed that if market went up, revenues and the number of clients would go up too. That's no longer the case now."
To make matters worse, most of the retail money that came in after 2015 in shares has come in through the mutual fund route, and not direct equity.
The assets under management of equity mutual funds stood at Rs 7.2 trillion as of September 2018 (excluding tax-saving schemes) compared with Rs 1.4 trillion five years ago.
The sub-broker number has declined as well.
The number stands at 23,143 as of September compared to 57,387 five years ago, a decline of 60 per cent.
The segment, however, is being phased out by the market regulator and all sub-brokers will have to register as authorised persons by the end of the next financial year.