'What he has done has really been to give his time to go outside India, to reach out to governments, important countries, to meet world leaders.'
'And I am sure when he is meeting them, he is not only presenting a Tata group message, he is presenting an India message.'
'Therefore, he has become a kind of quasi-ambassador for us which is, of course, why the government values and respects him so much as well.'
Top corporate lawyer Zia Mody assesses Ratan Tata's legacy with Rediff.com's Vaihayasi Pande Daniel.
Zia Mody is one of India's top corporate lawyers.
From the time the Tatas acquired Singapore-based NatSteel, her firm -- AZB and Partners, one of India's largest corporate law firms, where Mody is the managing partner -- has worked closely with the group to facilitate its acquisitions abroad.
Mody offers her assessment of former Tata chairman Ratan Tata in this conversation with Rediff.com's Vaihayasi Pande Daniel:
What do you feel has been Ratan Tata's greatest contribution to the Tata group?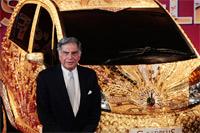 Ratan Tata really led the group in interesting times -- when for the first time in India's history, the License Raj started breaking down, a time when India first started looking globally and didn't only look within.
You (also) had a situation where the entire world had gone through perhaps more of change -- while Mr Ratan Tata (was leading the Tata group) -- than in many generations earlier.
The opportunities, of course, were obviously immense, arising out of that. The challenges, also, must have been as stressful. I guess, really, only Mr Tata could speak about what he felt were his initial pain points, as he took Tata global.
So, I think the paradigm shift, if you like, is that you now have what is truly a multinational conglomerate, where over 60 per cent of its topline comes from businesses abroad.
So you can see just what a shift does -- both in terms of culture, processes -- and therefore, the need to even more effectively control the DNA of the firm.
Those were probably both the opportunities and the pain points that Mr Tata had to face in his reign, compared to others.
Some of these changes, as you say, were inevitable, and he happened to be the person in charge at the time. In your view, was Mr Tata the right person at that time?
Well, you never know who is the right person at that time. So it is quite a matter of providence and history.
But you test a person: When he was there at that time, did he perform?
Therefore sitting on that chair, if you look back at what RNT's (Ratan Naval Tata's) reign was, in that sense -- he grew, plus he consolidated, he did some game-changing acquisitions, he steered the group, despite some patches, through continuity of the governance, the DNA that the brand stands for.
He basically thought in a much more global manner and therefore allowed many more ideas to come into the group.
Otherwise, (the Tatas) would have just been (another) naturally more inward looking, like any other Indian organisation.
And he also became, in a personal way, a happy brand ambassador for India Inc.
I am sure he had a very rigorous travel schedule not only on business, but also on bureaucracy, steering global committees, so that personal branding, which he got by virtue of his personality, that brand also cross-pollinated well into the Tata group.
How do his achievements stand out in comparison to his predecessors?
J R D Tata (the legendary chairman of the Tata group for over 50 years, from 1938 to 1991) was known for being very outward, very charming, mixed well.
The common perception of Ratan is that he is much more shy, he does not like large functions. (He) Prefers very small gatherings with closer friends, so there is a difference in personality.
The previous Tatas have all come at different points of time. Look at the founder (Jamsetji Tata). Whatever he did was a game changer, because no one else was doing what he was doing at that time.
Then if you look at JRD's reign -- he probably went into all the fundamental industries, with all the headaches of the License Raj. Therefore, there was a Tata product that affected a common man's life in every cycle of Indian society.
So maybe his (JRD's) really was the expansion, empowering of Tata businesses to grow and dealing with the pain of capacity being restricted etc.
I think Ratan has basically proved himself by the scaling up of the whole group in the way that no one has (done) before. I don't give points, but I would say, if you ask me, he is right up there in the generation of Tata leaders.
Each one of them has been a game changer.
What about his contribution to India and to the world of business?
From the Indian perspective, clearly (he has had) the respect of all echelons -- political, bureaucratic, India Inc, society. But I think what he has done has really been to give his time to go outside India, to reach out to governments, important countries, to meet world leaders.
And I am sure when he is meeting them, he is not only presenting a Tata group message, he is presenting an India message.
Therefore, he has become a kind of quasi-ambassador for us which is, of course, why the government values and respects him so much as well.
And what about Mr Ratan Tata's humanitarian contributions?
I think it is very much in their (the Tatas') DNA. It is very much in his DNA.
He has already publicly proclaimed that he is going to be very actively involved in the Tata trusts. He is going to be concentrating on the child and health care.
I feel it is going to be a hugely exciting time for him. I think it is going to be a hugely fascinating time for a lot of us who will be able to watch him actively put in what maybe he spent one hour a week on (while he was chairman), he should be spending six to seven hours a day on.
So it (the Tata Trusts and its humanitarian work) is going to get that sort of attention and that sort of focus. That is really going to have a huge effect because these trusts are genuine charitable trusts that genuinely give year on year.
So if that spending increases and the focus gets much more intense, I think there is a lot more scaling up that we will be able see him do.
What are your special memories of your interactions with him? What stands out?
My sense of Mr Tata is that when I have interacted with him, on the few occasions I have interacted with him, I have always found him to be quite serious, quite measured in his responses, when it comes to talking on issues which concern the house (of Tatas), very clear that governance is the number one factor that drives his decision-making, at least when he is instructing his advisors.
The other thing that I have not seen much of, but which close friends know is that Mr Tata is a fabulous mimic. And he can keep people in splits, mimicking people.
He also has a fairly wry sense of humour. He enjoys a good laugh and probably likes a relaxed evening with close friends rather than a large gathering of society crowds.
What about his love for animals?
That is quite legendary. All of us who visit Bombay House (the Tata headquarters in Mumbai) see the dogs that he has got taking pride of place in the lobby.
We know whose hand is over their heads.
Image: Ratan Tata with a Nano car made of gold in Mumbai last year. Photograph: Danish Siddiqui/Reuters