'Prime Minister Modi's message from Tuesday's meeting with industrialists was loud and clear: stand up India, stand by start-ups, take risk and invest,' says CII chief Sumit Mazumder.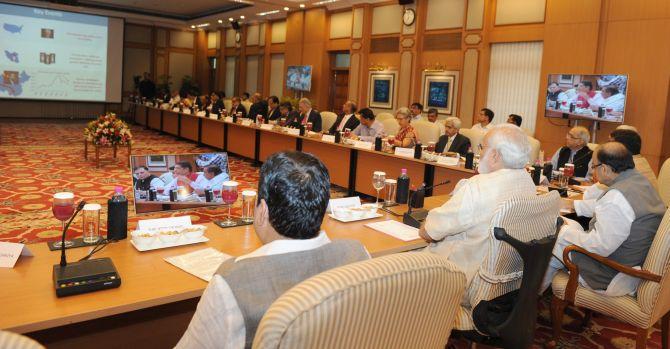 Image: Prime Minister Narendra Modi (2nd from left), flanked by ministers Nitin Gadkari and Arun Jaitley, at the meeting with captains of industry in New Delhi on Tuesday. Photograph: Courtesy PIB.
The prime minister's meeting (with captains of industry on Tuesday) was of great significance as it brought up a number of serious issues and paved the way for better coordination between the government and India Inc," Confederation of Indian Industry president Sumit Mazumder, who was among those who attended the meeting in New Delhi, told rediff.com over the phone late on Tuesday.
"India has made a lot of progress on the economic front under the aegis of Prime Minister Narendra Modi and much more will be achieved soon," Mazumder, who flew out to the US on Tuesday night, told Indrani Roy in an interview over the phone.
According to the CII chief, the meeting, which was attended by the captains of Indian industry, politicians and economists, dwelled on investments, growth, the importance of startups, modernisation of agriculture, and effectiveness of goods and services tax, among many other issues.
What was the general mood at Prime Minister Narendra Modi's meeting?
It was very encouraging and was laden with affirmative messages.
The prime minister went all out for growth and he urged the industry heads to take risks and make investments.
It was a rare opportunity for the leaders of the industry, about 35-40 in number, to put forth important issues to the head of the government and seek solutions to their problems.
The decision to hold this meeting at this time of the year was a wise one and I am sure it will have a wide-ranging and positive impact.
What was the prime minister's opinion about the state of the economy?
The prime minister did not talk much, he was more of a listener.
But he was categorical in his appeal to the industry to improve India's investment statistics and also to encourage start-ups.
Modi's message to all the participants was loud and clear -- stand up India, stand by start-ups, take risk and invest.
We heard that many of the participants sought a rate cut from the Reserve Bank of India. Did the prime minister give any assurance on that?
No. There was no assurance as such.
But it's important that the industry leaders were unanimous in their demand for a rate cut.
I do hope Reserve Bank of India Governor Raghuram Rajan listens to the industry's voice.
Of late, India Inc has expressed concern over India's slow economic progress…
I think this 'concern' is played up by the media way too much. There has been some anxiety but not as much as has been portrayed by journalists.
Personally, I am quite satisfied with whatever progress India has made.
Expectations were too high when the Modi government came to power 15 months back.
But no government can achieve a miracle. Economic improvement takes time.
Emerging economies all over the world are recording low gross domestic product rates at present.
But India is still maintaining a GDP growth rate of more than 7 per cent, which is pretty good.
Inflation, at the moment, is under control, current account deficit has narrowed and the condition of PSU banks has improved.
There have been a lot of positive changes and many more will follow.
But don't you think the pace of reforms has been slow?
As I said, it would be improper to weigh the achievements of this government against the expectations of the people.
The two can never meet.
Reforms don't happen overnight.
We need to give this government more time.
There are many measures on the ground; many more are on the anvil.
I am sure results will start showing soon.
Do you think Achche Din have arrived for Indians?
Of course! I am very optimistic about the future of Indian economy.
Did Finance Minister Arun Jaitley say anything about the Goods and Services Tax?
Jaitley said he was hopeful of getting the GST bill passed by 2016.
Once implemented, GST will usher in a sea of change in the business scenario of India, the finance minister added.
Do you think the implementation of GST will expedite India's growth rate?
GST, according to me, will be an important landmark in the history of India's economy.
Post-GST, doing business in India will get a lot easier.
Also, by bringing in a unified tax regime, GST will push investment and growth.
Once GST is passed in the Rajya Sabha, it will lead to a 1.5-2 per cent rise in India's gross domestic product rate.
As far as Indian markets are concerned, they have been under pressure for quite some time. Though China's economic condition is said to be one of the reasons, analysts are of the opinion that the slow pace of reforms in India is to blame as well. Did the industry leaders say anything on this?
Indian markets improved a lot today (Sensex gained more than 400 points on Tuesday) and it will continue to do well in the coming weeks.
Markets, as we all know, are ruled by sentiment, global trends and many other factors.
Though the crash of Chinese markets did have a short-term effect on Sensex and Nifty, Indian markets countered the downslide soon.
That's a very positive sign.
In fact, at Tuesday's meeting, we discussed how to take advantage of China's economic crisis and make gains.
What are the major takeaways from the PM's meeting?
The meeting urged the participants to take into consideration the following issues –
Improving investment
Facilitating growth
Nurturing the startups
Modernising agriculture
Increasing the risk appetite
Helping India grow to be a major economic force.