'The best way to make an impact in this market is by focusing on three things: Unmet customer need, unarticulated customer need, and emerging customer need,' Metro's Arvind Mediratta tells Sangeeta Tanwar and Alokananda Chakraborty.
Illustration: Dominic Xavier/Rediff.com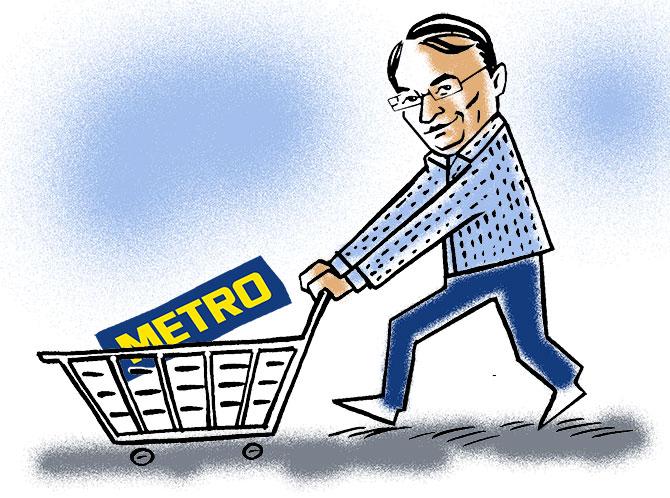 When we go back and listen to the recording of our conversation with Arvind Mediratta, we can hear ourselves launching into loud guffaws every now and then; quite often we are trying to stop the laugh short because we are not sure if an episode he has just narrated is entirely true or if he is just pulling a fast one.
Take his response to this question about whether he believes an average Indian can intellectually corner the American or the European in a flash.
He says when he landed up in the US during an earlier assignment -- and that would be barely five years ago -- one of the questions he was often asked by colleagues was how many elephants do Indians keep in their homes.
We laugh and then stop and wonder if he is really serious.
The MD & CEO of Metro Cash & Carry India is just saying that for fun, we surmise. But then he quickly gets into the addendum.
When a senior executive of another MNC he has worked for organised an India get-together in Delhi, the host -- again an American -- decided to hire an elephant at the venue, a farmhouse, to entertain the families of his colleagues.
Much to his chagrin, the elephant, with kids atop, ended up stomping over all the flower- and vegetable-beds in the farm.
"What else did you expect?" he rubs it in, his expression half earnest, half mocking.
And that's really the point: Among the most successful corporate honchos in India, Mediratta is also very meticulous -- he seems to hardly ever take his eyes off the ball... and the sideshows.
From there on, it is a lot of business and some food.
We are at the House of Ming in The Taj Mahal Hotel on Delhi's Mansingh Road.
An inveterate foodie he raves about the diverse flavours and the sheer range of Indian cuisine as we sit down, but looks like we have chosen the wrong day of the week to meet for lunch.
On Tuesdays, Mediratta refrains from eating non-vegetarian food; the saving grace is that the House of Ming offers a wide choice in vegetarian fare, some really exotic.
He orders a spicy water chestnut preparation as a starter and wok-fried rice and stuffed vegetable pouches as the main course, which he promises to share with one of us.
We also order a helping of glass noodles and wok-fried prawns.
The one thing that immediately strikes us is that Mediratta has spent much of his career getting things up and running.
He had helped set up Yum!'s KFC (then Kentucky Fried Chicken) in India; he was also the first employee of Walmart in the country.
In both cases, he had to draw up the plans for the local market, hire key people and orchestrate store rollout.
Mediratta takes great pride in the fact that he was the first employee at Walmart India, building it ground up and turning it into a Rs 30 billion business in five years.
He then moved to Walmart in the US, managing "billion of dollars and handling thousands of employees."
We ask Mediratta what the market back home looks like as he completes two years at Metro Cash & Carry (he joined the company in February 2016).
As things stand, 40 to 45 per cent of Metro's business in India comes from small traders or kiranas, 17 per cent from the Horeca (the term is a syllabic abbreviation of the words hotel, restaurant, café) segment and the balance is accounted for by small offices and businesses.
His focus now is to increase Metro's penetration in the kirana store segment, expand the Horeca business and grow in-house brands.
The kirana opportunity is enormous, India being home to 12 million kirana stores.
The best way to make an impact in this market -- any market for that matter, he adds -- is by focusing on three things: Unmet customer need, unarticulated customer need, and emerging customer need.
So what is the kirana store owner's biggest need? He offers the answer himself. "The articulated need obviously is price."
"However, their biggest and unarticulated need is to have everything under one roof. Traditionally, kiranas have had to deal with multiple suppliers for different products. A one-stop-shop that offers them all the products and brands they want to stock at their own stores is the unarticulated need of the kirana owner," Mediratta says.
Metro's product assortment is one of its biggest assets.
"But who would manage the store when the owner comes to Metro to pick up the supplies?" To plug that gap, Metro has started store delivery of products for small mom-and-pop stores.
The next big thing is Horeca. "Did you know the total number of Horeca businesses is more than kiranas in India?"
Against 12 million kirana stores, there are potentially 15 million Horeca customers.
"Most FMCG companies have a well-devised strategy for kiranas," he says, "but not much thought has gone into penetrating Horeca."
In other words, advantage Metro.
"What are their primary requirements of the Horeca customer?" asks Mediratta.
Again, he proffers to answer it himself. "They want sea food, mutton, fresh fruits and vegetables. These businesses also need commodities, condiments and sauces. And none of the mainline companies have the product portfolio to cater to these requirements. They also need cutlery and cookware. Metro has introduced products in this category as well."
The company's Horeca business has got a recent boost from the government's e-marketplace (GeM) programme as part of which the procurement process of ministries/government departments and PSUs has moved online.
"Now you need not know somebody in the department or the government to get a project. There is greater transparency in prices. We expect GeM procurement to grow fast," says Mediratta.
As the main course is served, Mediratta talks of the many innovations Metro is working on in the area of food.
A case in point, the introduction of egg whites in Tetra Pak packaging. By the way, the seeds of the idea were sown in his head by his wife Rashmi, an interior designer.
Metro is also working to double the revenue contribution of its in-house brands which is in single-digits currently.
To that end, Metro keeps an eye open for areas where it can push its home labels.
For instance, it is tapping into industrial caterers who service marriage functions and offices.
"There buyers need beverages in good quantities. The branded products in this segment are 35 to 40 per cent more expensive compared to Metro's own brands."
How does Metro manage to keep prices so low?
Simple: "We do not advertise. We do a lot of free sampling."
Speaking from his experience, Mediratta points out that FMCG firms work with very high gross margins and spend about 15 per cent of their total sales on marketing.
"We are mindful about where we spend. The idea is not just be profitable, but sustainable also."
Metro has 1,000-plus articles under its in-house labels (700-odd in food, balance in the non-food household products segment).
In terms of assortment and home brand portfolio, he would like to do a Costco in India.
"The United States is the world's most brand conscious market and the affluent consumer there goes to Costco Wholesale. The company sells products as diverse as furniture, art, shoes, jeans, inner wear, gourmet food, spices and... guess what... even garbage bags under one brand and that is Kirkland's."
Oh, that's easier said than done...
"Well, successful leaders are those who can manage both scope and scale," he says moving the vegetable pouches around his plate with a fork.
"What I'm doing now is a combination of both," he says.