'Post-Covid world will be different from the pre-Covid world.'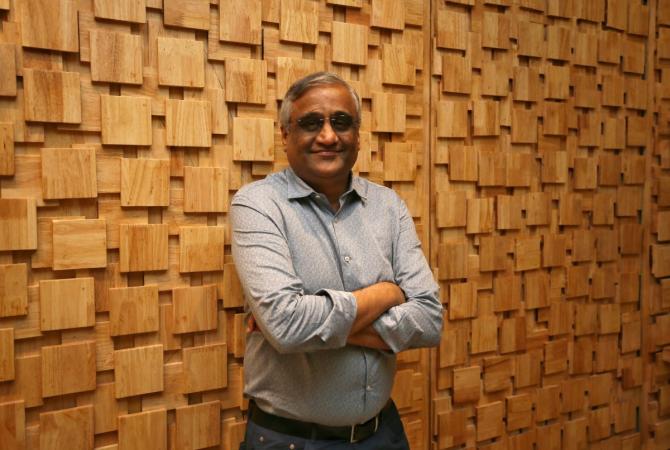 Future Group is in the midst of a bitter court battle with Amazon over the sale of its wholesale, retail, and logistics assets to Reliance Retail last year.
While the battle has reached the Supreme Court, prompting Reliance Retail to extend the deadline for closing the deal by six months, Future has opted to keep its attention on its business in all this.
In conversation with Viveat Susan Pinto, Kishore Biyani, founder, Future Group, highlights the initiatives he is taking to revive his retail and manufacturing operations.
You are making a two-hour delivery promise in retail, which has caught the attention of peers. Is this your way of saying you are back in action?
Covid or not, the show must go on.
Ultimately, it's about doing business.
There was work we had done around data science and technology under the Tathastu project before the pandemic began.
We are now utilising those bits of learning for the two-hour delivery promise.
It is possibly among the biggest promises a retailer can make to a customer today, given that COVID-19 has upended life as we know it.
The adoption of digital has been faster than expected and if a retailer can deliver products quickly, there is nothing like it.
But how are you delivering products in two hours?
We've tied up with multiple delivery partners, such as Dunzo, Grab, and Shadowfax Technologies, which have perfected the art of delivering products quickly.
The online business runs on input metrics, which include order picking, and ensuring the assortment is available and served by the nearest store with minimal or zero defect.
We have begun the two-hour delivery exercise in Mumbai, Delhi-National Capital Region, and Bengaluru, and will soon take it to cities such as Kolkata, Hyderabad, Pune, and Chennai.
The next phase will be to take it to places where we have at least three stores.
And then we will take it across India. This should take around three months as we are going phase-wise. We are learning along the way.
Since manufacturing fast-moving consumer goods and fashion brands is a key focus area, what is the work you are doing there?
We are launching an FMCG brand called Smartsters, which will focus on packaging and product innovations.
It will be rolled out in the next two to three months and is designed to be sold in modern trade.
This launch will happen under Future Consumer, targeting food and non-food product categories.
There is also a fashion brand we are working on, which will target the post-Covid consumer.
What is your plan of action as far as Praxis Home Retail is concerned? Home retailing is something you have retained.
There is a huge opportunity in democratising furniture retail.
People who are sleeping on mattresses should sleep in bed.
Those who are sleeping in bed should have a wardrobe next to their bed.
There is clearly an opportunity to upgrade the lifestyle of Indian consumers.
That is what we would be looking forward to doing.
At present, we are reasonably good at home retailing. At the same time, we have never been averse to partnership.
That is a business with tremendous potential.
What happened to the 7-Eleven convenience stores that Future Group was to launch under a franchise agreement in India? Is it still on?
We were ready with the store fit-outs for 7-Eleven last year.
However, the pandemic began and that plan was held up.
We had worked on the back-end, food recipes, trials, etc for 7-Eleven.
Right now, however, our attention is on our existing formats, not 7-Eleven. There is enough on the table for us at this point.
Describe the post-Covid consumer as you see him or her.
The post-Covid world will be different from the pre-Covid world.
'Digital first' will be critical, impacting shopping habits.
A heightened sense of hygiene and comfort will drive consumers, forcing marketers to design products keeping these attributes in mind.
Building trust and last-mile delivery is something that marketers will need to devote their attention to if they wish to retain their customers.
A lot will change in this new world and brands will have to address these needs.