'I have always believed that life is too short to measure ourselves against our competition and our goal is to continuously improve ourselves from what we've done in the past.'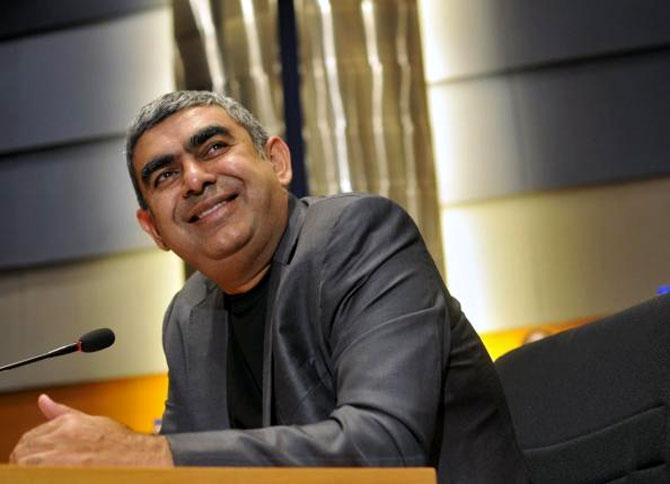 In an interview with Bibhu Ranjan Mishra and Alnoor Peermohamed, Infosys' chief executive officer and managing director Vishal Sikka says despite a healthy guidance, he can't say if this would be 'industry leading'. Excerpts:
You have given a guidance of 13.5 per cent growth in revenues in FY17 on constant currency basis. Do you think this will be industry leading?
I don't know. To me, industry leading means being number one. But then, you may have somebody who buys a $3-billion company. I have always believed that life is too short to measure ourselves against our competition and our goal is to continuously improve ourselves from what we've done in the past, which is what we're working on.
Achieving industry-leading growth was one of the short-term goals when you joined…?
Yes, it was a short-term goal and I think we have already reached that, right? Look at industry body Nasscom's guidance; we've already beaten that. We are within the top two or top three of these companies. So I don't pay attention to that.
What is your view about a visa-independent Infosys?
It's the year of Presidential election in the US, and we continue to be influenced in the near term by the visa situation. Our view is to become independent of visas and hire locally. I am a local hire in the US and we have thousands of people hired locally working in the US, Europe, Australia and other places. Our effort is to get independent of this visa as much as possible and I believe it's possible to achieve that.
We believe this idea of a location independent experience of delivery is something in our reach because of technology. We are sitting in a large room that is technologically enabled. With VR (Virtual Realty) and other collaboration technologies, it is becoming possible to deliver more and more seamless experiences no matter where we are. We're also doing a lot of innovation in this area. This, we believe, will be a key part of our approach in the future.
Ultimately, the issue over the past few decades has brought us to a point where there is too much dependency on it and the answer to that is a combination of local hiring, better positioning and use of next generation collaboration technologies. This will help us deliver value no matter where the people are.
Your net employee addition in the fourth quarter at 661 is one of the lowest in recent quarters. Does this mean the increasing adoption of automation is making you less dependent on people?
I wouldn't read anything specific into it. Some of the hiring has been slower due to automation. But it's too early. We still have to see. The other factor is that we've transitioned from a people only model to people plus software model.
If this is the trend, what kind of employee numbers do you anticipate by 2020, when you aspire to cross $20 bn in revenues?
In terms of the 2020 vision, if you look at $80,000 revenue per employee and $20 billion in revenues, it adds up to 250,000 employees. We are currently at 195,000; so it will grow. Still, I think 2020 is too far ahead to come up with concrete operational values.
While your revenue guidance is better than Nasscom's, experts feel you may have been conservative. How is the visibility at this point of time?
I think, obviously, the currency environment has changed over the year. But if you look at the constant currency FY16 average, we have given a revenue growth guidance of 11.5-13.5 per cent. And this is not more than our advise to the market on what we see right now.
Photograph: Abhishek N Chinappa/Reuters