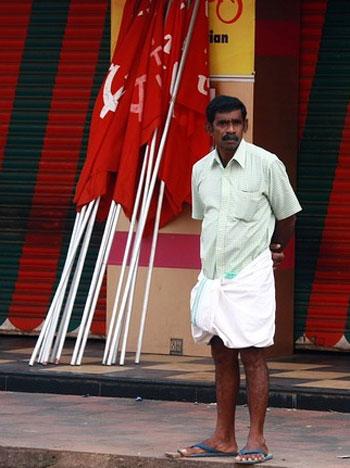 The Centre proposed a slew of measures for workers ahead of Labour Day. Suggesting flexibility for employers in hiring and firing labour, it also proposed provisions for a better compensation package. Union Labour Secretary Shankar Aggarwal (bottom left) tells Somesh Jha both workers and employers should be ready for a change demanded by the new dynamism of the economy. Excerpts:
How important is rationalisation of trade unions?
Unions are formed so that there are representative bodies of the workers who can talk to the management and raise the issues concerning them. These should be a true reflection of the workers.
It's not that you hijack the agenda by bringing people from outside. We are encouraging those who are stakeholders and involved with the workers. They should be allowed to form unions.
Is politicisation of trade unions another issue?
It's a natural phenomenon. But we should ensure that labour unions should be representative of a body of workers.
What is the motive behind the recent labour law proposals?
Our aim is clear — we are here to take care of the interests of the nation. Today, we have a very stable government, with incisive leadership and purposefulness. Workers demand peace and prosperity at every level and it should not happen only at the top rung. The opportunity should be available at all levels of the social structure.
How will the changes to the Industrial Disputes Act help you achieve these goals?
At times, miscommunication or wrong perception or maybe some bad decision taken by the employer or employees — all these factors combined — lead to stalemate. Our laws should be such that it should facilitate a dialogue to avoid destruction and disruption in work.
All employees should get an opportunity to prosper. We also have to look at the needs of the workers such as job security, social security, decent work conditions and a reasonable remuneration without any discriminatory practices.
A worker's job should be secure till he doesn't get involved in wilful default and gross indiscipline. Also, if the worker doesn't have the requisite skill to continue the work, the factory should facilitate [training for] that. If they cannot, factories should be able to give sufficient time and remuneration to facilitate another job.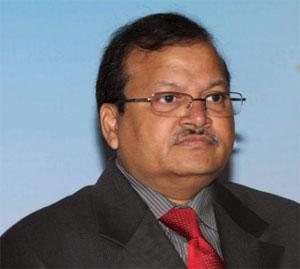 How will that help workers?
As the economy is changing and expanding and we have a globalised economy, you are dependant on a whole lot of factors. In these situations, you require a different skill set. Globally, technology processes and requirements are changing very fast and you have to acquire new skills. We must streamline this process and migration should be easy if one wants to take up a different field. These people should either acquire the skills or we need to bring a different set of people. Similarly, let's say some product line is closed. What will the employer do? So, we have given adequate provisions for that.
At present, workers get 15 days' wage for every year worked as remuneration. You can't sustain in that amount. Now, we have proposed to raise this to 45 days of wage per year worked. So, if someone has worked for five years, he will get more than seven months of salary as compensation.
So that will help both the employers and employees?
It works both ways. The employer should facilitate acquisition of new skills and if that's not possible, the employer should make easy migration from one unit to another by way of giving enough compensation. From employee's perspective also, we should be ready [to move on] else the entire economy will come to a grinding halt and that's not what we want. It should be a win-win situation.
How will you try to convince the unions opposing these moves?
We feel every person is rational. We will have dialogues. It's not a rigid proposal. Maybe our stand is wrong and we may change. I am not wiser than them. If they convince us, then we are willing to change.
How will the investment of Employees Provident Fund Organisation (EPFO)'s funds in equity instruments help?
The world over we have seen investment in equity has given the maximum return. It's a risk-based model. But if we carefully, intelligently and cautiously invest in equity, we will get a return higher than debt instruments. In 25 years, if we analyse all the instruments, equity gives the highest return. So, why are we losing that opportunity? Hence, we have decided to invest five per cent initially and when we gain confidence and knowledge, we will move forward.
What will be your priorities going ahead?
We want to ensure members of the ESIC [Employee's State Insurance Corporation] are given decent medical cover. Second, we need to improve on the social security aspect. Third, we want to create a safety net for the unorganised sector. We will give them an Unorganised Workers Identification Number (UWIN) — an IT-based platform, so that all the schemes related to them are under one umbrella.