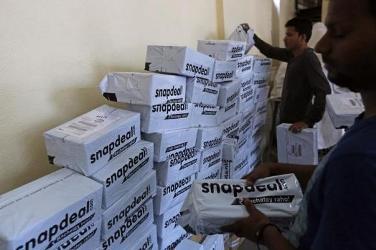 E-tail major Snapdeal's chief executive officer Kunal Bahl talks to Business Standard about the idea behind assisted e-commerce outlets in remote areas.
Edited excerpts:
What is the thinking behind assisted e-commerce outlets in poorer areas?
Everyone should be offered equal access, even people who do not have fancy smartphones or PCs and Net access.
That segment comprises a large part of India's population, and if we want to build the best ecosystem of buyers and sellers, it is essential for us to reach out to this market.
If we do not, we will be limited to about 200 million-odd people who read, write, understand English, have access to the Net through their mobiles and PCs.
What is the potential in this largely unexplored market?
India probably has about 25-30 million buyers right now.
If you want to get the next 50-100 million buyers into the fold, we will have to try out different strategies to enable access.
My hope is that through initiatives like assisted e-commerce, we can get these 50-100 million people to start transacting online.
Eventually, they might buy themselves, as smartphones and data get cheaper, but right now a trusted intermediary layer is needed.
Do you have some sense of how much people with relatively modest incomes are buying online?
Sixty-five per cent of our sales are coming from Tier II cities and beyond.
We have sellers in 500-plus towns and cities and buyers in 5,000-plus towns and cities. However, we are still mainly reaching affluent or mid-to-affluent consumers.
Owning a vehicle is a good parameter for saying you have entered the middle class.
From our research and surveys, it seems that about 70 per cent of our buyers own a vehicle, either a two-wheeler or a four-wheeler.
Is there something odd about an online business having a physical 'shop'?
We are not setting up shops or creating physical infrastructure.
We will work with the existing infrastructure of companies that are already in these areas and are interested in generating another stream of income by providing access to our products.
Apart from Fino, are you tying up with anyone else?
There has been a lot of interest, but we are not in a position to announce anything else yet.
What would you tell people who still prefer to shop in haats or local retail outlets?
That we offer more variety and transparent prices.
If you buy offline in a small town, especially, there is no way for you to benchmark prices.
What we offer is the certainty and availability of products at great and fair prices.
We also provide access to survival products.
Among the popular items in the smaller markets that we now reach are blood sugar and blood pressure monitors.
That is because you do not have clinics that carry out these simple checks or pharmacies that sell these products.