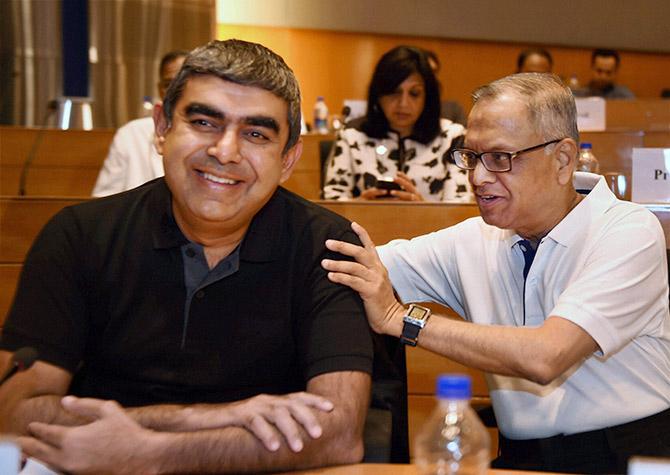 Vishal Sikka, new chief executive and managing director of Infosys, faced the media for the first time to discuss the financial performance of the company.

Speaking to Business Standard during the company's earnings conference, Sikka talked about his chemistry with NR Narayana Murthy and about his plans to strengthen the leadership team. Excerpts:

It is surprising NR Narayana Murthy is not accepting the position of chairman emeritus. What will his position be?

I have great chemistry with him, he is a great teacher. I think it is their (founders') wish.
They have had an incredible impact on the country, and on the industry.
I am going to look for continued advice and guidance from Mr Murthy. He will forever be known as Mister Infosys.

Is your strategy an extension of Infosys 3.0 or is it a new one altogether?

I think it is wrong to think of this (new strategy) in the context of any of the work we did in the past.
Obviously, this is not a radically new idea that I am proposing. Nature renews itself continuously and new things continue to happen.
I prefer not to look back on what Infosys 3.0 was or was not.
What we have set out is ideas that are relevant to the industry and clients. Each one of these ideas is already in execution and the first signs are already clear.

With the focus on new technologies, what are your plans for Infosys' bread-and-butter services business?

This is not about leaving something behind. What I am proposing is that we renew everything that we do today -- in every service line, in each geography and every industry.
We renew that using this triple combination of focus on business outcomes and value with new kinds of business models, of bringing automation and next-generation technologies to the way we run those businesses, as well as to focus on business outcome.
So that applies to everything we do, from business process outsourcing to application development.
We are detailing a strategy to each and everything we do.
So it is not about leaving something behind, but it is about moving the whole thing forward.

We have heard that several of your former colleagues at SAP are joining Infosys...

A few of my friends and colleagues have joined. A handful of people. Also some colleagues have joined from outside.
I would not read anything great into it. It is relatively common that when a senior executive leaves a company, there are several who decide to come and work with him.
We have a distinguished partnership with SAP and we are excited about taking it to a new level.

You had said Infosys would partner start-ups. How will this happen?

The work with regard to start-ups has three dimensions.
First, Infosys can be a great accelerator for start-up companies. They need reach and scale, and we can be an enabler.
The second dimension is to bring the start-ups to our clients and have a joint go-to-market, and we are already doing this.

Third, we can invest in start-ups and that is also something we are already doing.

We also have a $100-million fund and we are starting to make the first investments from it.
We are already handholding two start-ups, Clique Intelligence (a contextual collaboration technology company) and Ooyala (a cross-device video analytics and monetisation solutions company).

Infosys is looking to be part of Prime Minister Narendra Modi's Digital India campaign. Could you share some details?

We are just engaging with the government and Union Communications and Information Technology Minister Ravi Shankar Prasad and his team. There are many areas we are looking at like smart cities and health care.

You have started incubating some ideas generated from the murmuration (a crowd-sourcing programme among employees)...

Many are already reflected in the strategy we are talking about.
We had 2,700 ideas we got through murmurations, and we have shortlisted 10 that we are already executing.
We will look at investing in those ideas.
We will look at having an internal venture capital kind of a set-up.
Image: Infosys Executive Chairman N R Narayana Murthy with newly appointed CEO & MD Vishal Sikka at a press conference at Infosys headquarters in Bengaluru. Photograph: Shailendra Bhojak/PTI