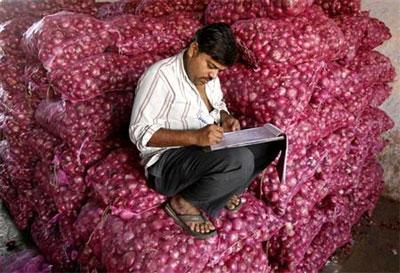 Onion prices, which are already ruling at around Rs 80 per kg in most parts of the country, are likely to increase further by 10 per cent on tight supplies due to unseasonal.
The situation is going to be more critical in future and the price is seen to go up by another 10 per cent in the coming days because the current crop, which is expected to hit the market next month, might be affected due to scanty rainfall.
But is Rain God the sole villain? No. Infrastructure inadequacy is also another major issue. The fact that onion is a perishable item, and India lacks sophisticated storage facilities have made matters worse.
Binu Alex (bottom, left), co-founder and editorial director of www.commodityonline.com, in an interview to Syed Firdaus Ashraf/Rediff.com, says demand-supply imbalance arising out of the government's inability to preserve the crop for non-harvesting season is the root cause behind the price rise.
Why are onion prices rising once more?
The reason lies in demand-supply mismatch. Weather too played a major spoiler. Indian Meteorological Department, warned that India this year would receive deficient rains, a shortfall of 9 per cent. As the prediction came from a government agency like the IMD, stockists hoarded their stocks and the government failed to impose any limit on the same and this led to the rise in prices.
Why did the government fail to check the price rise?
It is unfortunate that our government failed to anticipate this demand-supply imbalance. One should be able to foresee the shortage of commodities in agrarian economies like India where crops heavily depend on monsoon. A little delay in decision making can create havoc in the markets. Added to this is the opaque nature of the markets where middle-men pocket hefty profit and even try to use such shortages to their advantages. Though there are enough measures to stop hoarding, it continues as a thriving business in India. Interestingly these hoarders use state-of-the-art warehouses to stock these commodities whereas farmers hardly get these infrastructures resulting in poor price recovery mechanisms. The government has intervened as far as the prices of cotton and sugar are concerned by procuring the commodities. But onion being highly perishable and India having no adequate storage facilities, onion does not enjoy the procurement benefits of cotton and sugar. It is not possible for any government to store and market any perishable commodity and this is precisely why Minimum Support Price is not extended to onions.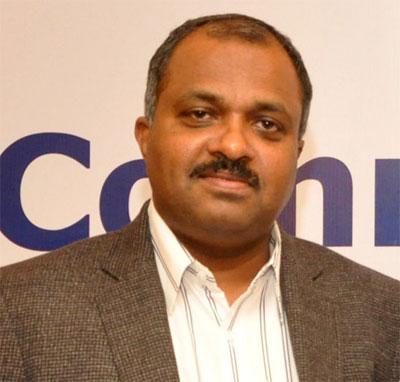 Which are the major onion-growing regions in India? Is there a rainfall deficit in those areas?
Maharashtra tops in onion production followed by Madhya Pradesh, Karnataka, Gujarat and an undivided Andhra Pradesh. Out of these regions, Maharashtra accounts for nearly 40 to 48 per cent of the total produce. So much depends on Maharashtra that any crop failure can lead to a scarcity of onions across the country. Uneven rains are the main cause for shortage. In some states there have been deficient rains, while others have been plagued by flooding. Farmers in Nashik, the onion bowl of Maharashtra, are fighting uneven rains and seed shortages and many of them have actually junked onions for cash crops.
How many times in a year is onion produced and is there a co-relation between price rise and the timing of the crop?
Most crops in India are divided in two groups - rabi (March to June) and kharif (October to December). Depending on the arrival of monsoon, these crops can be delayed. Onion is basically a rabi crop, but cultivated in kharif and late kharif (January to March) season too. The rabi season onions are stored up to November. With no adequate facilities to store beyond this point, shortage occurs for three months after that or till the kharif crops are harvested. Better technological advancement and scientific methods of agriculture can help fill this deficit. Despite having so many agriculture universities, it is hard to believe that research has not come to the aid of the farmers. On paper, India has the largest area under onion cultivation globally but when it comes to production, we are second and way behind China. This is because the yield per acre is pretty poor for various reasons. However, 18 to 20 per cent of global onion production is not a small figure.
Do you think the government failed to foresee bad monsoon and didn't import onions from abroad on time?
Partially yes. However, it will not be entirely correct to say the government failed to see bad monsoon. Monsoon in India is always erratic and India's official weather forecasting agency, IMD, has not given the government any confidence in the last six decades to believe in their forecast blindly. Moreover, decision to import any commodity involves different ministries. With parliament in logjam, prime minister either on foreign tour or taking care of party fortunes in different state elections and the bureaucracy unclear of the next step, certain decisions have definitely been delayed.
Don't we have good warehouses where onions can be stored for a long time?
India needs around 15 to 20 lakh tonne capacity storage space for onions to avoid shortages and for better price recovery for farmers. Today India does not have even one third of that. More than the government, it's the private players who play a pivotal role in warehouse management. Though cold storage chains today are more than what it was 10 years ago, we still don't have temperature and humidity controlled scientifically built warehouses to preserve perishable commodities. Once in two years, onion crisis is bound to arise in India.
What is the total consumption of onions in India every year and do we fall short of producing that amount?
Total annual consumption is around 160 lakh tonnes, while we produce 185 lakh tonnes annually. Ideally there should not be an issue. Primarily, inability to preserve the crop for non-harvesting season is the root cause of the problem. In a nutshell, it is poor planning that has lead to such shortages.
Do you think successive government - Congress and now BJP - have failed to keep a close guard on the price fluctuations of this commodity?
Agricultural Produce Marketing Committee control the commodity market in respective states and is thus a state subject. So if Maharashtra is the largest producer of onions, the onus of its shortage also falls on its shoulders. At times state-centre rifts also results in communication gap. But normally, when such crisis arises, the government bans onion exports, lowers import taxes and procures onions from the nearest available country. In the case of onions, it is Pakistan which produces the quality of onions that India consumes. For the present regime, getting onions from Pakistan will draw a lot of flak from the detractors though it can be one of the wisest decisions. The government, however, cannot sit on the crisis and let the situation go out of hands. It has already asked MMTC (India's Largest International Trading Company) to issue a global tender to import 10,000 tonnes and this will most likely come from Pakistan and China. During the last onion shortage, the then government had gone ahead and got onions from Pakistan to overcome the crisis. BJP who was in opposition at that time had blamed the crisis on skewed policy decision on exports and imports. This policy paralysis continues even today.
Are middlemen to be blamed for the price rise of onion?
Middlemen do control price rise up to an extent, but it is limited as governments make timely regulation on prices to reduce the burden on consumers. Many state governments sell onion through their outlets at cheaper price, which limits middlemen from artificially hiking the prices. But, no doubt, transparency is a big issue in India with regards to agri-commodity pricing.
Why Indians cannot do without onions? Is there any other commodity that can be replaced by onion?
Onions can be replaced only by onions. I mean dried onions are a good alternative and easy to be preserved. But unlike the western countries, India always prefer everything fresh. So dried or dehydrated onions made in India are mostly exported. These dry flakes can easily substitute fresh onions though taste can differ because flakes are produced from the bulbs and not the onions that you see in your kitchen.
Do you think there are infrastructure problems also in India that is leading to the price rise in onions?
Infrastructure inadequacy is one of the major issues. But there are other problems as well. Take the case of pulses, a perennial deficit commodity in India. Though India produces the largest quantity of pulses, it cannot feed the domestic population whose appetite is increasing on a continuous basis. India imported total pulses of 4.58 mt in 2014-15 as against 3.65 mt in 2013-14, up by 25.45 per cent. India consumes around 25.3-24 million tonne pulses annually but in 2014-15, production of pulses fell to 17.3 million tonnes from 19.3 million tonnes in 2013-14 again due to the same weather conditions.