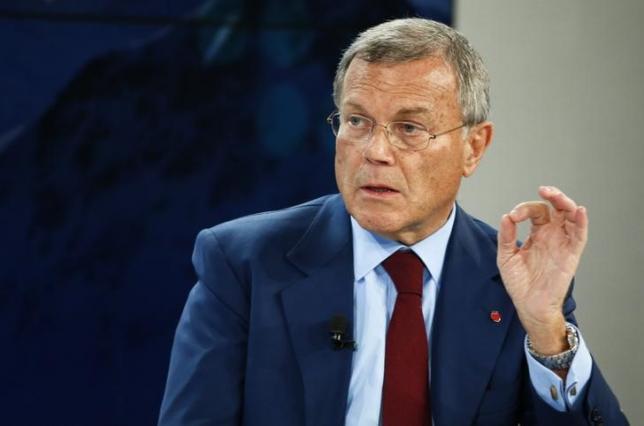 The drive from One Indiabulls in Mumbai's Lower Parel district to the newly-renamed Palladium (now St Regis Mumbai) - a distance of 2.5 km - ought to take approximately five-seven minutes in sane circumstances.
However, to Business Standard's advantage, in Mumbai's nightmarish peak-time traffic in the area, the car ride took closer to 20 minutes.
WPP's chief and billionaire Sir Martin Sorrell sat in his car in the hotel's drive-in for another five-seven minutes to complete the chat before heading into a press conference at the venue.
Sorrell was earlier in the Capital to meet Prime Minister Narendra Modi and later in Mumbai for meetings and announcements, including the inauguration of the WPPSchool for Communication, his first foray into the education sector in India.
Clear thinking and energy that defies his age are the two characteristics that strike you as you converse with one of the world's more successful entrepreneurs. Excerpts from an interview with Anjuli Bhargava:
As a communications expert, what's your take on Prime Minister Narendra Modi's strategy with the media - minimising two-way direct communication and using digital as far as possible to get his message across?
When I look at the newspapers here and television channels, I feel this kind of communication here is incessant.
Compared to the earlier regime, it's far lower. Ministers don't speak that much and pretty much toe the line of the prime minister.
Maybe that's what created some of the problems for the previous regime. If you are part of government, you agree in Cabinet what the policies are going to be and then you implement it.
If you are talking about effectiveness as the criteria, to have a coordinated approach like the Great Campaign in the UK is probably the best example of an integrated government campaign.
Setting the objectives - some of which may be difficult to implement because they are revolutionary and definitive - is important.
The PM has a strong strategy. He is an effective communicator - both at home and abroad.
The only question is whether he can implement at a fast enough rate. He then has to have the bench strength to get it done.
Coming back to your question, I don't think there's any great harm in that.
Let me put it differently; there is a feeling that the government is keeping the media at arm's length in a sense. Will this hold them in good stead when the next elections come around?
You say that but I don't see it that way at all. If this is keeping media at arm's length, I can't quite imagine what full engagement would look like (laughing).
They'd spend all their time talking to the press and not enough time working on the business.
If your analysis is right (I don't spend enough time here to judge) then focusing on the job and getting the job done as opposed to talking to you in the back of the car (laughs)…
Using digital media to communicate what they have done, it may well be the way to go instead of having a muddled message.
In general, if you have a strategy and you implement it, you don't have to worry about winning the next election.
The problem arises if you have a strategy and you don't implement it or if you have a wrong strategy to begin with.
Using social and digital media to get across the strategy and the reasons behind it and to do it in a modern, sophisticated way is the way forward.
In fact, in India, we see multiple campaigns and these are often too fragmented. It's a bit like having an umbrella campaign for a corporate brand under which the mini brands operate.
Doesn't that centralise things too much?
If centralisation results in effectiveness, what's wrong with that?
The Singapore government does it well. The Chinese in their own way.
When you get to Davos - whether it's a government official or a state-run enterprise or even private - it's almost like they have a card in their pockets with the three things they have to say - like a common mantra.
I think consistent communication works. If you have uncoordinated messages going into the media, you could often defeat your own purpose. An agreed message that everyone repeats like a mantra is not a bad thing if you are trying to get things done.
India's biggest asset is that it is the world's largest democracy but this can also be its biggest liability. Democracies are not necessarily the best mechanisms to getting things done.
Have you watched Indian television?
Yes, and it's highly fragmented (laughs loudly). There's a lot of it. And, it's really hard to measure as we have learnt.
Well, I don't speak the language (Hindi), so a lot of it is lost on me.
But, a government official recently asked me why the media focuses on the negatives rather than the positives and I said 'well, that's just life'. All CEOs I know complain the media doesn't ask them about what they want to talk about… I enjoy that. The media has to prick the bubbles.
What about the quality of debate on Indian television?
There's too much of it. Everybody has a point of view. I mean how many news channels are there - some 93 news channels or some incredible number.
There's enough debate in India; it's really a matter now of getting things done.
I think it's too fragmented and I think people - in the fullness of time - will get fed up of funding unless they are trophy properties as opposed to practical ones.
And the pool of advertising money for traditional media will shrink over time. We all know that newspapers and television can probably never be as profitable online as they have been offline.
Is that how you got roped into setting up a communications school? Did you happen to watch Indian English language television and say "Wow, these guys need help"?
(Laughs) I wouldn't say 'I got roped in'. I think Rana Kapoor invited me to see the design school or maybe one of our clients suggested we come to see the design facility. They also had a connection with Parsons whom we do a lot of work with.
We set up a school in China a while ago and we had the idea of doing something here too. When we saw this, we decided to partner with them.
In China, we take in around 150 students a year. The deal is we contribute heavily to developing the curriculum and providing the teaching.
And, the first class has graduated already and we have hired almost all of them.
We hire thousands of graduates so this is a drop in the ocean. At least, the ones trained through our schools will be well-rounded and well-trained.
We haven't done this kind of thing in the more mature, developed markets but, interestingly, it's happened in India and China where demand for good trained graduates is strong but going to rise many times.
Are you looking at investing money in the communications school?
Effectively, time is money, so we are investing in these schools.
I don't know how aware you are of this but India faces a very acute shortage of high quality teachers.
It's pretty much the same story everywhere else too. Join the club!
That's why a lot of our people will be involved in the curriculum, teacher training and teaching.
It's a good motivator and differentiator for our people because retaining people in these fast-growth markets is hard.
How do you see this panning out - the decline in traditional media and rise of digital?
When we say digital is 40 per cent, you have to be careful as that includes digital newspapers and magazines and digital television. What is shrinking is the linear television and it's felling trees and distributing newsprint that's in trouble.
What happens to conventional advertising agencies like the kind you own and run?
They are no longer conventional. We have pushed conventional into becoming more digital. We have digital ones where we are trying to experiment all the time.
It's a bit like trying to change the engine of the aeroplane while it's flying. So what you call conventional, we are making more digital. We have new large digital agencies now. And we are continuously experimenting and investing in data and content.
In a way, we are cannibalising - if we don't eat our own children, someone else will.
In terms of your businesses, where does India rank and when - and if - do you think it will catch up with China?
Our business is $23 billion. China is $1.6 billion (third after USA and UK). India is just below 600 million, associates included.
France at sixth is about $850 million. So I'd say, India may be 11th or 12th but I'd need to check.
The theory would be that India would never catch up. If we look 25 years ahead, India will be the most populous country in the world while China would be the biggest economy followed by USA and then India. So I am not sure if it will ever catch up in that sense but you never know.
Our market share in India is around 42-45 per cent and in China (at $1.6 billion) is about 15 per cent so that tells you how much bigger the Chinese market is. The issue is that India should be catching up. It's under-advertised and under-branded in a sense.