We have done very well here and our growth has been healthy, says Ebay India chief.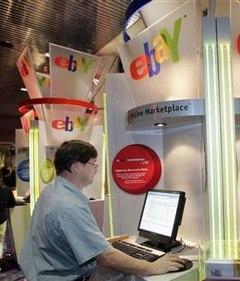 Just a day after China's Alibaba reported a record single day sales of over $9 billion, eBay India, which has 50,000 sellers on its market place platform, tied up with NIIT to offer ecommerce certification programme to educate sellers and entrepreneurs for an industry which is on high growth path.
However, Ebay India MD Latif Nathani tells Business Standard that Indian ecommerce has a long way to go before catching up with the Chinese market.
Edited excerpts :

How important could your tie-up with NIIT turn out to be?

We are excited about this because this is first of its kind in India. We realised that while e-commerce is growing, there is a skills gap.
We also see there are 6 crore traders in India who work offline and they are looking for help on doing business online.
This will benefit not only offline retailers but also entrepreneurs and students who want to start an online business.

With major Indian e-commerce companies raising funds, do you see the next Alibaba emerging here?

In India, growth is pretty fast but the market size is still small.
We have seen what Alibaba did yesterday ($1 billion sales in 20 minutes) and that is the difference between the size of the market in India and China.
The market in China is going to be about $340 billion and we are about $4 billion in India. We have a long long way to go.

Where does India sit among Ebay's global strategy?

We have done very well here and our growth has been healthy.
The industry has grown over 80 per cent this year and we have grown well compared to our expectations. Our bosses are happy with the India growth.

What are your plans to enhance operations here? Are you hiring as aggressively as your rivals?

We have our annual plan and since we are a subsidiary of Ebay Inc, we get whatever budgets we ask for.
Today we are the largest with 50,000 sellers and 3 crore products listed, and we are growing fast.

What is your take on predatory pricing?

We work with our partners and so we do not compete with them.
We do not dictate pricing and we are a marketplace so there is no inventory. It is an open marketplace so we do not get into those issues.

Why has Ebay stayed away from single-day offers and guerilla marketing campaigns?

Our strategy is different. We are a global player so we learn from across the world.
But we are focused on what is right for India and that is the reason we have come up with so many innovations.

Can you share details of your meeting with Commerce Minister Nirmala Sitharaman this week?

It was a courtesy meeting where we wanted to have a chat with her about Ebay and the kind of stuff we are doing and how we are excited about the "Make in India" programme. We told her how we are aligned with that and we can help further.

Was policy discussed?

We did not get into that, but there may be further meetings with her.

Do you think this industry needs policy clarity?

The government is looking into it and if there is any action to be taken it should keep the interest of both buyers and sellers in mind.
Any action taken for growing e-commerce will be a welcome move.

You have 50,000 sellers on your site. How do you plan to expand that list?

There are 6 crore (60 million) traders in India who could come online. India is a land of entrepreneurs, and there is no cap to this.
That is the beauty of this business.

There is a difference of opinion among small and big offline retailers. How do you see that shaping up?

We have sellers all the way from the slums of Dharavi to the biggest organised sellers, and we see all of them come online.
The only difference that is the bigger players have the resources and the knowhow and that is why we have come up with this (certification) programme.
Image: A customer uses an eBay kiosk to check on an item he has for sale. Photograph: Steve Marcus/Reuters