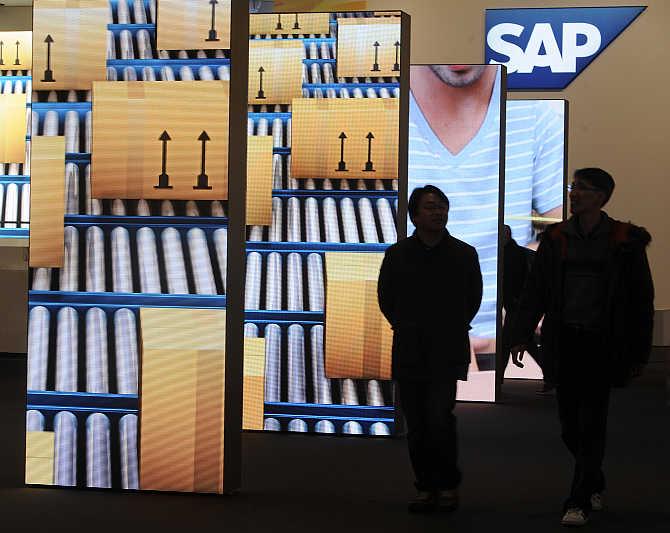 'There is a fundamental change happening.'
'We have identified around 60 top schools in India for our hiring programme.'
'Take any product or service; it's the end-user who has the power to make or break it.'
Among the global software and technology companies in India, German enterprise software maker SAP has been growing its R&D base in India even though of late many global companies have announced to reduce their headcount.
SAP Labs India, the company's second largest R&D centre outside of its headquarters in Germany is further scaling up its presence hiring the highest number of 1,600 people in India this year.
Dilipkumar Khandelwal, below, left, managing director of SAP Labs India who also holds a global role of executive vice-president and global head enterprise cloud services, tells Bibhu Ranjan Mishra, why Indian talents would drive the company's future.
Excerpts:
How has SAP leveraged its India R&D centre?
Over 10 years, SAP in India or specifically SAP Labs has gone more into complete transformation in terms of taking more and more accountability and responsibility for the critical products which are explored out of India.
SAP Labs India has meanwhile become the second biggest research & development hub across the world and has become an integral part of SAP globally.
Is cost the primary reason why SAP is expanding in India for R&D works?
MSAP has made it very clear that it is in India not for the cost. SAP is in India because of the talent that exists.
And, it's in such a zone where you have the right mix of experienced people internally, and then at the same time we are hiring lot of early talent from the best universities in the country over the past five years.
If we required experienced people, we can hire from the outside but we mostly try to get young, energetic freshers from the best of the schools.
Has there been a change in the ratio of experienced people and freshers in the Lab?
We started hiring from universities five-six years earlier.
Every year then onwards, we were very clear that approximately 50 per cent of the people we hire every year will be early talent.
We have identified around 60 top schools in India for our hiring programme.
The interesting thing is we treat them (early talents) very differently compared to any other company.
For example, the time we offer them, they become a part of a family, which is a year back.
This basically means that from that point in time, we start giving them access to the material to learn, we give them the platform so that they can start interacting with people inside the company.
Usually, we organise a freshers day where we fly all freshers (around 450 this year) into the campus to give them a firsthand experience of the kind of company they will be working with.
Otherwise, how do you integrate the millennials who are coming in from a completely different mindset into a company running for 40 years?
I have a very clear mission for this Lab and this mission is simple --'I want this SAP Labs in India to be known as the most innovative place in the SAP World'.
What factors are driving a company like SAP to hire freshers from colleges?
The way the market is evolving is radically different.
End-users have gained significant power of choice.
Take any product or service; it's the end-user who has the power to make or break it.
There is a fundamental change happening.
Who other than students or millennials are better aware of these rapid changes?
By getting those people in tune with the current markets scenario, you are creating the pool of people who understand what the users want and the user's perception.
And, they come from a world where they are told what to do and not how.
They will take a risk.
They want to make a difference. All these factors are the ingredients to make a super product.
So I feel hiring early talent, getting the energy, getting the knowledge from the market and all those things are not only a requirement, it has become a necessity now.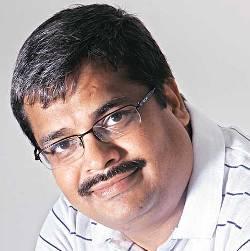 Globally, a lot of technology companies are reducing their hiring and some are even laying off people. How would you read such scenarios?
SAP is growing everywhere.
If you look at the early talent programme, it's a valid programme that we run in Germany as well as in the US, India and China. India is ahead as we started it early.
We have crossed 8,000 plus employees, including all the entities.
Working with the start-ups seems to the flavour of the season nowadays. How are you leveraging the external ecosystem in your innovation agenda?
We have a platform called SAP Blue, which is an Enterprise crowd-sourcing platform that helps to connect Idea Owners (called Sponsor) with skilled developers (crowd) to take an idea to the next level of maturity.
It's a platform that helps any sponsor to post the idea on the platform and request colleagues with specific skillset to apply and work on it.
This helps to build a self-sustaining culture of innovation where the sponsors get their idea materialised through a prototype or proof-of-concept and the developers get to work on a new idea using cutting edge technology.
At SAP, this platform is launched with the theme 'build, learn, unite and enjoy'.
What we are actually trying to create is entrepreneurship within the company.
We also have an Intrapreneurship program, which gives our employees to develop their business idea in a start-up-like environment.
At SAP, you also wear another hat as Head for Enterprise Cloud Services. What role that cloud is playing in your product roadmap?
SAP has been an enterprise software leader for 43 years, and we don't have a competitor in this space.
As a vision for 2020, we want to be the cloud company powered by our biggest innovation in the history which is SAP HANA.
So what we are trying to do is we are trying to build everything for the cloud at the moment.
Our strategy is very simple -- making sure that we deliver innovation to the install base we have though we also want to take them with our journey towards cloud and make sure they are cloud-ready.
Top image: Booth of German company SAP at the CeBit computer fair in Hanover, Germany. Photograph: Fabian Bimmer/Reuters