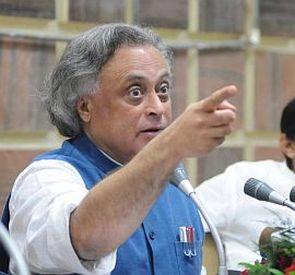 Former minister in the United Progressive Alliance government Jairam Ramesh believes the reforms of 1991 were possible because of a strong team in place and the role of jugalbandis .
On the occasion of the release of his book on the reforms initiatives of 1991 (To The Brink And Back: India's 1991 Story), Ramesh spoke to Business Standard and said it was unfortunate that P V Narasimha Rao as prime minister has not got due credit for his contribution to reforms of 1991. Excerpts:
How different is your assessment of what happened in 1991?
I have written this book as we are approaching the 25th anniversary of a watershed development in 1991.
It is different because it is written not from an economist's point of view. I have tried to capture the development of those 90 days, when I happened to be part of the government, in a popular and chatty way.
My attempt is to Chetan Bhagatise the developments of 1991 - what actually happened, how they happened and why? I was a close observer of those developments.
The book is a story and not an economic analysis.
It is a story of how India was able to overcome its worst economic crisis - its Greece moment.
What is your central takeaway?
What struck me the most was that the policies that were implemented in 1991 could not have been possible with Narasimha Rao without Manmohan Singh.
It was an unusual jugalbandi - of political craftiness and economic wisdom that achieved a paradigm shift in our policies.
We had a new fiscal policy of not living beyond our means, a new trade policy of meeting our imports through exports and a new industrial policy that freed up the private sector from licensing controls and abandoned the idea of the public sector being the commanding heights of the economy.
What role did you play in all these developments and why were you shifted out of the Prime Minister's Office suddenly?
I have remained in the background in the book. I was only one of the sherpas of those reforms. My shifting is incidental.
The main purpose of the book is to bring out how Rao and Singh made the economic policy choices they finally did.
What all do you think went wrong?
Yes, there were goof-ups as well. A lot of improvisation took place after the new industrial policy became a battleground of politics among senior Congress politicians.
There were debates in Parliament. Gold sale also became controversial.
But the important thing to note is that while compulsion was a driving force behind those economic policy changes, there was also conviction that moved them ahead.
Did you feel let down at any point?
On two occasions, I found myself isolated: On exit policy and privatisation.
In India, we have sick companies, but hardly any sick promoter. We moved a bit on a national renewal fund, but the progress was slow and then it was given up.
How difficult were the decisions on rupee devaluation and gold sale?
Remember that Rao was opposed to devaluation of the rupee.
But what helped again was the jugalbandi - the one between Rao and Singh and another between P Chidambaram, the commerce minister, and Montek Singh Ahluwalia, who was then the commerce secretary. And I must thank god for the institutional autonomy that prevailed and helped the government go ahead with the devaluation.
Also, remember that the gold sale continued for quite some time and there were four such consignments even during the Congress government regime in July.
Why is that the Congress has been reluctant to give Rao due credit for these reforms?
The Congress party should not feel defensive or apologetic about the reforms of 1991. It should realise that the sources of post-1991 policies depended a lot on pre-1991 policy initiatives.
But what overshadowed the reforms saga of 1991 was a series of subsequent developments - the Harshad Mehta scam in the stock market and the Ayodhya movement leading to the demolition of the Babri Masjid.
What is your assessment of Rao as prime minister?
Rao is often accused of being an indecisive prime minister because of whatever role he played during the Ayodhya movement and also for his statement that lessons must be drawn from what happened in the Soviet Union at that time.
But do not forget that the same Rao had been very decisive during those 90 days of economic policy changes.
The book is not a complete account of Rao's tenure as prime minister.
But what I have tried to convey is that because of what happened subsequent to 1991 reforms, Rao's contribution to reforms tend to be relegated to the background. It is unfortunate.
Why is it that we do not evaluate our leaders as objectively as it happens in other countries?
The problem in India is that we are never objective about our leaders. We either make them villains or gods.
Unlike in China or Russia, where their leaders are objectively evaluated, we are a nation of bhakts (devotees) incapable of objectively assessing the good and bad qualities of our leaders.
Are there any lessons for the present government from what happened in 1991?
The first lesson of 1991 is that political outreach and political communication are critical for bringing about economic policy changes.
Both Rao and Singh were self-assured individuals, yet they were able to reach out to the opposition and even dissenters within the Congress.
They sat through debates in Parliament. Rao addressed the nation twice on reforms during that period. He made three major interventions in Parliament.
The Congress Parliamentary Party met on five occasions.
They wore their knowledge lightly. They were not arrogant and never practised the kind of in-your-face politics that is so common these days.
Both the current prime minister and the finance minister would do well to emulate those styles with more consultation, following a low-key approach to issues.
The second lesson is the importance of teams. Those reforms were possible because of the excellent teams and team-work.
Did Manmohan Singh of 1991 change when he became prime minister in 2004?
That will be a different book. It is also unfair to compare Singh of now with the Singh of 1991.