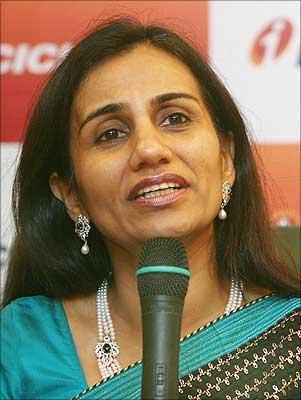 Chanda Kochhar, managing director and chief executive officer of ICICI Bank Ltd, the second biggest lender, expects loans to grow 16 per cent in the year to March and sees lending rates rising during the year.
The bank expects greater demand for loans from housing, cars, projects and working capital. Edited excerpts of an interview with Sumit Sharma:
Why is the growth in your consolidated profit lower than the previous year?
In consolidated profit, we must remember that in case of the life insurance company (the bank's subsidiary), the change happens at the end of the year. You have profit every quarter, but according to accounting guidelines, one does not take in quarterly profit.

It is taken in the yearly profit. The fourth quarter will see a huge increase and the first, second and third quarters will be much lower. In spite of any change that is happening in the industry, our company will be in the profit zone for the year.
What contributed most to the rise in standalone profit?
Efficiency in credit losses and operating expenditure. In general, everything contributed – the net interest margin grew, fees income grew and provision charges came down substantially.
What accounts for the flat net interest income?
The book has not grown too much, as these results are year-on-year. As we have already entered the growth zone now – the last two quarters, we have seen loans and advances go up – you will see net interest income going up. The net interest margin is 2.5 per cent, compared with 2.4 per cent the same period last year. You could see some upward bias. There could be some scope for improvement.
Loans haven't been growing. What's the outlook for loans growth in FY11?
It's not that loans aren't growing. If you see our loans' growth, it's healthy compared to the industry, because in the industry a large part of the disbursement has come from telecom.

Our growth rate is more diversified. We have not done too much in telecom deals and yet have grown the book. Our corporate book has grown by 30 percent.

The retail book hasn't grown much, also because we have repayments coming from our housing book. Disbursements from our retail book have been increasing every quarter, so, going forward, you will see both the retail and corporate books growing healthily.

Retail is 41 per cent of our loans, corporate – including both domestic and international -- is about 46 per cent of loans.
In the full year, we expect loans' growth to be 15-16 per cent. By the year end, retail loans could be between 38 per cent and 40 per cent (of total loans).
Which segments will drive growth in the coming months?
The four key areas are housing, car loans, project loans and working capital.
Most of your customers are on BPLR (benchmark prime lending rate, the old system).

Any plans to raise these rates and also the base rate?
Not immediately, but for the year, interest rates are on an upward bias. Some time during the year, the rates will go up.
How much can the rates rise?
Very difficult to say. It's a forward-looking statement. Also, it depends on how the credit picks up. Whatever happens to the BPLR will happen to the base rate.
Any plans to raise deposit rates?
We are raising deposit rates across different maturities by between 25 basis points and 75 basis points.
You added about Rs 350 crore of gross NPA (non-performing assets) this quarter? Are NPAs a prime concern?
Not at all. The Rs 350-crore appears different from last year because till last year, we used to do writeoffs. This year, there are no writeoffs. So, in a way it's comparing apples with oranges. What one has to see is, the increase to net NPAs has gone down and therefore our provisions (for coverage) have gone down and therefore our net NPA ratio has gone down.
Do loans to airlines contribute to the NPA?
No, not all.
How much have you lent to the telecom sector?
No, we have not given a lot of loans to the telecom sector. The figures are not even worth mentioning.
Casa (current account/savings account) deposits rose by a whooping 12 percentage points to 42 per cent from 30 per cent. Where do you see it around March?

We hope to maintain Casa around the same ratio, but then our total deposits will also increase over time. Casa will increase in absolute terms and we will be happy to maintain it around that ratio.


By when do you hope to meet the 70 per cent provisioning coverage ratio?
We have time up to March. We will definitely meet it easily before that.
ICICI has lost some top officials. Is that a concern?
ICICI Bank has a lot of depth in management talent. So, we are able to maintain continuity in the organisation with the sheer force of the internal talent we have.

As we keep growing as an organisation, we will continue to grow our leaders in terms of exposure, capability and scale. Any leading organisation becomes a nursery for talent. It's not a concern for us because our inner talent depth allows us to continue without any concern.
Click NEXT to read on…