'Last year (FY21), we had about 1 million intimated claims for Covid.'
'This year (FY22), in six months, we got about 1.6 million claims.'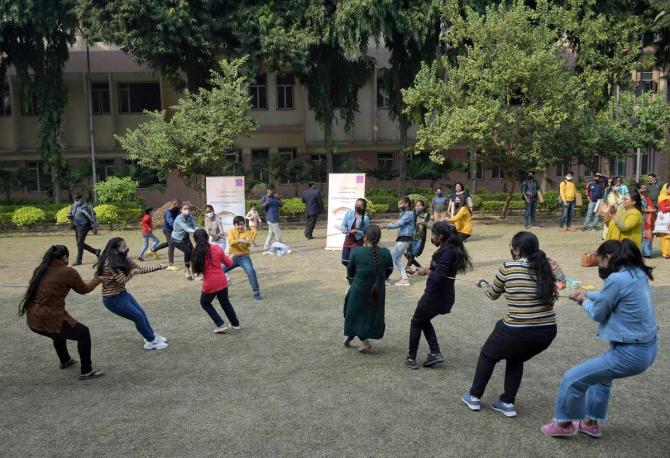 While the Covid-related health claims have seen a decline, the non-Covid claims have spiked for non-life insurers, posing another challenge to the sector.
Bhargav Dasgupta, managing director and chief executive officer, ICICI Lombard General Insurance, tells Subrata Panda about the hit the insurance industry had taken due to Covid, the spike in the average claim size, pickup in the motor insurance segment, and the focus areas of the company.
Is the worst over now as far as the Covid-related health claims are concerned?
We are hopeful, given the pace of vaccination, that we would not see a spike like what we saw in the second wave.
The caveat is that we do not get to see a new mutant.
We have to watch the situation. The Covid claims were unanticipated, and we did not budget for them, or price for them.
Unlike most industries that were affected, we did not go to the central government for support.
Last year (FY21), we had about 1 million intimated claims for Covid.
This year (FY22), in six months, we got about 1.6 million claims.
Our sense is that the industry has paid Rs 25,000 crore-Rs 30,000 crore (Rs 250 billion to Rs 30 billion) for Covid-related health claims.
How concerned are you with the average claim size going up in the recent period?
The worry is that the non-Covid claims are spiking.
Other types of infection this year have been bad -- dengue, malaria, etc.
Elective surgery cases have come back strongly.
More importantly, the average claim size for each of these diseases has gone up a lot in the past two years.
The elective surgery spike could be temporary.
But the average claim size spike is structural.
If I compare the present cost to what it was two years ago, there is a 20 per cent increase.
If this sustains, it will have some repercussions on insurance premium.
Is there a need to raise health insurance premiums?
If the rise in the non-Covid claims stays elevated, we will be forced to revise premiums.
For corporate policies, we have taken some price increases.
Is motor insurance segment out of the woods now?
We are seeing good demand on the private car side but there are supply-side constraints.
While there are no supply-side issues in the two-wheeler segment, the demand seems a bit tepid, which is surprising.
On commercial vehicles, we are seeing good pickup.
Overall, in the motor segment, the underlying demand seems to be recovering.
On the third-party premium hike, traditionally, the regulator looked at the data and gave a price increase every year because there is a claim inflation, which is linked to wage inflation.
In the past two years, we have not seen a price increase, which has created some pressure for the industry.
On top of it, in this period, there have been some court judgments, which are further increasing the claims severity.
We hope we will see some increase from the regulator's side.
Motor remains your predominant business but given the demand health insurance is seeing, would you not want to focus more on health?
It is not that we are focusing less on any segment.
I think relative to the overall market, our share of health is small.
So, health is a bit of catch-up for us while the motor and commercial lines remain strong pillars of the organisation.
So, we are investing a lot more in the health segment.
Which are other segments you are focusing on?
We remain optimistic about our corporate business, including small and medium enterprises.
The underlying investment in infrastructure and capital formation seems to be coming back strongly.
Also, marine insurance, which shows goods movements, is picking up.
The motor and health segments will remain key areas.
There are new categories of products that are coming to the market on the insurance side.
For example, there is a drone policy the government launched, and we are excited about it.
The cyber liability risk is still under appreciated and that is an area of interest for us.
Irdai has brought a number of standard products in the non-life space. How feasible is it for insurers to sell these products?
Some of this is positive. We were supportive of the standard health indemnity product the regulator launched because in a segment where there is a huge requirement for education and awareness creation, a standard product helps.
But if you take it to another extreme then that becomes a bit of a challenge because it will stifle innovation and create unnecessary competition.
Feature Presentation: Aslam Hunani/Rediff.com